Rome is a great capital to visit and perfect for a city break. When you stroll around the city, you feel like you are in an open air museum. Some of the highlights include the famous Colosseum, Trevi Fountain, the Pantheon, Roman Forum and the Vatican city.
Below we have outlined the top places to visit in Rome and things you shouldn't miss whilst in the city. We were in Rome for a long weekend, so you can certainly fit all these attractions and tourist highlights in 2-3 days. Enjoy! We also spent a day visiting the Vatican City, we assume you will do so too.
Overview
Rome is the capital and most-populous city of Italy. With a population of 2.9 million, Rome is the third most populous city in the EU by population within city limits. Rome is in the Lazio region of central Italy on the Tiber river and is also crossed by another river, the Aniene.
It's not a surprise that Rome's historic centre is listed by UNESCO as a World Heritage Site; when you visit the city (or just look at the photos below), you will see why. As you know, Rome was the centre of the Roman Empire that ruled the European continent for several ages. You will also find the smallest country in the world, Vatican City, in Rome.
The city has a Mediterranean climate with hot, dry summers and mild, humid winters. The time zone is GMT+1. As in most European countries, the local currency is the euro (EUR).
Travel and accommodation
The main airport in Rome is Rome–Fiumicino International Airport "Leonardo da Vinci" (FCO). We flew with a low cost airline and at Rome's secondary international airport – Rome—Ciampino International Airport "G. B. Pastine" (CIA). The airport is conveniently located, only 12 km (8 miles) from Rome city centre.
If you use the airport bus, it is fairly cheap to get to central Rome – only about €1.50 for a one-way journey. Alternatively you can use the train – Ciampino Airlink, connecting the airport with downtown Rome.
We arrived late at night and unfortunately there were no buses or trains operating at that time. Our only option was to get a taxi for a standard flat rate of 30 euros.
Flights from London to Rome can vary by price but they can be around £70 return per person. As always, we used Google Flights to find the best and most convenient flights for us. Read our tips and tricks on how you can find best value flights and get inspired where to travel next. We would recommend you stay at least a weekend (or a long weekend) to allow you to visit all the major points of interest.
In terms of accommodation, we would recommend booking your travel through an aggregator such as Booking.com or Agoda to get the best rates.
We chose an interesting hotel – Domus Sessoriana which coincides with a large area of the Benedictine Monastery, so essentially we stood in a hotel within a monastery. The hotel is conveniently located close to the Colosseum and has good transport links to get around Rome.
On the top floor of the hotel there is a beautiful roof garden, where breakfast is served (outdoor and indoor) and this was definitely a highlight.
Things to do
There are so many things to do and visit in Rome. Just walking around the city, it feels like you are in an open air museum. The buildings are impressive, gigantic and a real piece of art. Here are the top places to visit.
If you don't have enough time in the city, you might consider Hop-on Hop-off Rome Bus Tour to cover the main attractions.
1. See the Colosseum (Colosseo)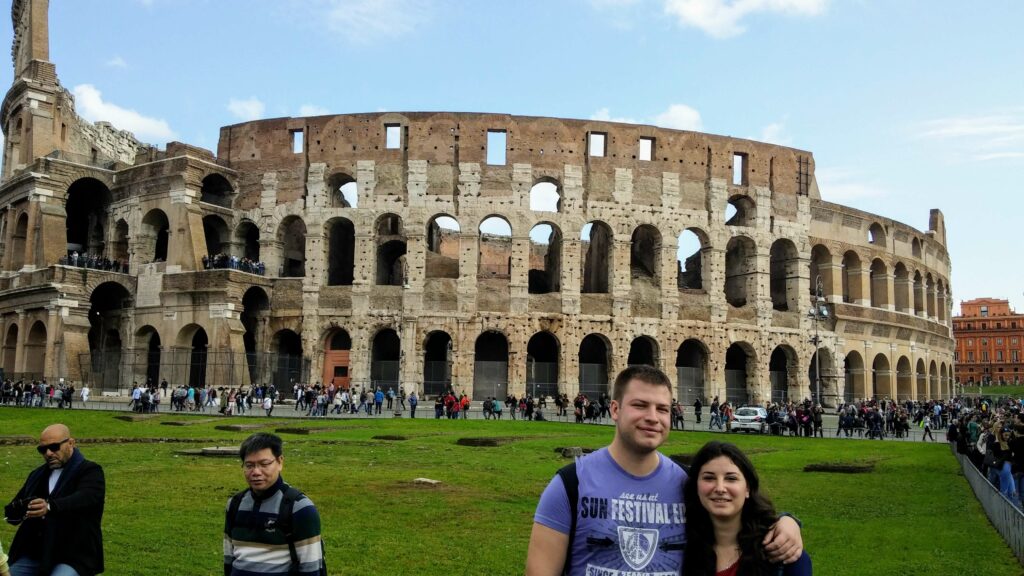 The famous Colosseum (Colosseo) is a must see. This is the first thing that comes to mind, when we hear Rome. The Colosseum is an oval amphitheatre situated in the centre of the city.
It is the largest ancient amphitheatre ever built (completed in 80 AD), and is still the largest standing amphitheatre in the world. A real example of the Roman Empire's architectural innovation.
The Colosseum was used for gladiatorial contests and public spectacles such as hunting shows, executions, re-enactments of famous battles etc. After the fall of the Roman Empire, it was even used as a housing complex (temporarily).
The Colosseum is also listed as one of the New 7 Wonders of the World, together with Chichen Itza in Mexico.
2. Explore the Roman Forum (Foro Romano)
West of the Colosseum is the Roman Forum (Foro Romano). This is a rectangular forum (plaza) surrounded by the ruins of several important ancient government buildings which was the centre of day-to-day life in Rome for many centuries.
This is where criminal trials and public speeches were held, elections as well as commercial affairs. Keep walking towards the Capitolium or Capitoline Hill and you will see the impressive building at Piazza Venezia.
3. Admire Piazza Venezia
Piazza Venezia is at the foot of the Capitoline Hill and next to Trajan's Forum. This was also the location of public speeches given by the Italian dictator Mussolini to his supporters in the 1920s-1940s.
4. Go inside the Pantheon
Another must see place is the Pantheon, "Temple of all Gods" which is perfectly hemispherical. What is interesting is that the diameter of the dome, 43 metres (142ft), and the distance from the floor to the top of the dome is exactly equal to its diameter. Almost 2000 years after it was built, the Pantheon's dome is still the world's largest unreinforced concrete dome.
The Pantheon is one of the best-preserved ancient Roman buildings and has been in continuous use throughout its history. Since the 7th century, the Pantheon has been in use as a church dedicated to "St. Mary and the Martyrs", also known as "Santa Maria Rotonda".
There is a very similar building in Philadelphia, United States where the statue of Benjamin Franklin is which has been designed to be like the Roman Pantheon.
The square in front of the Pantheon is called Piazza della Rotonda and there are a lot of nice cafes and restaurants for you to sit down and enjoy a nice coffee or a meal with a view!
---
Like what you are reading? Why not join us for other journeys by subscribing to our newsletter:
---
5. Take a photo with Trevi Fountain (Fontana di Trevi)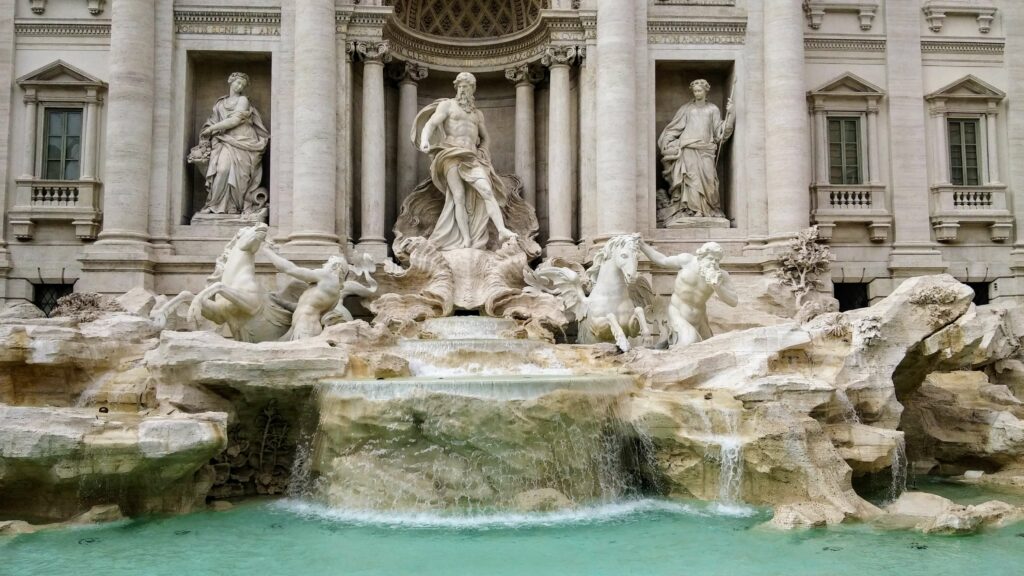 Not far from the Pantheon is the famous Trevi Fountain (Fontana di Trevi). This is the most celebrated fountain, designed by Italian architect Nicola Salvi and probably one of the most famous fountain in the world. Stand with your back to it and throw a coin over your left side into the fountain, to come back again.
At night, the fountain is even more spectacular. Rome generally looks different by night, so it is nice to walk around the historical centre in the evening.
6. Wander through Piazza Navona and Fontana dei Quattro Fiumi
Not far from Trevi Fountain is Piazza Navona, a famous baroque square dominated by Bernini's Fiumi Fountain (Fontana dei Quattro Fiumi). There are a lot of cafes and restaurants around this area which are overpriced and basically a tourist trap.
We had a dinner with a view here but my pasta was too aldente and we really paid the price for the view, rather than for the food. Might be a better idea to sit down and get a coffee whilst enjoying the view of the piazza.
7. Climb the Spanish Steps
The Spanish Steps (Scalinata di Trinità dei Monti) are another popular attraction amongst tourists. There are 135 steps connecting the Piazza di Spagna at the bottom with Piazza Trinita dei Monti at the top.
The Spanish Steps are typically used as a meeting place, including for many local walking tours. You will see lots of people relaxing or just taking a break in this area.
8. Visit Castel Sant'Angelo
Of course, when you visit Rome, you should spend a day exploring the Vatican City. After visiting the Vatican, we also visited the Mausoleum of Hadrian, also known as Castel Sant'Angelo and enjoyed some spectacular views of Rome. This is a fortress located on the right bank of the Tiber, a short distance from the Vatican City.
The building was initially commissioned by the Roman Emperor Hadrian as a mausoleum for himself and his family and was finished in the year 139. It was later used by the popes as a fortress and castle, and is now a museum. Make sure you go to the top of the castle to enjoy some spectacular views.
9. Walk through Ponte Sant'Angelo
To be honest, the museum is nothing special but if you have to chance to visit it, make sure you enjoy the amazing views from the top. The bridge, Ponte Sant'Angelo, is worth a photo with Bernini's angels.
10. Enjoy the Views from the Orange Trees Garden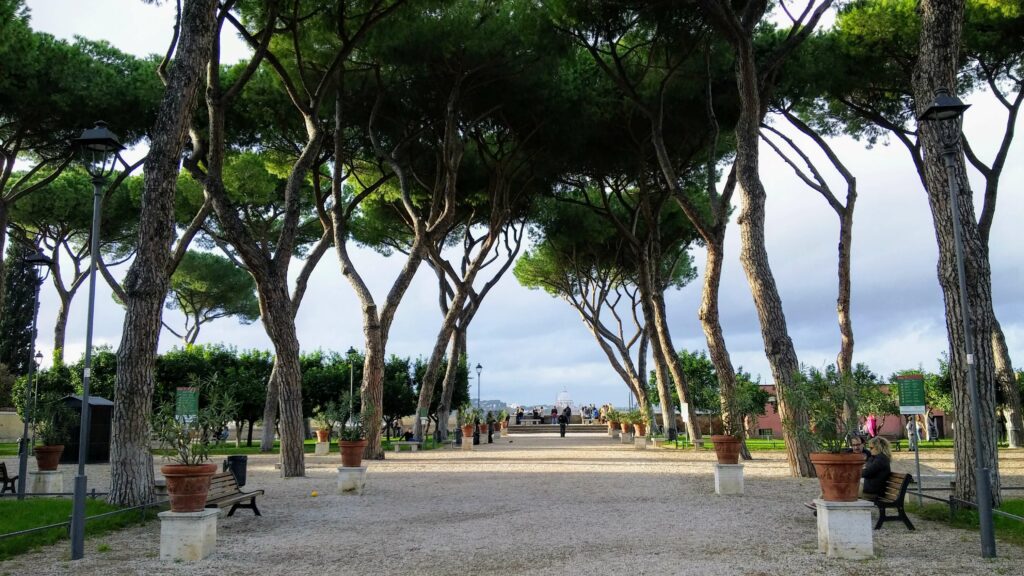 If you have the time, you can also visit the Orange Trees Garden (Giardino degli Aranci). The park offers an excellent view of Rome and is just a nice place to sit down and relax.

Food highlights
Rome is not about pizza, pasta and gelato but really, those are the 3 main things we ate during our trip. For some reason I only have photos of the tasty gelato.
After paying top price for a meal at Piazza Navona, I was disappointed with my aldente pasta, so I did learn a lesson to always ask for my past to be a bit more cooked. After some more research, we found some nice restaurants in the Trastevere area of Rome, where most of the locals seem to go. We had an authentic pizza at a restaurant called Dar Poeta, which we truly enjoyed.
Final thoughts
Rome really has the "wow" effect from the first day of your visit. With its amazing architecture, rich history and colossal buildings, this is definitely an European capital worth visiting at least once in your life.
Rome is a great destination and perfect for a city break. You can easily visit and see the top attractions in a weekend but if you have the chance, spend a long weekend here. It's an easy city to fly to with hand luggage only and very easy to get around.
Ready to book? Below are some recommendations to get your trip started:
---
Accommodation – would recommend booking your accommodation through an aggregator such as Booking.com or Agoda to get the best rates. We also use TripAdvisor to read reviews.
---
Transport – consider Rentalcars.com for car renting or if you rely on public transport, you can use Omio for trains, coaches, ferries, airport transfers and even flights.
---
Activities – a great option is GetYourGuide or Viator for tours, excursions, experiences and tickets to many tourist attractions.
---
Travel money – we have Starling Bank accounts (UK residents only) with 0% fees on FX and a good Mastercard exchange rate. Revolut is another good option.
---
Internet abroad – with Airalo you can access a wide range of eSIMs (digital SIM cards) available for different countries and regions.
---
Luggage storage – if you need to store your bags whilst exploring the destination, you can use Radical Storage to find your closest luggage storage and enjoy your journey until the very end.
---
As an Amazon Associate and member of various other affiliate programmes, some of the links in this article are affiliate links, meaning at no additional cost to you, we will earn a commission if you click through and make a purchase.
---
Like what you've read? Subscribe to our blog by adding your email address below. You'll be the first to hear about new destinations and articles we publish!
Are you interested in travelling? Check out our Facebook page and other social media for regular tips and recommendations on how to travel and where to go!