Flight travel has become a commodity and in many respects the main way to travel especially across long distances. In the past, a journey taking you 4 days to go from London to Paris might have been just normal but not by today's standards.
Read below some of our tips on how to get the best prices for your flights and also learn tips and tricks when booking your flights.
The International Air Transport Association (IATA), mention that there were 4.5 billion scheduled passengers carried in 2019 and are expected to grow to about 10.0 billion by 2040, and the number of departures is projected to rise to some 90 million in 2040.
With this ever growing demand, it's perfectly understandable why in this crowded market, passengers feel the need to filter airlines according to their preferences and budget.
Ignore the myths
In reading some of the articles out there it almost makes one wonder if they should draw a Star of David on their floor with table salt and pray to the 3 Gods of travel so they avoid booking expensive flights.
It is NOT cheaper to buy airfare on a Tuesday (or any other day).
There is NO evidence that searching in incognito mode gives you better prices.
There is NO exact date or specific time period in which to book your airfare.
You can't predict airline prices and websites that do are basically taking an educated (but probably wrong) guess.
Therefore, one must understand how air tickets are priced so they can navigate themselves better.
Airlines use advanced computer and pricing algorithms to determine prices and run sales based on the time of the year, passenger demand, weather, major events/festivals, time of day, competitor prices, fuel prices, and much more. In other words it's a compare the market model.
For example if another airline adds a flight from London to Paris, all other airlines will automatically adjust their prices.
Find a flights aggregator
As discussed, as this is a market comparison model for pricing tickets, it makes sense to find an aggregator that can do that for you. There are several out there, here are the top ones that we recommend:
Skyscanner – is a metasearch engine and travel agency based in Edinburgh, Scotland. The site is available in over 30 languages and is used by 100 million people per month. The company lets people research and book travel options for their trips, including flights, hotels and car hire.
Kiwi.com – is a Czech-based online travel-tech company founded in 2012. It provides a fare aggregator, metasearch engine, and booking for more than 800 carriers, including air and ground transportation around the world. Carriers are combined together using the self connect – Virtual Interlining – concept, mixing different noncooperating air and ground carriers that don't have commercial agreements.
Google flights – is an online flight booking search service which facilitates the purchase of airline tickets through third-party suppliers. It was launched by Google in 2011 following a buyout. It is now part of Google Travel.
Be flexible with your destination
If you just want to travel and you are open to suggestions we'd suggest looking at Kiwi.com. It offers an interactive map offering you the best prices it can find. It's also great to get inspired about your next trip!
For example, if we want to travel from London to anywhere in Europe on specific dates, we can choose Milan (£8) or Warsaw (£8) or Budapest (£13) and so one. Example map of our search below. Have a look for yourself at Kiwi.com.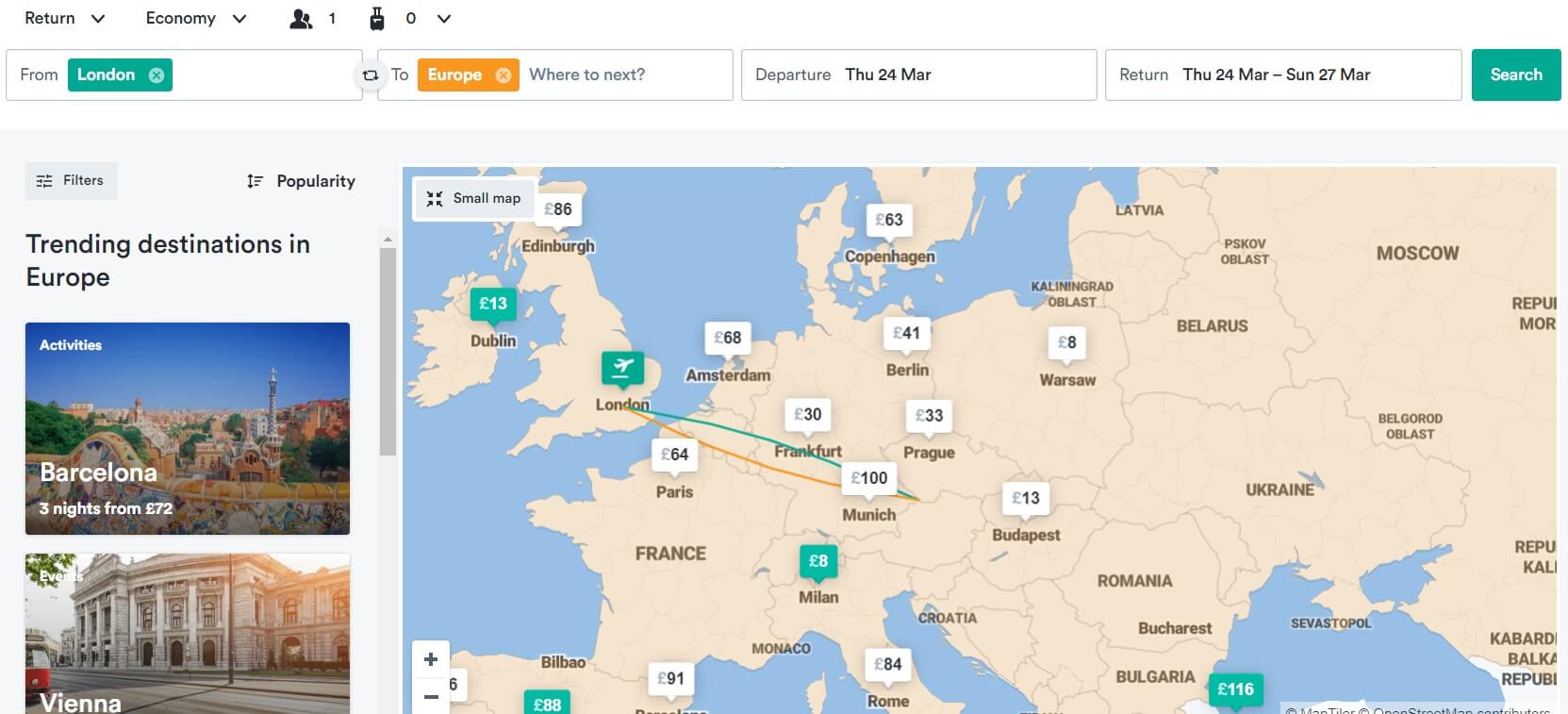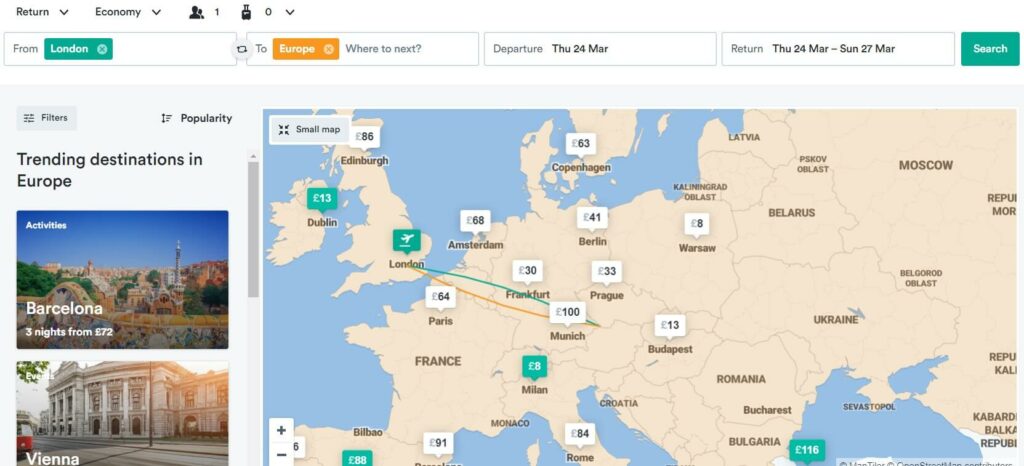 We have also written an extensive article around Google Flights, so be sure to check it out.
It's also important to note that not all city named airports are near that destination. For example, in our London article, we mention that the city has 6 airports however, not all of them are within close proximity of the city.
For example "London Luton" – is actually 28 miles (45 km) away from London. You should consider this and account for transfer costs to your accommodation.
There isn't a legal naming convention for these airports and so be careful to find the right airport for you. Always make sure you check how much it will cost you to get from the airport to your final destination.
Be flexible with your dates
As you'd imagine airlines will try to price their tickets as high as possible. In general, travel in Europe differs from U.S. let's say, as it is more seasonal.
Therefore, prices will naturally account for upcoming holidays, Christmas, New Year's Eve or other bank holidays. When we fly to Bucharest for the holidays, what we normally do, is we try and fly on days that are less popular – such as fly out on Thursday and fly back on Monday.
These could differ, but by either working from home or getting one more day of annual, leave you could save yourself up to 1/3 of the price.
Fly with budget airlines
To understand the phenomenon of budget airlines you should understand how the industry makes its money. Whenever a country decides to make an airport somewhere they will design it to be a shopping friendly experience.
Ultimately, the retailers in the airport reduce the operating cost of the airport, thus the airport doesn't need to charge high prices for airlines and travellers alike in terms of airport taxes.
The main advantage here is clearly a cheap and affordable ticket. And yes, budget airlines are safe. No compromises are made on the technical check of the aircraft and related processes.
As mentioned above, beware of the airport location and be sure you add up the total cost of the journey. Buying a £20 flight and then spending £50 additionally on airport transfer might not be cost efficient.
Also, remember that most of these airlines offer hold luggage as an additional luggage. So be sure to account for the extra cost.
Therefore we suggest using these airlines strategically, perhaps for city breaks, where you need to pack light anyway and just travel with a backpack or a small luggage.
Direct vs Layover
It might come as a surprise however, if you can do a layover i.e. breaking your journey you can save some additional money. This is especially true for flag carrier airlines.
This is because those airlines have major hubs that allow them to be more efficient. For instance, Lufthansa could choose to bring all its passengers to Frankfurt airport before their final leg of the journey to New York let's say; instead of flying from each location in Europe individual flights to New York.
This model allows for scalability and added economies of scale. So if you don't mind breaking your journey, the airline then passes those cost savings to you.
This is where the likes of Kiwi.com really shine. As they don't offer you flights just from one provider for your destination, they can get multiple quotes mix and matching budget and flag carriers and present you the best available options.
Ticketing codes and classes
One major thing, often overlooked is the class (first / economy) and the ticket code.
Whilst we perceive two classes first and economy, there are many different variations. First class, has always been there, actually you could say, first class is the original class.
When Pan Am introduced back in the 50s the economy ticket, it was aimed at the money conscious family travellers. They didn't mind buying tickets in advance and had no problem not being served a luxurious meal on board.
Moreover, within each class there is a fare basis. A fare basis code (often just referred to as a fare basis) is an alphabetic or alpha-numeric code used by airlines to identify a fare type and allow airline staff and travel agents to find the rules applicable to that fare.
For instance two economy passengers sitting next to each other could benefit from different service should they request to change their flights.
Passenger 1 could benefit from just a 25% penalty whilst passenger 2, 75% penalty of the price of the ticket should they want to reschedule their flights.
Sometimes, we also need to remind ourselves that booking direct with the airline, although could be more expensive (some times) it can be rewarding as you get more advantageous fare codes.
TAROM for instance offer passengers that booked direct the option to change their name free of charge. If booked via a third party, same service is chargeable.
This was particularly useful for us as we got married in Bucharest and my wife changed her name, and we had to make sure the passport and hence the flight booking reflect that.
So be sure to read your T&Cs, especially if you are planning travel in uncertain times as it could save you a lot of money.
Booking at the right time
When booking flights, it's best to remember that early isn't always good. Flag carriers can schedule their flights years in advance, however regular low cost airlines have to be strategic of their fleet and need to determine the best cost effective routes that year.
And considering that airlines compare prices amongst themselves, you might find that waiting a little bit more for another provider might just reduce all of the flight prices for that segment.
As a rule of thumb, we book our flights six months in advance and no later than one month before the flight.
Sign up to newsletters
Yes – I know, that word has become synonymous with spam. However, you have to credit the idea. For instance, Ryanair, sometimes offer massive discounts for their flights and as this is a first come first served basis, those spaces will fill up fast.
It's important to understand that unlike cars and buses, airlines have to have their planes in the air all the time. A plane on the ground is losing them money. And thus, the discounts can be issued for several reasons including:
Low demand and looking to increase traffic
Promotional seats for a newly opened destination (airports can remove some of their taxes for a promotional period to encourage more traffic)
Competitive pricing for a particular segment
Like what you are reading? Why not join us for other journeys by subscribing to our newsletter:
Use credit cards
Depending on your local country laws, credit card providers can offer certain benefits and protections. Some of these can also be engrained in law.
I remember reading in the news when WOW Air went bankrupt and there was this one line that made me reconsider how I book my flights. It was to do with the order of reimbursements in this particular order:
Credit cards
Protected package tours (travel agents)
Insurance (if covered)
And that's it. If you booked with a debit card, the administrator may refund you after those above have been processed and only if there is any money left. Ouch!
Next day, we got our credit cards and since then have used them for travel. That is because in the UK, credit cards fall under the Consumer Act of 1974 which covers you of any liability when using borrowed money and when buying services or products and the vendor can't contractually fulfil their obligations.
However, if your country doesn't have this in law, some credit card providers offer it anyway as part of their customer service. American Express is well known for going above and beyond in these situations.
On top of this protection, you get to collect points or miles, depending on the type of credit card you get! And if you have a cash back credit card you can literally say you managed to discount your flight.
What to do in case of flight delays and cancellations?
As all of us know sometimes delays or cancellations can happen. Depending on your flights destination or origin certain laws can apply regardless if you are a citizen of either countries.
For instance, E.U. law, makes no discrimination regarding passenger nationality and asks for all flights departing or landing in the E.U. to comply with the Regulation (EC) No 261/2004 of the European Parliament. In essence, it establishes common rules on compensation and assistance to passengers in the event of denied boarding and of cancellation or long delay of flights.
When it comes to actually claiming against these laws, some airlines do it without being forced others may need some persuasion. Depending on the nature of your situation, you could be entitled to free food and drinks vouchers to be used in the airport, airline vouchers or even financial compensation.
If you believe you are entitled to compensation for a flight then you can either reach out to them yourself (or your lawyer) or you can reach out to one of the established firms such as Compensair or AirHelp to help you with the claim process. They will do it for a commission of your compensation amount.
How to find cheap flights today?
We normally start all our searches with Skyscanner. They offer a good comprehensive set of airlines, both budget and major carriers, with great prices from across.
Have you thought of a destination? Have a look for yourself and start saving from today using this Skyscanner widget.
---
To be sure we haven't missed a deal, we also perform a search on Kiwi (just to be sure). This is particularly good for long-haul flights. It also offers a choice of flight options classified as "Best", "Cheapest and "Fastest" – worth looking into these as well.
---
As an Amazon Associate and member of various other affiliate programmes, some of the links in this article are affiliate links, meaning at no additional cost to you, we will earn a commission if you click through and make a purchase.
---
Like what you've read? Subscribe to our blog by adding your email address below. You'll be the first to hear about new destinations and articles we publish!
Are you interested in travelling? Check out our Facebook page and other social media for regular tips and recommendations on how to travel and where to go!