If there was a city more mistaken for another, it would be Bucharest. Yes – what a way to start this article! During Michael Jackson's visit in 1992, he greeted the crowd thinking he's in Budapest.
Looking back at the many artists that followed him – Metallica, Iron Maiden and Ozzy Osbourne, they all thought they are in the Hungarian capital.
But are the two cities that similar? The answer is simple – No. Bucharest has a unique and distinct architecture much of it being influenced by French and Belgian architecture and no wonder during the interwar period it was called "Little Paris". Its large boulevards filled with cafes and busy night life offer tourists a bit of everything.
Overview
Historians see mentions of Bucharest as early as the XV century and it was classified as a residence for the famous Vlad the Impaler or as many came to know him as Dracula.
Other theories state that a shepherd by the name of Bucur came to these plains and settled there. Later other families joined and it became the thriving city it is today.
Bucharest is pronounced UK: /ˌbuːkəˈrɛst/ BOO-kə-REST, US: /ˈbuːkərɛst/ -⁠rest; Romanian: București [bukuˈreʃtʲ]. The local currency is Leu (RON).
The city is home to two million people and is Romania's largest city. Over the decades the architecture has been revamped with nowadays Bucharest having more and more modern office buildings and a vibrant night life.
The city also started becoming a culinary scene for many foodies out there as more and more restaurants try to impress tourists with local and international cuisine as well as Neo-Romanian fine dining.
Travel to and Around Bucharest
Bucharest enjoys the presence of 2 airports. However, there is 1 main airport, Henri Coanda – Otopeni (OTP) which handles most of the traffic. Many flights come here every day and due to the high passenger turnover, many airlines practice competitive pricing.
Flights can go for as little as £30 return from London. Can differ based on where you call "home". To find the best rates visit our article on how to find cheap flights.
Other ways of coming to Bucharest include train and by car and can be quite easy ways in depending on where you come from.
Travelling in Bucharest using public transport is quite accessible, though do be warned that during rush hours it can be crowded. There is a strong emphasis on buses as the tube/metro was designed to bring people from suburbs into the city, not necessarily facilitate in-city travel.
Tickets and passes are fairly cheap and a bus ticket could be as low as 25p.
There are two companies operating public transport in Bucharest: STB (surface transport) and Metrorex (Metro). Each has its own payment system and tickets though you can get a combined STB-Metrorex tourist ticket which is time based from either vending points.
Pricing and fares can be seen here for STB and here for Metrorex. It's also worth noting that for the Metro and for most STB lines, you can pay single tickets with your contactless bank card at the on-board validators or turnstiles.
Additionally, here is a map of the metro network highlighting the stop across the 5 lines.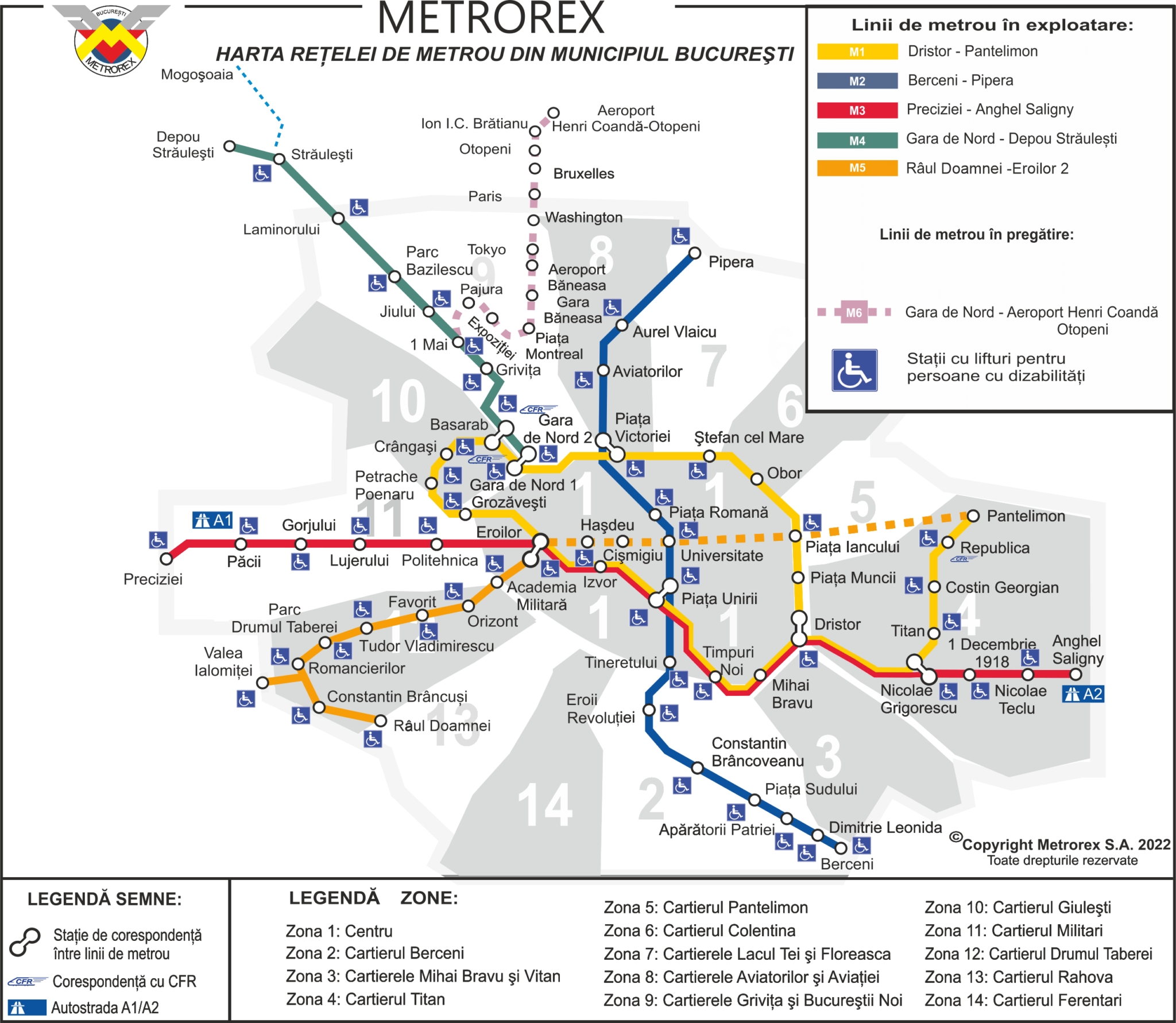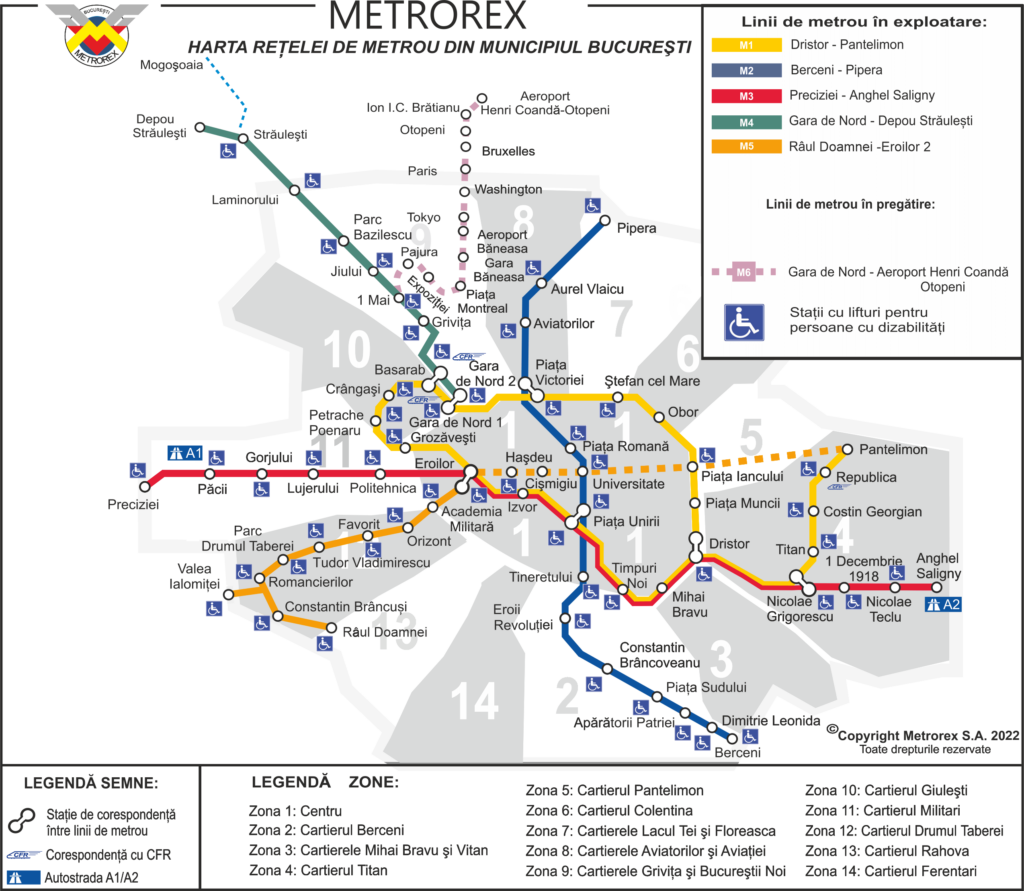 Alternatively, you can buy an e-wallet for STB and load it with as much funds you think you may need. For the Metro you could just get magnetic tickets. You can buy these at any of the ticket offices or vending machines.
If you are planning to drive, parking can be a hit and miss, most o the parking is done kerb side. You will have to check local signs if parking is allowed in that area and whether it's free or not.
Where to Stay in Bucharest
In general, there are plenty of hotels and accommodation options, however, we would recommend staying somewhere central as you can get around quite easily. We would recommend booking your travel through an aggregator such as Booking.com or Agoda to get the best rates.
Most recently, we stood at Hotel Cismigiu and had a great time. The hotel is located in the centre of Bucharest, offers spacious suites and the breakfast is amazing, complemented with a great view from the rooftop bistro.
You can find more about our experience and read our review of Hotel Cismigiu here. Exclusively for our readers, you can receive 10% discount on your next stay when booking via the Hotel Cismigiu website, view the code for 10% discount here.
We have also stayed at Ramada by Wyndham Bucharest Parc which is close to the city centre but also close to the airport and Therme Bucharest.
Top things to do in Bucharest
We can definitely recommend a weekend break for visiting and getting a good feel of Bucharest. Also as a tip, don't forget to bring your swimwear – more to follow!
For your convenience, here is an interactive map with all things listed in this article.
Explore the Old City Centre
When going out of the museum, you can walk through the old city centre and admire the old French-like architecture. Buildings such as the CEC Bank, the National Bank and even the Athenaeum, are all reminders of an era gone by.
As you walk around, you will the beautiful church Biserica Sfântul Anton and Curtea Veche Palace – a palace from the reign of Vlad III Dracula in the 15th century, now a museum.
Learn About Romanian History at the National Museum of History
As a good starting point we'd suggest you go the the National Museum of History where you can get a good feel of Romania, its people and their ethnicity and legacy.
Fun fact, the reason Romanians are called so is to show to the world the linkage to the old Roman Empire – Rome, Roman(ian).
Take a few Photos at Stavropoleos Monastery Church
A good place to stop is the Stavropoleos monastery church, which in between these buildings seems dwarfed, yet maintains its romantic and picturesque look, making it a great place for weddings or just for tourists to take a short pic break.
Smoke a Shisha at the Valley of Kings Passage
Continuing on, we can observe a passage called Villacrosse, however, many youngsters know it by the name of "Valley of Kings".
The oriental almost Egyptian like feel, hosts cafes and bars serving your favourite adult beverages as well as waterpipes (shishas).
Different flavours, shisha heads and tables filled with friends catching up on stories make this place a good venue to meet up and share your week's highlights with your friends.
Like what you are reading? Why not join us for other journeys by subscribing to our newsletter:
Visit the Palace of Parliament
How can you come to Bucharest and not see this building. You know which one I'm talking about – the Romanian Parliament or as most know it as the People's House. This is an all-Romanian piece of engineering and construction effort.
A visit here is a must and leaves one astonished, impressed but also with quite a few questions on whether this was the right undertaking for a country like Romania. In any case, this was a prominent location for our wedding photo shoot (as requested by Hristina).
Built with 100% Romanian materials to boast the best of the best Romania had to offer during the communist days.
Commissioned by the late dictator, Ceausescu, this building reaches a height of 84 metres (276 ft), has a floor area of 365,000 square metres (3,930,000 sq ft) and a volume of 2,550,000 cubic metres (90,000,000 cu ft).
The Palace of the Parliament is the heaviest building in the world, weighing about 4,098,500,000 kilograms (9.04 billion pounds; 4.10 million tonnes).
And of course, you might agree or not agree with this building and what it stands for but you must admire the craftmanship and overall result which shouts grandeur. Something to make many Romanians think – if there is will it can be achieved.
Right next to the Palace of Parliament we can find eponymous square where MJ himself came on stage in his 1992 tour. This square now hosts similar events as well as the main Christmas market in Bucharest.
See the Fountains at Piața Unirii
This avenue then continues to Piața Unirii (Unirii square) with it's many fountains and impressive tall neo-communist buildings dominating the skyline.
Similar to the Montjuic Magic Fountain in Barcelona, the fountains come to life at night with wonderful colours.
On top, ads are clearly visible and offer some colour to the square. Though not Times Square or Piccadilly Circus you could say it is quite similar.
See Communist Hi-Life at the House of Ceauşescu
Talking about Ceaușescu and palaces, let's dwell a bit more on this topic. Another item on your list should be his former residence.
It was for a quarter of a century (1965-1989) the private residence of Nicolae and Elena Ceauşescu and of their children, Nicu, Zoia, and Valentin.
The spatial qualities and balanced volumes of the Ceaușescu Mansion are striking, as is its luxurious and comfortable interior.
Romanian Athenaeum
The Romanian Athenaeum is a concert hall in the centre of Bucharest and a landmark of the Romanian capital city. Opened in 1888, the ornate, domed, circular building is the city's most prestigious concert hall and home of the "George Enescu" Philharmonic and of the George Enescu Festival.
Grigore Antipa Natural History Museum
A good place to go also would be the Grigore Antipa Natural History Museum. This is a Bucharest classic, all pupils go here as it has great expositions and amazing items on display.
This museum cannot be compared to the Natural History Museum in London but if you are in Bucharest, definitely pay a visit. Kids would also love it.
Walk in the King Mihai I Park (Herăstrău)
Opposite the museum, one can see the Government building known as the Victory Palace. Whilst it doesn't have much to offer architecturally, it overlooks the Victory Square which leads into Aviatorilor Square and finally to Bucharest's largest park – Herastrau by the old name or Mihai I Park as it's been recently named in respect to the late Romanian King, Michael I.
This park can be compared to the Valea Morilor Park in Chisinau, Republic of Moldova. Both parks have a nice lake where you can rent an aqua bike and enjoy a round of the lake on a sunny day.
Arch of Triumph
We're not done yet! From this square you can easily see the Romanian Arch of Triumph which is an exact replica of the Parisian one. Little Paris – you get it now (wink wink)?
Visit Cotroceni Palace
During the mid XVIIth century, a monastery was built on Cotroceni hill. This then slowly become a residence for Romania's rulers.
King Carol I, decided to rebuild the royal residence rather than expand it. Construction of this new royal palace was commissioned to begin in the year 1893, the project being placed under the direction of French architect Paul Gottereau.
In 1991 the palace became the headquarters of the Romanian Presidency and the old wing of the ensemble was opened to the public as Cotroceni National Museum, envisioned as an insight into past ages.
Immerse Yourself in Tradition at "Dimitrie Gusti" National Village Museum
Whilst you're there, another great venue to see is the Peasant Museum which offers a good perspective of early Romanian country side life and various house style differences across Romania. A must is an ice-cream during your hot summer visit!
We have visited a number of open-air museums in Europe and the The Norwegian Museum of Cultural History in Oslo, Norway is very similar to this one.
Treat Yourself to a Spa Day at Therme Bucharest
Reading about the Parliament you might think this was the biggest thing Bucharest had to offer – you're wrong. Do you remember when I said about that swimwear? Now you'll need it.
Depending on how you plan your visit, you can go to Europe's biggest wellness, relaxation and entertainment centre.
Bus 442 takes you from the centre straight there; you can check the timetable here. The entrance for a day is £20 and definitely worth the journey.
10 saunas with various themes, 1500 palm trees, massages, spas and huge indoors and outdoors pools make up some of the feature list of Therme Bucharest.
Read our detailed article about Therme Bucharest with our top tips and recommendations.
Other things to do
Here are some more suggestions from GetYourGuide on things to do.
Food and drink highlights
Yep – let's get into it. One can easily gain a few kilos when visiting this place. The culinary scenery is fairly diverse and offers tourists a great variety of eastern European foods as well as a blend of international and middle eastern cuisines.
Anything from shawarmas to fine dining are all great options depending on your mood. Some of the things to look out for when reviewing menus would be:
Tripe soup – a soup made with tripe and vegetable stock with tempered soured cream and eggs. To be served with white vinegar to taste. It's decadent, don't get me wrong, hence the vinegar.
Mamaliga – you might know it as polenta or cornmeal however, this staple of Romanian cuisine has stood the test of time. Served as a side dish or the main event, mamaliga should be eaten with sour cream, white cheese (feta style) and hot pepper.
Burduf cheese – is a salty type of Romanian cheese, made with sheep milk. It has a strong flavour and slightly soft in texture. Can also be bought from merchants who can sell it wrapped in pine covering as well for extra pine scent.
Papanas(i) – a traditional dessert in these parts is the Papanas. A cottage cheese doughnut (hear me out first), deep fried smothered in sour cream and jam. You see! Typical portion consists of two fist sized doughnuts.
Experience Traditional Cuisine at Caru' cu Bere
Caru' cu Bere is a good place to start your culinary experience which offers great, Romanian traditional food served in an interwar style interior décor. A must if you are in the city centre.
Eat in the Beer Garden of Hanu' lui Manic
Hanu' lui Manuc is also another great option. The inn was built in 1808 as a khan, and originally owned by a wealthy and flamboyant Armenian entrepreneur, Emanuel Mârzaian, better known under his Turkish name Manuc Bei.
This old style inn, it now hosts one of Bucharest's most notable traditional restaurants. Fun fact, Manuc's Inn is the oldest operating hotel building in Bucharest.
Have Dinner with a View at Nor Sky Casual
Alternatively, if you feel a bit more posh and want to have dinner with a view, then Nor Sky Casual Restaurant is a must for anyone that has been called a foodie by their friends.
They serve mostly international cuisine, done right. Anything from juicy, pink duck breast to a twist on the classic Papanasi are all good options.
Our recommendation which would put a smile on your lips is the Cloud Dessert, comes with cotton candy on top of a brownie. A sure win!
Enjoy Neo-Romanian Fine Dinning at Kane
This is particularly an interesting restaurant as it fits within the Neo-Romanian fine dining cuisine. The Head Chef at Kane works with Romanian traditional flavours and tries to elevate them whilst still maintaining their authenticity.
Burduf cheese foam? How about, a twist on the Romanian zacusca?
The menus are changed depending on the season however, regardless of the items, you won't be disappointed. We do suggest you dress at least business casual for the event.
Try Bucharest's Best Rated Pizza at Animaletto Pizza Bar
Animaletto Pizza Bar is ranked top 5 in Europe by Trafalgar.com. This pizzeria offers diners the best a pizza can ever hope to be. The overall ambiance is laid back no fuss dining. The starters are also great and nicely presented!
Animaletto offers classics such as Margheritas or the well known Pepperonis but they do have some interesting toppings as well which we'd encourage you to try. The pizza base is nice and crisp and the dough is complex and full of flavour.
They also offer a small but good selection of drinks. The one to try is the Palinca Sour especially if you like Whiskey Sour cocktails.
Final thoughts
So to wrap it up, we believe Bucharest definitely should warrant a flight ticket to come and see this Eastern European Little Paris.
Its modern architecture combined with French architecture as well as neo communist style buildings make Bucharest a city for anyone to put on their travel map.
Whether we look at the various squares with impressive buildings or gaze at the massive Parliament Palace, we can say Bucharest is unique and so are its people.
Ready to book? Below are some recommendations to get your trip started:
---
---
---
---
---
---
---
As an Amazon Associate and member of various other affiliate programmes, some of the links in this article are affiliate links, meaning at no additional cost to you, we will earn a commission if you click through and make a purchase.
---
Like what you've read? Subscribe to our blog by adding your email address below. You'll be the first to hear about new destinations and articles we publish!
Are you interested in travelling? Check out our Facebook page and other social media for regular tips and recommendations on how to travel and where to go!