Have you ever seen that scene in James Bond, Skyfall where at the end he is overlooking London in all its splendour? Sunny rays washing the rooftops of some of the most iconic buildings in London. As the old Victorian saying goes that the Sun never sets over the British Empire the same can be said about London.
A city with a history that stretches over millennia, London, has become one of the world's centres. Its rich cultural heritage make it a prime spot for new trends to emerge and shape modern society.
We invite you to explore with us this gem and amazing city that we call home.
Overview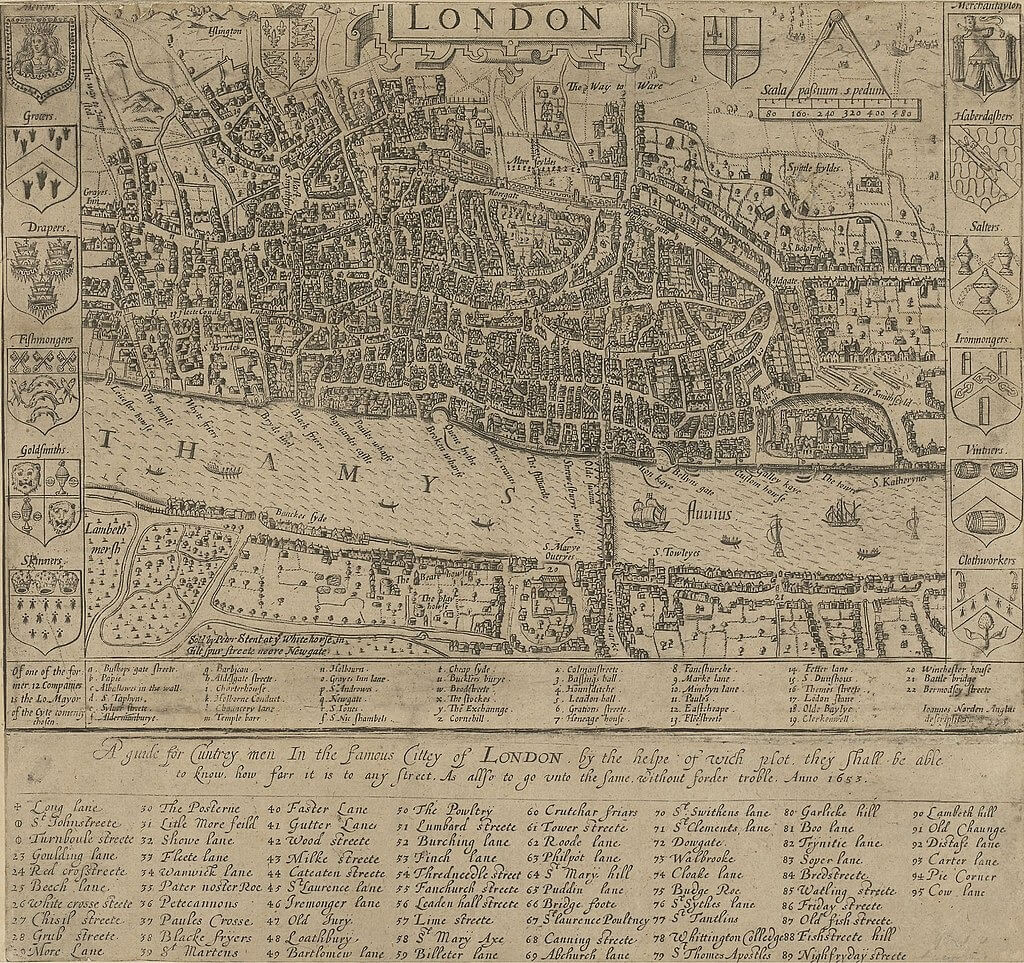 London is one of Europe's gems. It is the capital of the UK and a financial, economic and cultural powerhouse of Europe. Its history dates back to 4500 BC, stretching over millennia, standing the test of time. A city like no other, a Rome of the Anglo-Saxon world.
Although settlements date back 6 millennia ago, it was the Romans who truly put this city on its path towards success. After the Roman conquest they managed to make Londinium, as it was known then, a base camp which would then later become the capital of the newly formed province.
After the Romans, the Anglo-Saxons came and under Danelaw, London saw even more prosperity. It wasn't until the Norman conquest that London became a heavily militarized city strengthening its place in the British Isles. We owe William the Conqueror some of London's major landmarks such as the Tower of London.
Following the path of history, the city and its people have experienced many changes including the Bubonic plague, civil war, WWI, WWII however, in true British spirit, London has never stopped evolving for the better.
The many ethnicities, architecture, people, foods are what make London unique. One can eat all the foods from around the world and never get bored having never even left London. Such unmatched multi-culturalism and prosperity makes this capital stand out as a city of the world.
Travel to and around London
London is a massive city and probably London Heathrow (LHR) is the most well-known airport. In fact, London has six airports and surely there are regular flights from the country you are based in to one of these – London City, London Gatwick, London Heathrow, London Luton, London Stansted and London Southend. To find cheap flights to London, please read our article about how to find cheap flights.
This is an excellent city to do a weekend city break, however, we do recommend doing an extended weekend due to the many places to explore and visit.
You can also get to London by train using the Eurostar and arriving at St Pancras International station. Depending on where you land and where you are staying, you can to Central London by train, tube, coach or taxi.
The city is very well connected by public transport and in addition to the tube, you can use trains, busses, trams, bikes, river boat services and overground/DLR to get around. If you decide to explore London by bike, you can read our Cycling in London article for some recommendations.
You can use an Oyster card to get the best value during your stay or even easier, you can use your contactless debit/credit card to tap in and tap out at the stations. London is divided into travel zones, so depending on the zones you travel to and from, your ticket price will vary. The exception are trams and busses where you pay a fixed fare.
It is expensive to drive in London, especially if you enter Central London as you need to pay a daily congestion charge. On top of this, parking is expensive too, so we will recommend using public transport.
Where to stay in London?
In terms of accommodation, we would recommend booking your travel through an aggregator such as Booking.com or Agoda to get the best rates.
What you book would very much depend on your budget. London is not a cheap city but a visit is definitely worth it. Our best advice is to book a place close to a tube station as you would need the tube to get around. Find your accommodation options today!
Before we moved to London, we stood in a number of hotels but one definitely stood out for us – Park Plaza Westminster Bridge London. Excellent location, very good rooms and amazing breakfast. It does come with a price tag but thankfully at the time of our visit we were able to book rooms with staff discount.
If you are looking for affordable airport accommodation near London Heathrow, then you could check Premier Inn London Heathrow Airport Terminal 4 hotel where we stood before an early flight. For more information and photos, read our hotel review about Premier Inn London Heathrow T4.
Top things to do in London
London is a big city and there are plenty of things to do and see. A week will be enough to visit the main attractions but surely not enough to visit everything in London. If you don't have enough time, you might consider Hop-on Hop-off London Bus Tour to cover the main attractions.
To save some money, you may want to look at combo tickets or the London pass instead of buying individual tickets. Here are two suggestions:
London Pass – save time and money with a 1, 2, 3, 4, 5, 6 or 10-day pass which includes a 1-day hop-on-hop-off bus tour and a visit to over 80 London attractions.
Go City Explorer Pass – enjoy great savings on your choice of 2, 3, 4, 5, 6, or 7 top London attractions with an Explorer Pass, valid for up to 60 days. You can choose from over 80 things to do in London.
We have divided this section into sub-sections, to make it easier to outline some of the top recommendations for things to do in London. Also be sure to read our article on London's top free attractions here.
Popular attractions
London Eye
London Eye offers amazing views of London's skyline. Apparently, it is Europe's tallest observation wheel, and is the most popular paid tourist attraction in the United Kingdom. The views from above are spectacular but it's equally nice to snap a few selfies with London Eye itself.
Tower of London
Tower of London is a historic castle on the north bank of the river Thames. You can enjoy a guided tour and the infamous Tower ravens. In the Waterloo Block at the Tower of London, you can visit the Jewel House the vault housing the British Crown Jewels.
Similarly, you can see the Scottish Crown Jewels in Edinburgh Castle in Edinburgh.
Tower Bridge
Next to the Tower of London, you can see Tower Bridge – a suspension bridge in London, built in late 19th century. A real landmark of UK's capital city and often confused with London Bridge.
London Zoo
London Zoo is a great place to visit with kids and enjoy a family day out. This is the oldest scientific zoo, managed by ZSL (Zoological Society of London) and known as ZSL London Zoo.
In addition to the great selection of animals, it also opened the first reptile house, first public aquarium, first insect house (which we are not fans of) and the first children's zoo. The Zoo is located in the famous Regent's park offering amazingly decorated gardens and quirky art exhibitions in the park.
SEA LIFE London Aquarium
SEA LIFE London Aquarium is another popular attraction for families and children. It is conveniently located next to London Eye and is another good place to visit and enjoy sea life. Really popular with kids but makes a great visit for adults as well.
Palaces and cathedrals
Buckingham Palace
Buckingham Palace is the London residence and administrative headquarters of the monarch of the United Kingdom. On the outside, it doesn't look spectacular but certainly it's worth a visit.
The Palace is located in the City of Westminster (close to Victoria Station), and is often at the centre of state occasions and royal hospitality.
If you time it well, you can even see the change of the guard at Buckingham Palace and add something special to your day. We were hoping on a few occasions to see the Queen (now the King) but unfortunately this didn't happen haha ( 😉 ).
Hampton Court Palace
Hampton Court Palace is a historic royal palace with rich history dating back to the early 16th century and is renowned for its stunning architecture, beautiful gardens, and association with British royalty. Allocate at least 3-4 hours to fully enjoy this place!
Originally built by Cardinal Thomas Wolsey in the early 16th century, the palace was later seized by King Henry VIII. He expanded and developed the palace, turning it into one of his principal residences. During your visit, don't miss the following:
The Great Hall – one of the finest surviving medieval great halls. It is an impressive space that showcases the grandeur of Tudor architecture.
The Chapel Royal – a beautiful chapel with intricate carvings and a rich history of religious ceremonies (no photos are allowed here)
The Tudor Kitchens – these provide insight into the elaborate preparations required to feed the royal court.
The Baroque Apartments – later additions to the palace during the reign of King William III and Queen Mary II.
The Gardens – stunning formal gardens, including the Privy Garden, the Great Fountain Garden, and the famous Hampton Court Maze.
The Palace is located in zone 6 in the London Borough of Richmond upon Thames and you can easily reach by train from London Waterloo station.
Kensington Palace
Kensington Palace is another Royal Palace which you can visit. It has been a residence of the British Royal Family since the 17th century. As with Buckingham Palace, you can visit the State Rooms and enjoy Kensington Gardens.
Whilst there, you can also stroll through Hyde Park and see Royal Albert Hall, the Albert Memorial and Princess Diana Memorial Fountain.
Palace of Westminster and Big Ben
Palace of Westminster and Big Ben are certainly on top of your list. The Palace of Westminster (informally known as the Houses of Parliament) serves as the meeting place for both the House of Commons and the House of Lords. You can visit the Palace and find out more about the two houses of the Parliament of the United Kingdom.
Did you know you can visit the Palace of Westminster for free, if you are a UK resident! You can book a free 'Inside UK Parliament' guided tour by contacting your Member of Parliament (MP) or a member of the House of Lords. More information here.
Did you know that Big Ben is the nickname for the Great Bell (largest of the five bells) of the clock and the actual clock tower is called Elizabeth Tower? The clock tower is a British cultural icon recognised all over the world.
It is one of the most prominent symbols of the United Kingdom and a UNESCO World Heritage Site since 1987.
Like what you are reading? Why not join us for other journeys by subscribing to our newsletter:
Westminster Abbey
Whilst in the area, Westminster Abbey is another place to see, located a few meters away from Big Ben. It's the place of coronation and a burial site for British monarchs.
St Paul's Cathedral
St Paul's Cathedral is one of the most famous and most recognisable sights of London. The current building dates back to the late 17th century and was designed in the English Baroque style by Sir Christopher Wren. The construction was part of a major rebuilding programme in the City after the Great Fire of London.
The dome is 365 feet (111 m) high and has dominated the skyline for over 300 years. For many years, it was the tallest building in London and at present, the dome remains among the highest in the world.
Museums and galleries
There are a lot of museums in London and it's really difficult to list them all. Below are some of our top recommendations. Most museums in the UK are free to visit (which is great) but donations are welcomed.
British Museum
British Museum showcases the story of human culture from its beginnings to the present. It is the first national museum in the world and has an impressive collection of over 8 million works which is among the largest and most comprehensive in existence.
The objects have been widely collected during the era of the British Empire. The museum is easily accessible and you can spend days in there. We really enjoy visiting the Egyptian section and the mummies.
Natural History Museum
Natural History Museum is probably one of our favourite museums exhibiting a range of specimens from various segments of natural history. The exhibits are divided into five main collections including botany, entomology, mineralogy, palaeontology and zoology.
This museum is famous for its exhibition of dinosaur skeletons and ornate architecture and is great for adults and for vising with kids.
Science Museum
Next to the Natural History Museum, you will find the Science Museum – a great place to see, touch and experience science first-hand. The museum is very interactive and you see can objects from giant steam engines to proto-computers and iron lungs.
Victoria and Albert Museum (V&A)
Victoria and Albert Museum (V&A) is the world's largest museum of applied arts, decorative arts and design. Often referred to as V&A, the museum was founded in 1852 and named after Queen Victoria and Prince Albert. It took us a while to decide to visit this museum but since visiting, we will definitely recommend this place.
The museum owns the world's largest collection of post-classical sculpture, with the holdings of Italian Renaissance items being the largest outside Italy.
Madame Tussauds
Madame Tussauds is a chain of museums which you might have seen in other countries as well. You can see life-size wax replicas of famous celebrities and historic icons as well as the Royal Family.
Madame Tussauds a.k.a. Marie Tussauds, settled in London with the intention to expo her sculptures she opened a showroom with French Revolution Victims and other such things. This initially raised some interest as she started adding sculptures of famous people.
Although the easy access to media outlets in today's world make slightly redundant the 19th century concept, it still makes for a good social media photo.
The National Gallery
The National Gallery is an art museum, conveniently located in Trafalgar Square. It houses a collection of over 2,300 paintings dating from the mid-13th century to 1900. Some of the most famous paintings which you can see include Virgin of the rocks – Leonardo Da Vinci; Mars and Venus – Botticelli; Sunflowers – Van Gogh and Bathers at La Grenouillère – Monet. Next door, you can also visit the National Portrait Gallery.
Tate Modern
If you are into modern art, definitely visit Tate Modern. It holds the nation's collection of modern art from 1900 to the present day including masterpieces of international and British modern art. The museum is located opposite St Paul's cathedral (on the other side of the river) and has a viewing platform from where you can enjoy great views of London from above.
Cool things to do
Sky Garden
A top recommendation from us is to visit the Sky Garden – yes, a real garden with floor-to-ceiling glass windows, offering fantastic views of the iconic London skyline. The skyscraper itself is known as the "walkie talkie tower", due to its unique shape.
It's free to visit the Sky Garden (need to pre-book in advance) and you can enjoy the view to the Shard.
The Shard
You can visit the Shard, the tallest building in the United Kingdom standing 309.6 metres (1,016 feet) high. The reason it's called like so is due to its shape resembling a few shards being put to stand up. In addition to the great views it offers, it hosts offices, restaurants and hotel rooms.
Boat trip on the river Thames
Take a boat trip on the river Thames and see the city from a different perspective. You can take the Thames Clippers, which Londoners also use to commute. You can either buy a ticket on the spot or use your contactless/ Oyster card to travel.
For example, you can board the boat from London Eye or Tower of London and travel to Greenwich where you can see (and step on) the Greenwich meridian.
Explore Greenwich
Greenwich is a beautiful area in London, known for its maritime history. You can see Cutty Sark (a restored 19th-century ship), the National Maritime Museum, and the classical buildings of the Old Royal Naval College.
Our favourite place is Greenwich Park and the spectacular views of London that you can see from the top. You can also visit the Royal Observatory which is also the site of the Greenwich meridian line.
Other places to explore
Oxford Street
If you are into shopping, then you must go to Oxford Street. There are over 300 shops and several brands have their flagship stores on the street.
Even if you are not shopping, it's still nice to see this street. The annual switching on of Christmas lights by a celebrity also happens here.
Piccadilly Circus
Piccadilly Circus is one of London's most popular tourist destinations and a meeting point of Regent Street, Shaftesbury Avenue, Coventry Street and Piccadilly. The Piccadilly Circus large advertisements have been a famous feature of central London for over a century but definitely can't be compared to the lights at Times Square in New York.
Leicester Square
Leicester Square is another famous place in the West End, just minutes away from Piccadilly Circus. It is the location of nationally significant cinemas such as the Odeon Leicester Square, Empire, Leicester Square, which are often used for film premieres.
During those premiers, you can see the red carpet and the movie stars. The West End is also famous for its theatres and shows. You can enjoy plays such as The Lion King, Mamma Mia!, Mary Poppins musical and many more.
Covent Garden
Covent Garden, also located in the West End, is renowned for its luxury fashion and beauty stores as well as award-winning restaurants and theatres. There are lots of craft stalls at the main market and plenty of places to sit down for a drink or a meal after a tiring day out.
Soho
In the same area in the West End, you will find yourself in Soho – a great place to find live entertainment, interesting food and pulsing nightlife. Its history, venues and atmosphere make it a must-see for tourists and Londoners alike.
Shoreditch
Shoreditch is an area you might want to explore. It's a place where you can find young creatives and trendsetters fill the fashionable clubs and bars. It's a fairly quirky area and a great all rounder for a night out.
Hyde Park Winter Wonderland
If you are in London during the festive season, definitely pay a visit to Hyde Park Winter Wonderland. This place is amazing and perfect for a day out with your family, friends and loved ones. Find out more about things to do in Hyde Park Winter Wonderland, practical tips on how to get there, opening times and our top tips for the perfect visit here.
Food highlights
As you would imagine, a city the size of London attracts many immigrants. People with diverse cultural backgrounds come from all across the world. Some of these people work in banks, offices etc. and some have decided to share their culinary heritage with Londoners.
British Cuisine
Amongst this orchestra of flavours you will also find that there is space also for the traditional British cuisine. Everything from fish and chips to the 5 o'clock are all worthy of your calorie intake.
We definitely would recommend trying a few pubs as they tend to offer generally affordable food at decent prices. They also tend to be fairly spread out in London, so a pub is never hard to find. Actually, the word "pub" is shortened from "public house". Pubs are a focal point in English society.
Full English Breakfast
If you do start your day early be sure to go for a full English breakfast or "Full English" for short. Not only it will fill you up but (unless you come from South America) will make you wonder why did you never consider eating beans for breakfast?!
Fish and Chips, Sunday Roast & Pies
Fish and chips has been a staple of English cuisine especially since WWII. As this was a generally cheap meal, unrationed and the government thought at the time it can lift spirits up.
There you go, wartime comfort food. You will also find traditional pies and the famous Sunday Roast (meat roast, roast potatoes, season vegetables, Yorkshire pudding, gravy) which most pubs serve on Sundays.
Afternoon Tea
The 5 o'clock tea is also another great contender. The story goes that the Seventh Duchess of Bedford, Anna, first had the idea in 1840 for what was to become afternoon tea when, tired from the weariness of the afternoon, asked her servants to prepare her some tea and something sweet to eat with it.
Many hotels and restaurants in London offer beautiful afternoon tea selection to cater to your taste. A very good value for money is the afternoon tea at Patisserie Valerie – we have done this a few times as the price is really good for such a British staple.
Food Markets
First let's start with food markets. A typical London office worker will always go to a food market. They offer diverse, cheap and tasty food.
These markets are all across London and tend to be within walking distance from most offices. There are two main food markets that outrank them all. Borough and Camden Food Markets.
Borough Food Market is situated by the Thames River near London Bridge. It offers food of all types and for all pockets. From French pastries to Japanese sushi, it has it all.
Camden Food Market is situated in Camden Town. The market is easily accessible by tube. You will find that the market itself is within a very hipster-like area. On the way to the market you will see all sorts of things that people sell, from bongs to goth dresses and from lollipops to death metal guitars.
Once in Camden market, you'll realise how hungry you really are. Everything from Thai green curries to Transylvanian stews and even Galician style octopus. It's a culinary feast for sure.
China Town
Green tea ice cream wrapped in a fish shaped waffle? Peking duck with Hoisin sauce? Hot pots? Yes, these are all culinary experiences easily found on any menu in London's Chinatown.
Situated at the end of the West End, China Town has a special place in the hearts and minds of Londoners.
Chinatown boasts buildings and streets decorated with Chinese symbols such as dragons and lanterns. Keep an eye out for street signs, which are written in English and Chinese.
Brick Lane
Brick lane is one of London's most iconic curry scenes. It runs south from Swanfield Street in Bethnal Green, crosses Bethnal Green Road in Shoreditch, and enters Whitechapel.
Originally a hub for Bangladeshi immigrants, it has now become one of Europe's hubs for authentic curries. Anything from gourd curry to chicken tikka masala you will find a curry house right for you.
Whether it's hot to make you sweat when eating, or vegan, there is something for everyone here.
Edgware Road
The Edgware Road, which neatly divides Marylebone and Bayswater, is perhaps best known for being the Arabic capital of London.
As you walk down the road itself, Arab motifs can be seen in all corners of any shop, cafe or restaurant. Freshly baked baklavas, waiting to be drenched in syrup or various middle eastern treats, all look appetising and delicious.
When you sit down at a cafe, make sure to get yourself a shisha, after all you are in the right place for that! Double apple and mint or lemon and grape work best – do trust us on this one.
Final thoughts
We are lucky to call London our home and after many years living here, there are still things to do and places to see within the city's boundaries.
You could say it's a city breaker's delight. A city that is ever evolving and ever changing. Always something to see or people to befriend.
How about you? Have you been to London, if so, share in the comments your favourite attractions.
Ready to book? Below are some recommendations to get your trip started:
---
Accommodation – would recommend booking your accommodation through an aggregator such as Booking.com or Agoda to get the best rates. We also use TripAdvisor to read reviews.
---
Transport – consider Rentalcars.com for car renting or if you rely on public transport, you can use Omio for trains, coaches, ferries, airport transfers and even flights.
---
Activities – a great option is GetYourGuide, Klook or Viator for tours, excursions, experiences and tickets to many tourist attractions.
---
Travel money – we have Starling Bank accounts (UK residents only) with 0% fees on FX and a good Mastercard exchange rate. Revolut is another good option.
---
Internet abroad – with Airalo you can access a wide range of eSIMs (digital SIM cards) available for different countries and regions.
---
Luggage storage – if you need to store your bags whilst exploring the destination, you can use Radical Storage to find your closest luggage storage and enjoy your journey until the very end.
---
As an Amazon Associate and member of various other affiliate programmes, some of the links in this article are affiliate links, meaning at no additional cost to you, we will earn a commission if you click through and make a purchase.
---
Like what you've read? Subscribe to our blog by adding your email address below. You'll be the first to hear about new destinations and articles we publish!
Are you interested in travelling? Check out our Facebook page and other social media for regular tips and recommendations on how to travel and where to go!