London has a great infrastructure for cycling with lots of bike lanes and super highways. It's great for commuters but also really enjoyable for leisure cycling.
We love the Central London area with the amazing views of London's skyline.
In this article, we are sharing our favourite cycling routes. From top London attractions to beautiful Royal parks, and breath-taking views.
London's cycleways
London's cycle network is vast and connects the whole city and the outskirts via cycleways. Transport for London (TfL) offers a number of cycling resources and useful information about the cycleways here.
Regardless if you are an experienced cyclist or just want to explore the city by bike, there are some great routes for you to try to ensure you make the most out of it. If you are just visiting London for a few days, you can easily rent a bike and enjoy a sunny day out and about.
As we live in East London, the cycleway we use the most is CS3 – Cycle Superhighway 3. This spans from East to West, from Barking to Lancaster Gate in Central London and is 14.9 miles long (24 km).
We find it very safe as for most of the route cyclists have their own dedicated lane. Along the way we get to enjoy some major destinations in London.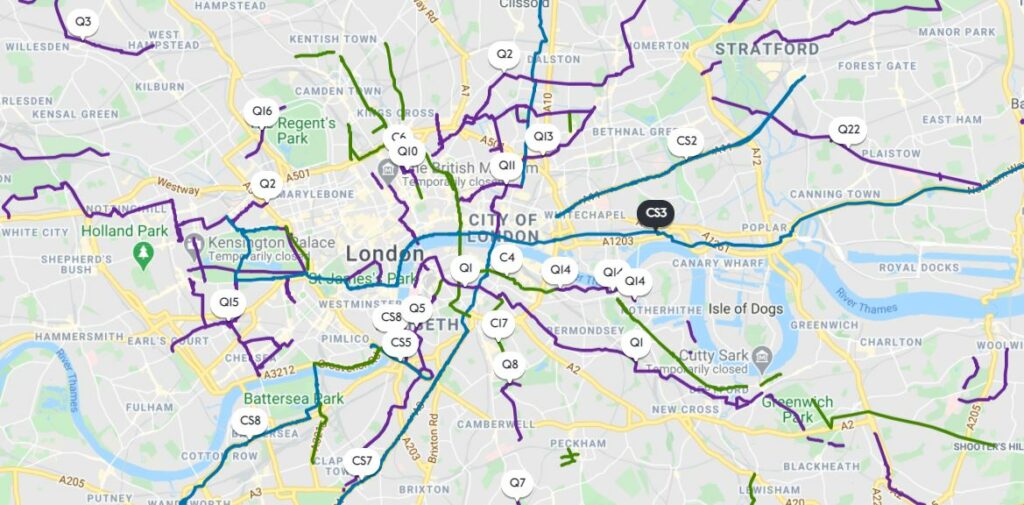 Central London highlights
We really enjoy cycling alongside the river Thames. Some of the key attractions we pass on the way are:
Tower of London – a historic castle on the north bank of the river Thames. Enjoy a guided tour, the Crown Jewels and the infamous Tower ravens.
Tower Bridge – suspension bridge in London, built in late 19th century. A real landmark of UK's capital city and often confused with London Bridge.
The Shard – standing 309.6 metres (1,016 feet) high, the Shard is the tallest building in the United Kingdom. In addition to the great views it offers, it hosts offices, restaurants and hotel rooms.
Sky Garden – yes, a real garden with floor-to-ceiling glass windows, offering fantastic views of the iconic London skyline. The skyscraper itself is known as the walkie talkie tower, due to its unique shape.
The Monument – commemorating the Great Fire of London, this building offers nice views of London. Be prepared to climb a lot of stairs!
… and other spectacular skyscrapers and office buildings in the city. A favourite spot of ours is near the Palace of the Parliament (worth a visit, if you get the chance; you need to book in advance though), where Big Ben is.
Did you know that Big Ben is the nickname for the Great Bell of the clock and the actual clock tower is called Elizabeth Tower? We have a favourite bench opposite London Eye, where we rest for a few minutes before continuing the cycling sightseeing.
Moving on, we pass by Westminster Abbey (place of coronation and a burial site for British monarchs), St. James's Park and head to Buckingham Palace, still following the Cycle Superhighway 3 route.
If you time it well, you can even see the change of the guard at Buckingham Palace and add something special to your day. We were hoping on a few occasions to see the Queen but unfortunately this didn't happen haha 🙂
If you continue on the same route, you will reach the famous Hyde Park. Definitely worth cycling through the park to see Kensington Palace, another palace where the British Royal family resides.
You can enjoy Kensington Gardens, Royal Albert Hall, the Albert Memorial and Princess Diana Memorial Fountain.
London's skyline as seen from Primrose Hill
From Hyde park, you can join cycleways Q2 (Quietway 2) and then Q16 (Quietway 16) and head towards Primrose Hill. Primrose Hill is located north of London's famous Regent's Park and offers some spectacular views of London which, we assure you, you will enjoy.
Cycling from Hyde Park, we pass through Paddington and Marylebone, some expensive parts of London with lovely cafes, restaurants and posh shops.
Regent's Park is another great park to visit. In addition to the amazingly decorated gardens, often we see quirky art exhibitions in the park. The ZSL London Zoo is also located in the park, you might even see a few monkeys when passing by.
Finally, after climbing a hill for 10 minutes, we get to the top of Primrose Hill. This is the rewarding part of the journey, where we get to see the spectacular skyline of London.
You can recognise buildings such as St Paul's Cathedral, the Shard, the BT Tower, London Eye, Houses of Parliament and even the Crystal Palace Tower.
Conclusion
London is a great city and the amazing cycling infrastructure makes it very easy to explore by bike. Whether you are just visiting the city for a few days or looking for a nice day out, be rest assured that you can find a suitable cycling route.
The route described above is probably more suitable for intermediate cyclists but even if you haven't cycled much, you can pick and choose suitable cycleways and still explore the city on two wheels. Enjoy and have fun!
Ready to book? Below are some recommendations to get your trip started:
---
---
---
---
---
---
---
As an Amazon Associate and member of various other affiliate programmes, some of the links in this article are affiliate links, meaning at no additional cost to you, we will earn a commission if you click through and make a purchase.
---
Like what you've read? Subscribe to our blog by adding your email address below. You'll be the first to hear about new destinations and articles we publish!
Are you interested in travelling? Check out our Facebook page and other social media for regular tips and recommendations on how to travel and where to go!