Explore in this article how to book cheap flights using Google Flights. A fast and easy tool to learn that can save you money. This tool allows you to explore what other destinations you might want to visit finding you the best price available.
And sure – we might say to ourselves "A no, hubby and I, we are the 1 hotel per city-break type of folks" and that's fine. No one said you should change your approach. It's more to do with the destination that you and your partner (or self) choose to go to.
Some place that you are yet to see. And sure Paris, London, New York are all great places to see, but I'm talking about those places that are slightly off your radar. When's the last time you went to Oslo? How about Sibiu? Bratislava? No? – then read on. We will tell you our secret of using Google Flights to find cheap flights and get inspired where to travel next.
Where it all began?
When we first discovered that airplane tickets are easier to buy than coach tickets, we were fascinated. A whole world opened. All of the sudden, the idea that you could use your 16 digits off your bank card and book 2 return tickets to any destination all before dinner, felt unreal.
Looking at the many trips we've had, many people ask us: But how do you do it? Time? Money?
The day for us has 24 hours, same as yours. And no, haven't won the lottery either (yet). What's the secret then? Well, there isn't one. Just careful planning AND Google Flights.
To help you with your planning, read our top tips on how to plan your next trip.
What is Google Flights?
To begin with, it's an online flight booking search service which facilitates the purchase of airline tickets through third-party suppliers. It was launched by Google in 2011 following a buyout.
It facilitates the purchase of tickets and works as an aggregator. It also sells data intent to airlines to signal interest for a particular route. Yes – it does that, so I'm looking at you Mr. Privacy Conscious person – if privacy is your thing, maybe don't use it.
We've had SkyScanner, Opo, Expedia etc. but what we haven't had, is a search engine that displays a map.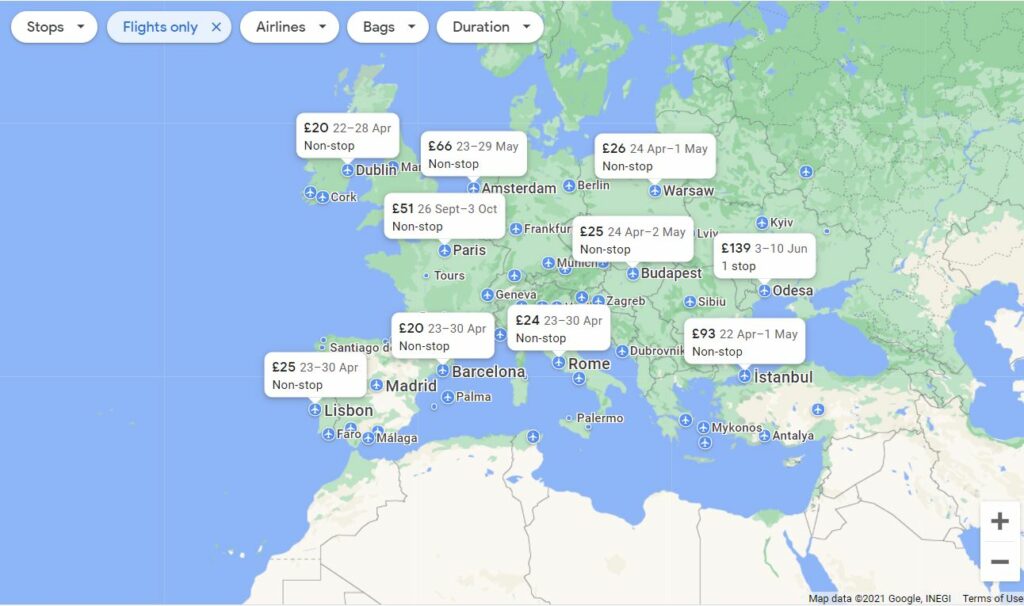 Yep – it's that simple. The benefit of this?
It helps you pick and choose journeys and discover destinations based on your criteria. Whether you are looking for a cheap get away or simply have never been to Zagreb, it gives you a helicopter view of all the major airports and prices, starting with the lowest.
How to use it?
The user is presented with a simple interface accessible at: www.google.co.uk/travel/flights
From there you can start inputting your destination. It also hosts an option for multi-city travel. This can be particularly useful if you're planning to land in one city/country and depart from another.

After you've put your destination, # of passengers, preferred class, you can click "Search". For this purpose, let's assume we are wanderlusting to Tirana.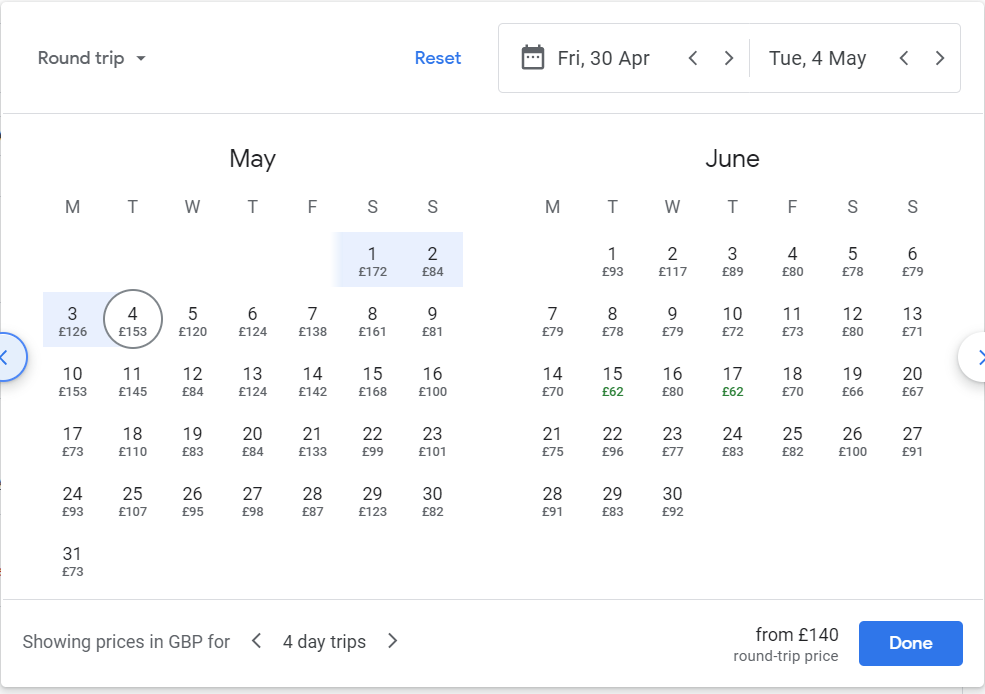 Depending on our availability we can choose any day for departure. Remember, these are prices shown as the cheapest option for that day comparing all available carriers.
If we can be a bit flexible, we see from this calendar that in June, the first 3 weekends are relatively cheaper. Let's pick Friday the 18th.
Having chosen our dates, we then are prompted with the next screen. Here we can see to segments: "Best departing flights" (typically direct flights) and "Other departing flights" which tend to be cheaper but most likely connecting flights.
If you are unsure on whether you should go ahead with a purchase or perhaps you want to wait a bit more … or simply want to know if you are paying the normal price – Google Flights presents you with another feature.
In between the 2 flight options you will se a small drop down button. Expanding it reveals a a chart informing you whether the prices available are typical or above average.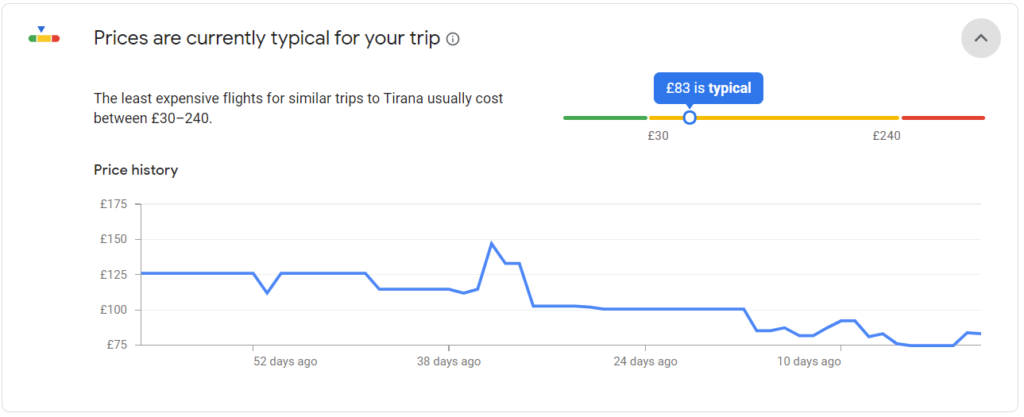 This can be a great indicator whether you can wait a bit longer or you should go ahead with the purchase with the idea that prices may increase further. If you feel that you can wait a little longer, then you can also use the price tracker.
You can find the price tracker in the top left corner; it's a simple toggle. Once turned on, Google Flights will send you price increase/decrease notifications to your Gmail account.
Assuming your are happy with your decision, then proceed by choosing your return flight. On the final page you will be prompted with a summary of your flight and what Google believes your flight includes. It could prompt you from things such as leg space, whether the flights runs late regularly or if luggage is included.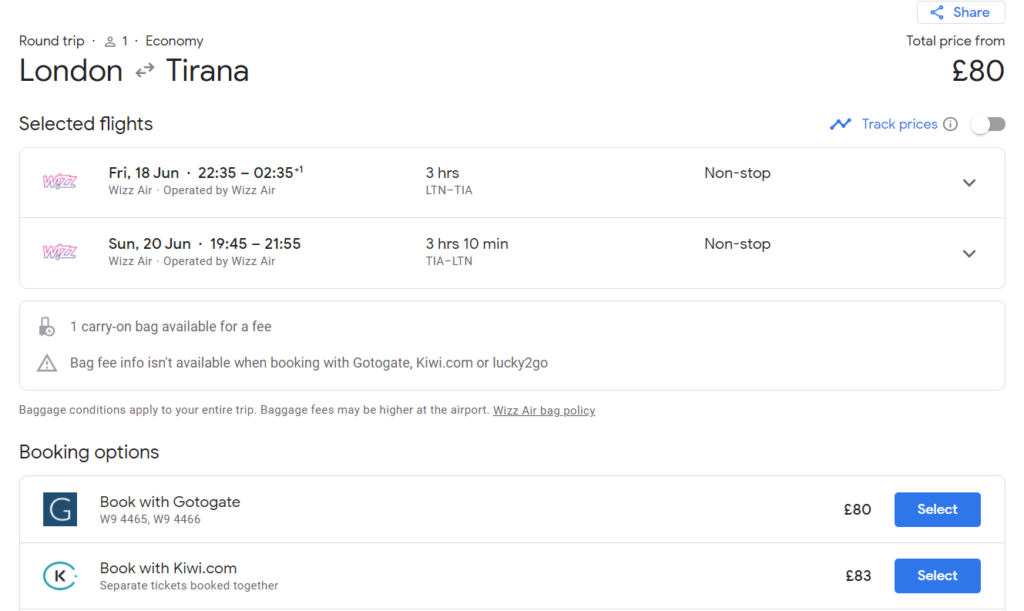 You have 2 options from here:
Buy the flights from the vendors listed below (they can vary depending on the flights)
Buy the flights from the carrier by going on their website and choosing those exact flights
Conclusion
In conclusion, we would definitely recommend this product as it allows you to explore destinations and enables you to compare services and prices easily. We feel, for those that have a few city breaks in mind but aren't set on the destination, Google Flights can be a viable option to settle on something.
If you like this article, be sure to also check our guide on how to find cheap flights with lots of practical information and useful recommendations.
Happy travelling!
Ready to book? Below are some recommendations to get your trip started:
---
---
---
---
---
---
---
As an Amazon Associate and member of various other affiliate programmes, some of the links in this article are affiliate links, meaning at no additional cost to you, we will earn a commission if you click through and make a purchase.
---
Like what you've read? Subscribe to our blog by adding your email address below. You'll be the first to hear about new destinations and articles we publish!
Are you interested in travelling? Check out our Facebook page and other social media for regular tips and recommendations on how to travel and where to go!