If Bratislava were ever a person it would be that kid in class that stood in-between the two tough guys in class called Vienna and Budapest and somehow managed to befriend them.
And that would be a fair representation of this picturesque and endearing capital.
Read more below about our trip to Bratislava and how we managed to discover one of Europe's smallest, yet charming capitals.
Overview
Bratislava is believed to have been on the Roman limes line, the Empire's northern border to the Germanic realm. After the Slavic tribes arrived the area grew in number of inhabitants.
Bratislava pronounced /ˌbrætɪˈslɑːvə/ hasn't always had this name. Depending on which ethnic group you were from you could have called it Pressburg (Germans) or Pozsony (Hungarians).
Interesting fact is that pre-WWI, only 15% of the local population identified as Slovaks. The rest were either German or Hungarian. If anything, Bratislava played an important role in Hungary's ousted government. Following the defeat by the Ottomans and the capture of most of the Hungarian dominions, the Ottomans also tried conquering Bratislava without luck.
Also Bratislava served as a political, economic and administrative centre on the kingdom's frontier throughout its time. Between 1536 and 1830, eleven Hungarian kings and queens were crowned at St. Martin's Cathedral.
In modern history, Bratislava was proclaimed capital of the newly formed Slovak state in 1939. Following several ups and downs in history, in 1993, the city became the capital of the newly formed Slovak Republic following the Velvet Divorce.
Travel and Accommodation in Bratislava
For this trip we flew from London. Flights to Bratislava (BTS) tend to be relatively cheap and typically can be classed as a good city break escape. Although the city can be seen in 1-2 days, we would recommend allowing more time and merging your trip with a trip to Vienna.
This is exactly what we did – read our recommendations for things to do in Vienna. We took a coach from Bratislava to Vienna and flew back from Vienna International Airport (VIE).
In terms of accommodation, we would recommend booking your travel through an aggregator such as Booking.com or Agoda to get the best rates.
In Bratislava we chose to stay in the old centre as we found a really good deal at the time. The hotel was called Old City Hotel – a former block of flats converted. Overall, we liked it as it had spacious rooms with good breakfast.
Things to do
Although Bratislava is relatively small with a population of around 440 000 residents, it does have some unique architectural features and points of interest for tourists. If you don't have enough time, you might consider Bratislava by Sightseeing Bus to cover the main attractions.
You will note a very similar Central-European feel to the area with bright red roofs and high ceiling buildings all wrapped around brightly painted walls; much similar to our experience in Prague, Czhehia.
Old Town Hall
First, we'd suggest you start your journey in the central square of the Old Town. The Old Town Hall is a must see – it is the oldest city hall in the country and it is one of the oldest stone buildings still standing in Bratislava.
Hlavné námestie (Main Square)
Hlavné námestie (Main Square) is one of the most well known squares in Bratislava. It is located in the Old Town and it is often considered to be the centre of the city.
There you can see the Jesuit Church, the Miestodržiteľský palác an important political building throughout the ages and Maximilian's fountain. This well-known, 16th-century fountain features a statue of Maximilian II as a knight in armour. Bratislava City Museum is another place to visit whilst there.
Michael's Gate
As you make your way down the cobbled streets, stop by the clock tower at the Michael's Gate. It is the only city gate that has been preserved of the medieval fortifications and ranks among the oldest town buildings having been built in the 14th century.
Primatial Palace
Whilst in the Old Town, you can see the Primatial Palace – a neoclassical palace which was built from 1778 to 1781The Slovak National Theatre building and square are another delight. Over there you can see kids running and racing each other with their parent ever so gently reminding them not to trip over and get hurt.
Like what you are reading? Why not join us for other journeys by subscribing to our newsletter:
Presidential Palace
Another great place to visit for some photos would be the Presidential Palace. The Grassalkovich Palace is the residence of the president of Slovakia.
The building is a Rococo-late Baroque summer palace with a French garden.
St. Martin's Cathedral
St. Martin's Cathedral is another great example of architecture but also history. As we are reminded that 11 Hungarian kings and queens have started their monarchical journeys here.
The Blue Church
Another great church would be the Blue Church as it is nicknamed. A Hungarian church that features a façade which was painted with blue colour.
A line of blue tiles and wave-strip encircles the church. Something for sure that will attract your attention, you can't miss it!
We loved the look and the colour of this church and find similarities with Ciuflea Monastery in Chisinau, Republic of Moldova.
Bratislava Castle
Perhaps one of the better places you can even consider finishing your day would be the Bratislava Castle. The castle building includes four towers (one on each corner) and a courtyard with a 80 m (260 ft) deep water well.
The castle's site, like today's city, has been inhabited for thousands of years, because it is strategically located in the center of Europe at a passage between the Carpathians and the Alps, at an important ford used to cross the Danube river, and at an important crossing of central European ancient (trade) routes running from the Balkans or the Adriatic Sea to the Rhine river or the Baltic Sea, the most important route being the Amber Route.
UFO Bridge
From the castle's hill you can also see the borders with Hungary and Austria which does make for an experience in itself. Not far, you will also be able to see the UFO Bridge or the Bridge of the Slovak National Uprising as it's also known.
It features an UFO like shape on top of the cables. The UFO bit is actually an observation deck and restaurant serving traditional food. We didn't go there but we'd for sure want to next time.
Slavín memorial monument
You can also enjoy nice views of Bratislava from Slavín – memorial monument and military cemetery. It is the burial ground of thousands of Soviet Army soldiers who fell during WWII.
The monument is situated on a hill and offers some great views of Bratislava from above.
Bratislava also hosts a few peculiar statues as you stroll through the streets. A favourite for most tourists. One of them is Čumil or also know as "Man at work".
An offbeat bronze statue of a sewer worker resting at the top of a manhole, "peeping" at passers-by.
Food & drinks highlights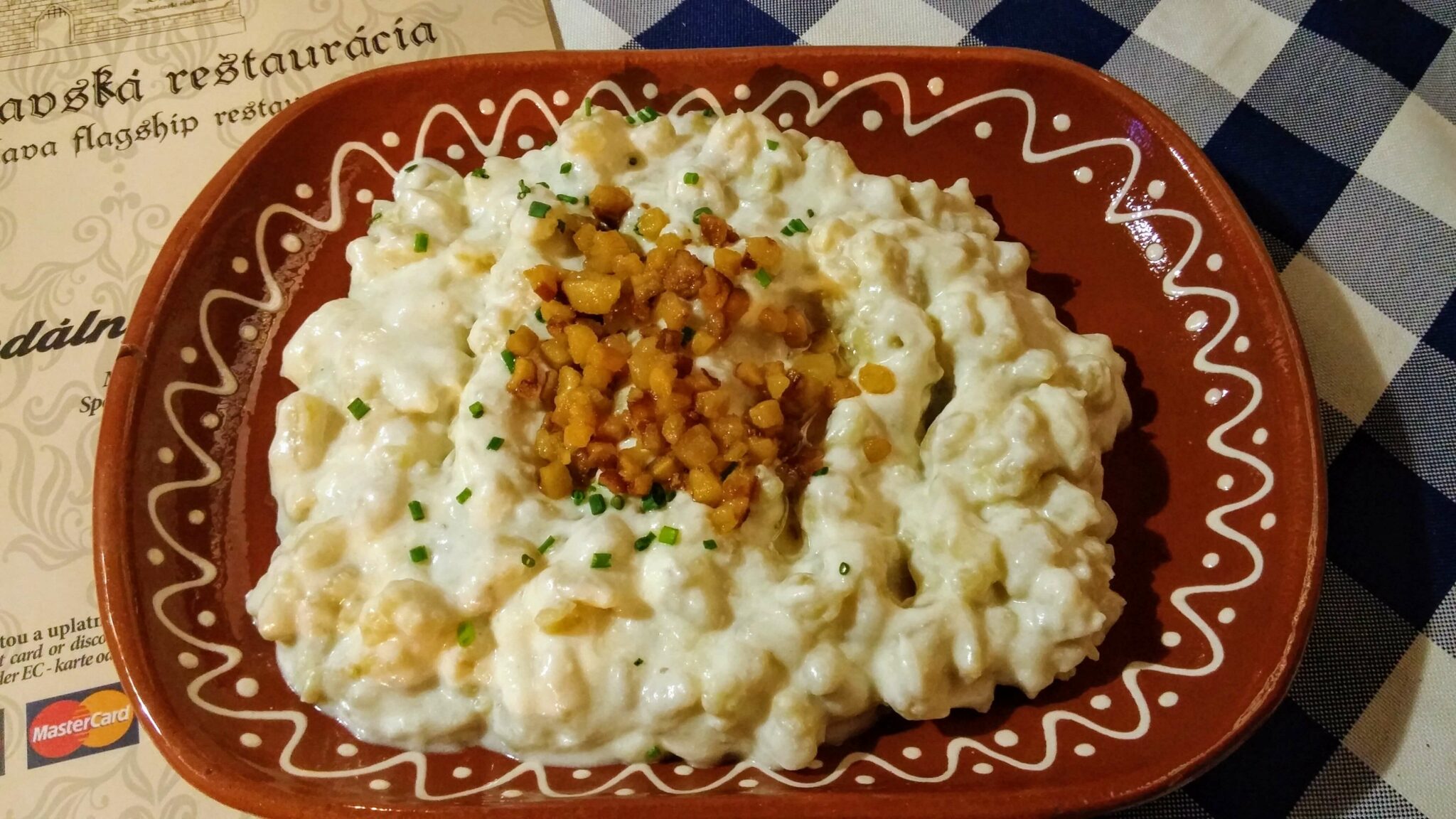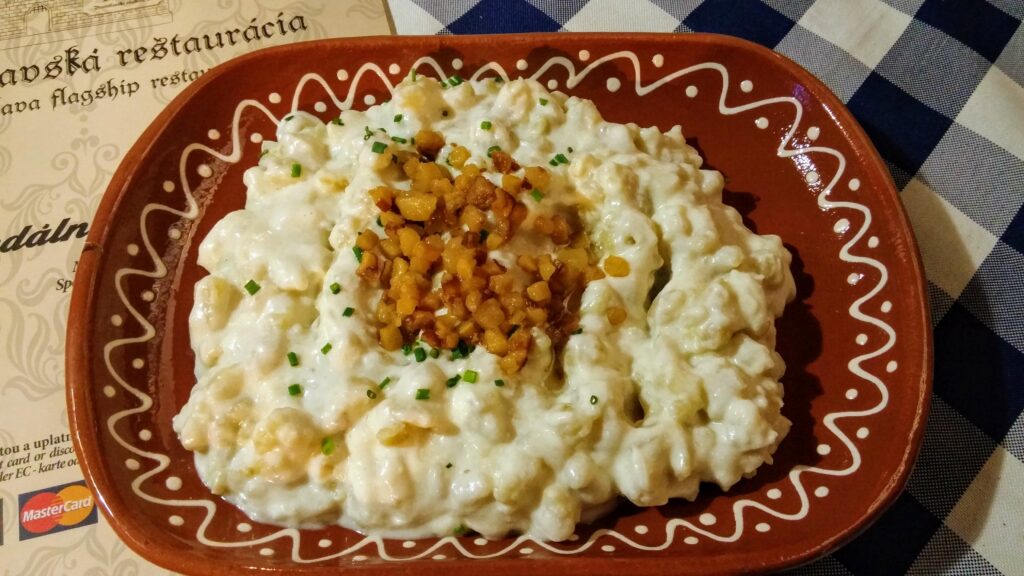 Overall Slovak cuisine from our experience seems to be fairly hearty. Cheese, noodles, heavy meats and dumplings are all Central European characteristics and they for sure are well represented here.
One particular dish I enjoyed was almost like German spaetzle with a cheese and cream coating topped with bacon. Almost like an European mac'n'cheese.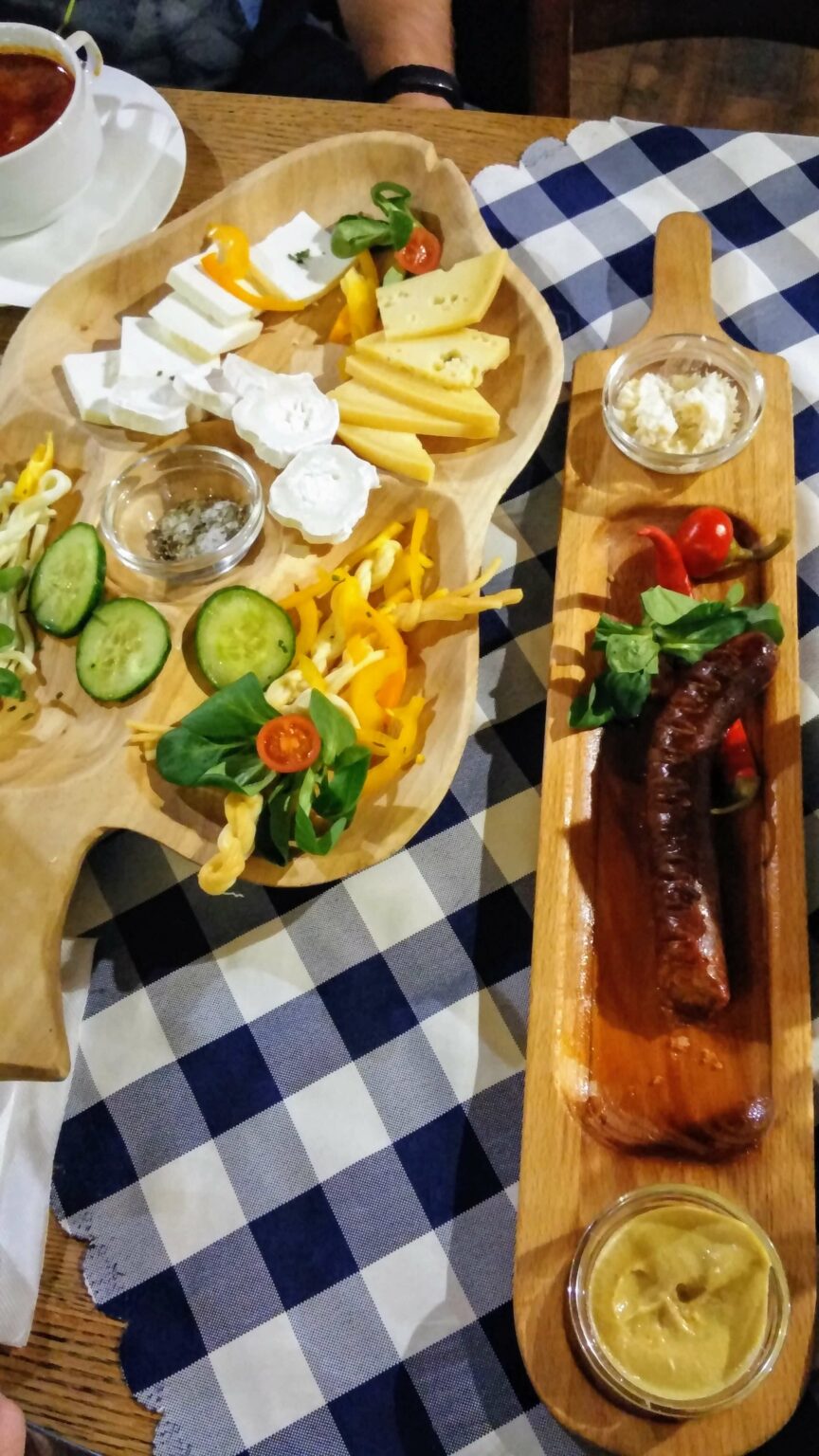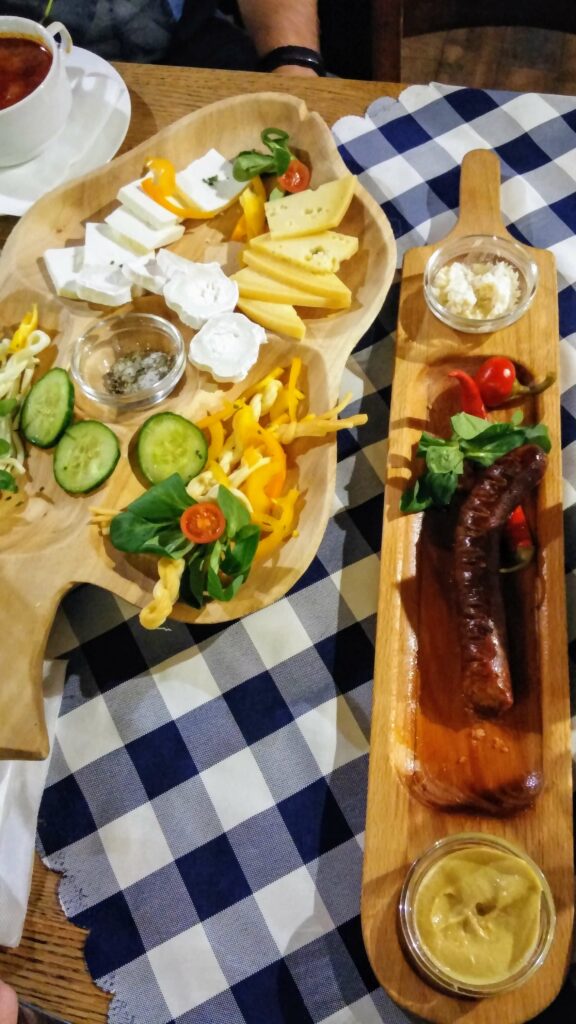 In terms of drinks, there are plenty to choose from wines to beers and various spirits. However, the most traditional one is a herbs based drink called Tatratea.
It can go all the way up to 70% – and believe me, it does warm you up!
Final thoughts
Bratislava is an amazing capital that showcases beautiful and picturesque squares combined with narrow and cobbled streets filled with shops and cafes. It's a traveller's delight and a photographer's dream.
As mentioned previously, we would heavily encourage you to combine this with a trip to Vienna as well, but if not a city break on it's own will for sure not disappoint.
Ready to book? Below are some recommendations to get your trip started:
---
---
---
---
---
---
---
As an Amazon Associate and member of various other affiliate programmes, some of the links in this article are affiliate links, meaning at no additional cost to you, we will earn a commission if you click through and make a purchase.
---
Like what you've read? Subscribe to our blog by adding your email address below. You'll be the first to hear about new destinations and articles we publish!
Are you interested in travelling? Check out our Facebook page and other social media for regular tips and recommendations on how to travel and where to go!