When we look at Europe many top destinations considered by tourists have been London, Rome & Madrid. However, we often forget that Europe isn't just between the 0° and 15° longitudes (E). And there is much more to Europe than this.
Therefore, in this article we aim to present a place perhaps that few have considered as a viable city break destination. Prague, once the main residence for the Holy Roman Emperors and important city throughout the ages has much to offer.
Also, we will be slightly biased towards this city as this was where we got engaged!
Read below our journey and recommendations and perhaps we would have convinced you where to book your next trip.
Overview
Prague, pronounced /prɑːɡ/ PRAHG, originally a city established as Boihaem in c. 1306 BC by an ancient king, Boyya, rose to be a city of great importance throughout the Middle Ages in Europe and later the capital of the modern state of Czechia.
Main attractions include Prague Castle, Charles Bridge, Old Town Square with the Prague astronomical clock, the Jewish Quarter, Petřín hill and Vyšehrad.
Prague owes much of its success due to Charles the 4th. Prague flourished during the 14th-century reign (1346–1378) of Charles IV, Holy Roman Emperor and the king of Bohemia of the new Luxembourg dynasty.
As King of Bohemia and Holy Roman Emperor, he transformed Prague into an imperial capital and it was at that time by the area the third largest city in Europe (after Rome and Constantinople).
Much of this prosperity can still be seen in modern day Prague a legacy that many Praguers can be proud of.
Travel to Prague
Prague is a capital that fits the weekend city break criteria. The city itself hosts 1.3 million people so definitely walkable for the vast majority of attractions.
For this trip we would recommend doing a weekend. Friday till Sunday should be enough to cover most attractions and also experience Prague as a local.
Flights from London tend to be <£100 pp. return and offer good times around the above suggested travel dates. Read more about how to find cheap flights here.
You can reach Prague by other means also including by land or river as the city is on the Vltava river where many river cruises come by.
Where to Stay in Prague
On this occasion we stood at the Wenceslas Square Hotel a hotel not far from the Wenceslas Square. The location was central and provided easy access to all POIs. Overall the place was ok and they have 2 sections of the hotel.
In terms of accommodation, we would recommend booking your travel through an aggregator such as Booking.com or Agoda to get the best rates. Use the widget below to find the best accommodation in Prague for your specific dates.
A standard one and a more modern one. You can upgrade to those rooms and we do recommend you do. This is because you will be entertained at night with the view of the Prague Castle all litten up.
Top Things to do in Prague
There are so many things to do and see in Prague, check our recommendations below. If you don't have enough time, you might consider Hop-on Hop-off Bus Tour to cover the main attractions.
Additionally, like we've mentioned in our article How to plan a trip: Best tips for your next holiday plan, it's worth researching some of the attractions beforehand so you can plan your trip accordingly.
Narodni Museum (National Museum)
As one starts their weekend trip in Prague a good place to start is Wenceslas Square with the Narodni Museum (National Museum). This grand museum established in 1818 with a range of natural science & history exhibits and is a great place to understand Czechs and their culture.
As you finish a good spot for some photos would be the Square itself. It boasts large buildings with casinos, hotels and restaurants.
The Astronomical Clock and Old Town Hall
As you progress towards the old city centre you will see at some point the Astronomical Clock. This is one of the main attractions that Prague is famous for.
The clock was first installed in 1410, making it the third oldest astronomical clock in the world and the oldest clock still in operation.
The clock captures a mechanical show inspired from biblical characters but also various astronomical motifs. Definitely a must for all you photo seekers!
The Old Town Square
Finishing up with your photos, look no further – you've arrived. The Old Town Square is the oldest square in the Old Town.
It offers tourists a multitude of amenities: anything from coffee shops to restaurants and beer houses. Beware though, some can be overpriced compared to local standards.
A good idea is to stop here for lunch and admire the people passing by occasionally taking a photo of the beautiful scenes in front of you.
Church of Our Lady before Týn
After you finish, do head over to the Church of Our Lady before Týn. Another iconic landmark in Prague and has featured in many movies, so for sure you will recognize it.
This church is spectacular, like no other church we have seen. It's an absolute must!
Boat trip on the Vltava river
Another thing tourists can do is go for a boat ride on the Vltava river. They offer good explanations accompanies by unique and picturesque views from the boat.
Throughout your walking journey you will notice the amazing architecture Prague has to offer. True eye candy. You might think you are in Vienna or perhaps Paris but in truth you are still in Prague.
Karluv Most (Charles Bridge)
As you head towards the Prague Castle, another place you will recognize from Prague postcards (if you lived throughout the 90s) is Karluv Most or Charles Bridge in English. The bridge offers a splendid view of the city embankments and spectacular views of the Castle.
On your way to the Castle, do get ready for a little bit of a climb. However, you will be rewarded throughout the journey with visually cute buildings and impressive architecture.
Like what you are reading? Why not join us for other journeys by subscribing to our newsletter:
Prague Castle
Once arrived at the Castle, take a moment to absorb the postcard perfect view in front of you. Not far from the Castle entrance there is a coffee shop which offers a spectacular view at the cost of a cup of coffee. So do enjoy it and see it as a reward for your trip.
It is the official office of the President of the Czech Republic. The castle was a seat of power for kings of Bohemia, Holy Roman emperors, and presidents of Czechoslovakia. The Bohemian Crown Jewels are kept within a hidden room inside it.
The history of the Prague Castle began in 870 when its first walled building, the Church of the Virgin Mary, was built. According to the Guinness Book of Records, Prague Castle is the largest ancient castle in the world, occupying an area of almost 70,000 square metres (750,000 square feet), at about 570 metres (1,870 feet) in length and an average of about 130 metres (430 feet) wide.
Also another great thing is to time your visit with the change of the guard. Yes – it's not only at Buckingham Palace but in other places too! For an idea on the guard change schedule see this link here.
The Castle hosts many expositions around historic facts from Prague and Czechia and its history. A must for anyone who wants to claim they understand Czech history.
St. Vitus Cathedral
By the castle you can also visit St. Vitus Cathedral which is an impressive cathedral and imposes a sense of solemnity to the visitor.
It reminded us slightly of the Wawel Cathedral in Krakow which you can read more here and see our trip.
Petrin Hill and Petrin Tower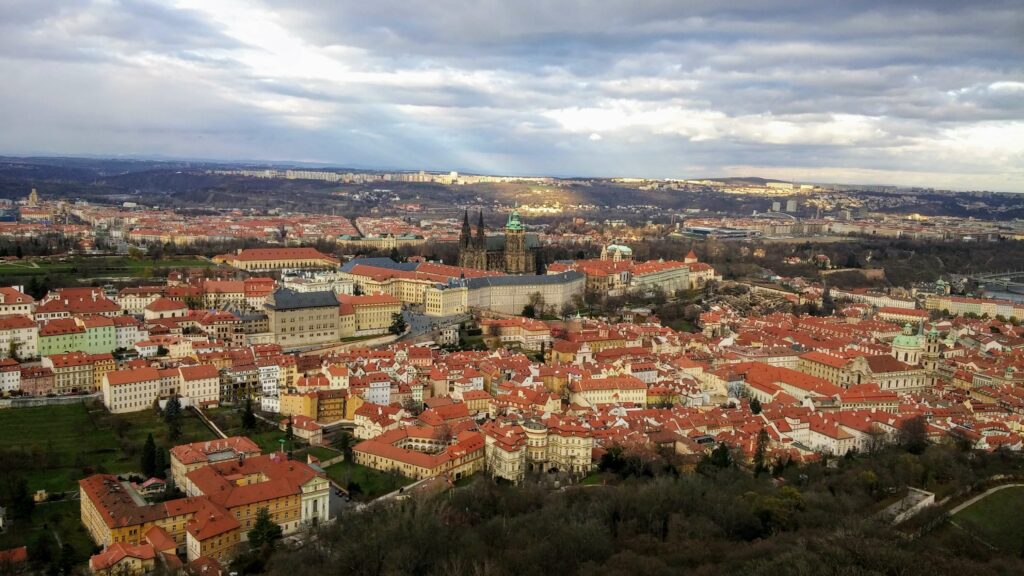 When you wrap up, feel free to head over to Petrin hill and see Petrin Tower. The hill itself is a famous recreational area filled with parks.
At the top of the hill you will find the tower. For a moment you will feel confused but no worries, you're not in Paris. You're still in Prague.
The tower itself is 378 metres high, being overall higher than the Eiffel tower. The entrance is paid but you can go to the viewing deck by lift. From there you can see splendid views of Prague.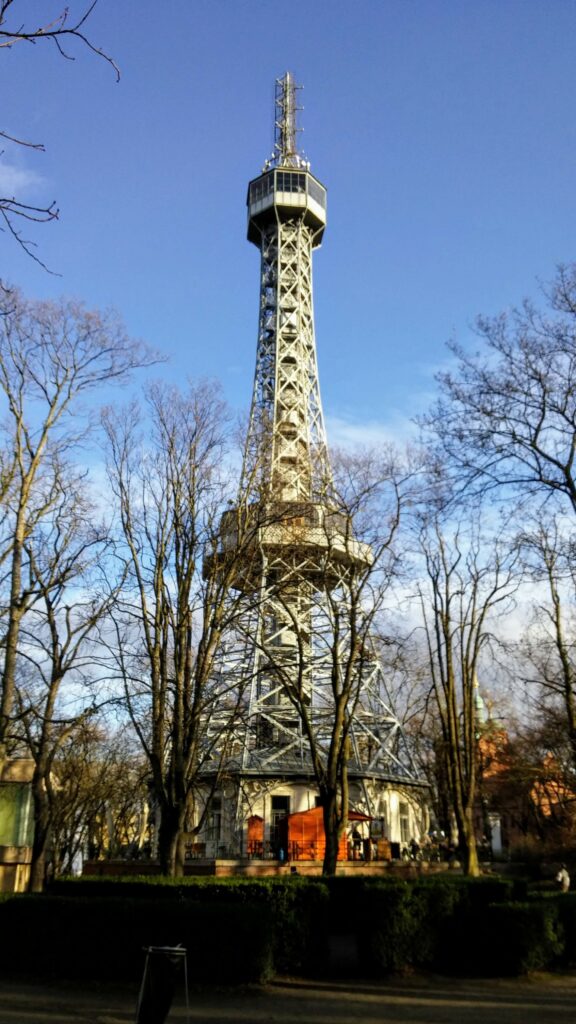 Prague TV Tower
By now it should already be evening. If you are not (too) tired and want to experience Prague like the locals head over to the Prague TV tower.
We'd suggest using public transport depending on where you are at that time as it is fairly far away from touristic areas.
The tower has 1 interesting detail you'll be amazed to notice – babies climbing it. You read that right. Like many examples of communist-era architecture in Central and Eastern Europe, the TV tower used to be generally resented by the local inhabitants.
It also received a spate of nicknames, mostly alluding to its rocket-like shape, like "Baikonur", after the Soviet cosmodrome.
Once you are up there do feel free to enjoy a drink and admire Prague by night.
Talking about that – why not enjoy the Prague night life also. Many restaurants and bars in the nearby vicinity of the tower offer a great experience into Czech night life.
Food and Drink Highlights
As one would imagine, Prague is an undefeated capital of beer. Anything from Staropramen to local beers, Praguers will drink it all. Best thing? It's cheap, delicious beer. What more can anyone want?
However, as most of us do, alongside your beer you should enjoy a meal. A popular dish in Prague is duck, found quite often in many restaurants.
Similar to other Central European Countries such as Slovakia and Poland, pork is a staple of Czech cuisine and features in many menus. A typical accompaniment would be braised cabbage or potatoes. They go very well on a cold winter day.
Dessert? Yeah, why not. A popular street dessert is Kurtos Kalacs or Trdelnik aka Chimney cake.
They come with different flavours from the classic sugar coating to exotic chocolate and coconut coatings. A must have for those who don't know this cake.
If we are to recommend a good place to eat for special occasions like an engagement perhaps (ehem!), we would certainly recommend U Maliru.
The décor, the food and the ambiance definitely are a good explanation for the relatively higher prices. The service has been top notch and we would recommend you go to enjoy a special night there!
Final Remarks
Prague is an excellent city whether you are a solo traveller, couple or even a family. Its budget friendly prices coupled with convenient flights make it an attraction for all wallets.
If you like medieval architecture, history, beer and great food, then Prague is a city worth exploring.
Ready to book? Below are some recommendations to get your trip started:
---
---
---
---
---
---
---
As an Amazon Associate and member of various other affiliate programmes, some of the links in this article are affiliate links, meaning at no additional cost to you, we will earn a commission if you click through and make a purchase.
---
Like what you've read? Subscribe to our blog by adding your email address below. You'll be the first to hear about new destinations and articles we publish!
Are you interested in travelling? Check out our Facebook page and other social media for regular tips and recommendations on how to travel and where to go!