As we dash off into the Festive Season and pour another glass of port or sherry and snack one more chorizo infused cheesy chicken canape, I'm reminded of a few things. Mariah Carey's "All I want for Christmas" (sorry), hearty family meals and… Christmas Markets.
And sure, whilst the Germans were the first to introduce them here in Europe, almost as a sign of appreciation for the Festive Season that was about to come, they have been widely adopted across the continent.
We explore 4 Christmas markets in 4 distinct cities: Bucharest, Brasov, Sibiu and Cluj-Napoca and invite you to read more about this European tradition but also why your next Christmas Market should be a Romanian one. If you are wondering what to do in Romania in December or if you want to spend Christmas in Romania, keep on reading.
Whilst Romania has a strong Christmas spirit and I do mean it, Christmas markets haven't always been around. They havе recently been introduced as a response to some of the more established Western European counterparts but have steadily grown in popularity.
In Eastern Europe, few countries caught up with this and even fewer have what you could proudly say a "Christmas Market" other than a few scattered stalls with some dubious produce.
Below we explore 4 Christmas markets in 4 distinct cities: Bucharest, Brasov, Sibiu and Cluj-Napoca shown below.
We will uncover the many markets the capital boasts to the more intimate and almost specialist markets the latter mountain cities offer.
Should one want to visit all of them is absolutely possible during a weekend. Actually one can simply land at Bucharest, Otopeni Airport, take the train from the terminal, stop in Bucharest, get back on the train and head off to Brasov, Sibiu and Cluj-Napoca (or Cluj for short).
When visiting these markets, they might come as a little surprise as these are real markets with actual produce. So if you are looking for Romanian Xmas food, this is a great place to start. The meats, the wine and everything feel real and are real. And by all means, do get yourself a cup of mulled wine, come on it's Christmas after all.
The Christmas markets are also a great place to find Romanian Christmas gifts.
Bucharest Christmas Markets
Confirmed dates – 30 November 2023 – 26 December 2023
If you are looking for things to do in Bucharest in December, then exploring the Christmas markets can be a great starting point.
As one heads to the Bucharest Christmas Markets they will be spoilt for choice. This is because they typically are spread across the city. In an attempt to capture the main ones, have a look below:
Of these, we would recommend the Piata Constitutiei one which is near the Parliament, the Cismigiu Park one and the University Sq. one. These tend to have music and live performances and we felt, the better produce.
There is a good selection of Romanian produce from across the country which makes it very traditional. You can find anything from clothes to cooked food and mulled wine or hot palinka.
Whilst you are in Bucharest, why not consider a visit to Therme Bucharest – one of the largest wellness, relaxation and entertainment centres in Europe.
If you have limited time in Bucharest in December, why not consider a walking guided Christmas tour? More details below.
As of 2022, there is a new Christmas market called West Side Christmas Market. Whilst it is a bit off the beaten tourist path, we do suggest you make the effort. This is just another place to explore in Bucharest in winter.
It's situated in the Drumul Taberei neighbourhood in the west side of Bucharest. It's easily accessible via metro or busses and trams. The park itself is decorated splendidly with its trees wrapped in festive lights.
The market itself is located in the lake area and offers all the goodies one would expect. We also suggest you go on the overarching bridge which really gives you a wonderful panoramic view of this Bucharester Winter Wonderland.
If you are visiting Bucharest in December and wondering where you can stay, we suggest you stay at Hotel Cismigiu. Read more about our stay at Hotel Cismigiu and how to get a 10% discount here. Alternatively, use the widget below to find the best accommodation in Bucharest for your specific dates.
Brasov Christmas Market
Confirmed dates – 30 November 2023 – 7 January 2024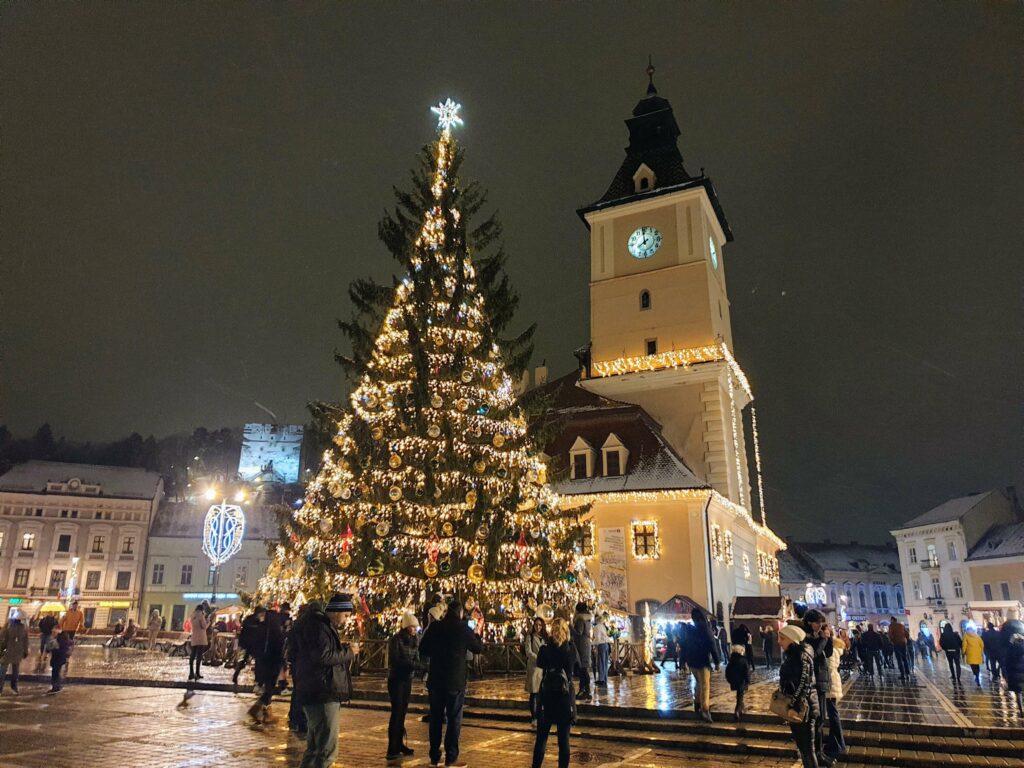 Ah yes, Brasov or Kronstadt or Brasso. The many names one gets to have. Like many of us, actually.
Originally, a Teutonic city on an ancient Dacian site, Brasov has become a multi cultural city with Romanian, Germans and Hungarians calling it home.
This carries through very nicely in the Christmas Market with many local produce which are unique and quite intriguing to Romanians themselves. You can find the main market in Piata Sfatului, in the old City Centre. From Salamis to Sausages and from Spirits to Wines this place has it all.
So if you are visiting Brasov in winter, make sure to spend some time at the Brasov Christmas market. When walking down the street, do indulge yourself with a nice mulled wine and a chimney cake! It makes the cold so much more bearable.
If you visit Brasov, we also recommend a trip to Sinaia and a visit to Peles Castle. Winter in Brasov and the surrounding area is magical.
If you are planning to stay overnight and truly enjoy the glamour of Brasov, why not use the widget below to find the best accommodation for your specific dates.
Sibiu Christmas Market
Confirmed dates – 17 November 2023 – 2 January 2024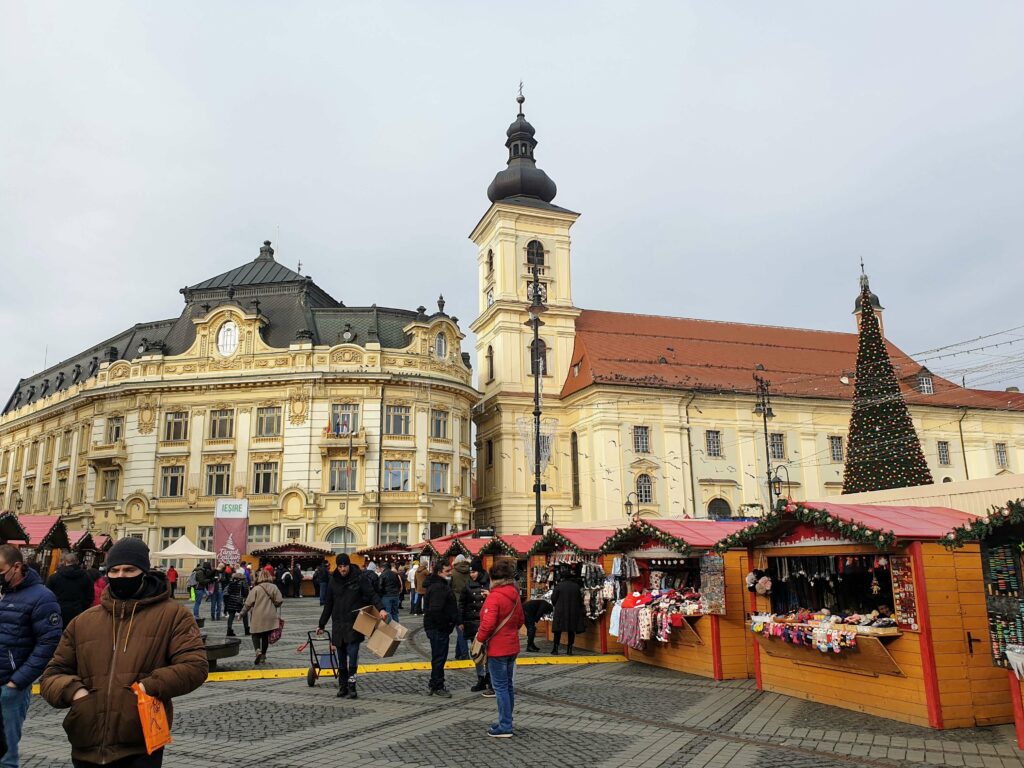 Nestled at the foothills of the impressive Fagaras Mountain Range, Sibiu or Hermannstadt as it is known by its German name, is an impressive and quite unique city in Romania. As Germans were the main ethnicity, many local produce showcase that.
The market is gloriously located in the Large Sq. marketplace. Our advice is to go during the evening as the lights do make the experience so much better. Sibiu in winter is really beautiful.
Actually, white wine and rose wine are the characteristic wines of the region making it a good candidate for mulled wine. Yes! Actually, the original recipe according to them for mulled wine was with white wine! Take that red!
Also, typical of this area is Sibiu Salami, similar to other Hungarian style Salamis.
If you are planning to stay overnight and explore more of Sibiu, why not use the widget below to find the best accommodation for your specific dates.
Cluj Christmas Market
Confirmed dates – 24 November 2023 – 1 January 2024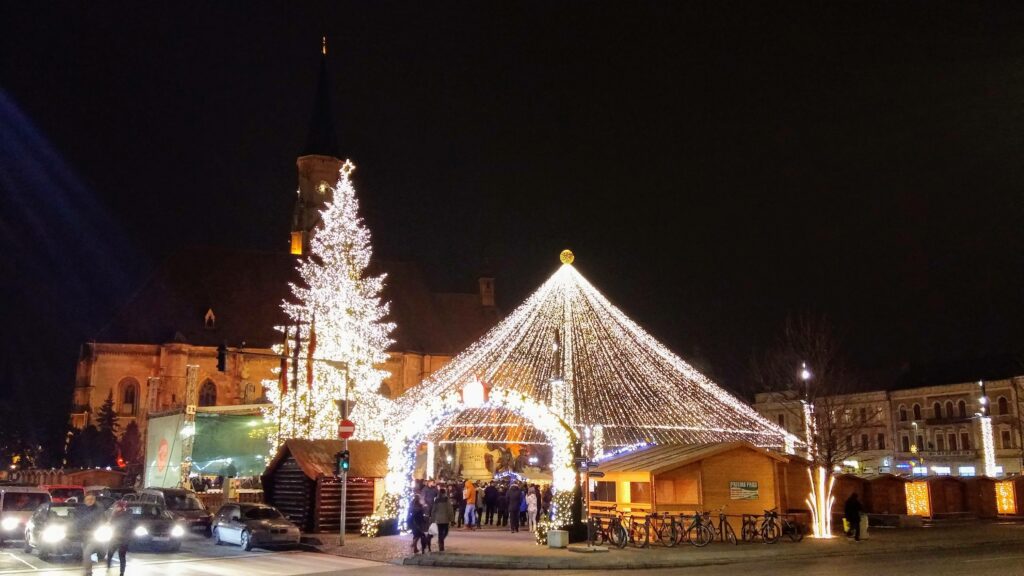 Cluj, the tech capital of Romania. Prices are just as spicy as in Bucharest. Actually, whilst writing this article, I think someone's rent increased in Cluj by 10%.
A city just as multicultural as Brasov, now the Crown City of Transylvania offers tourists an intimate yet festive market just like any other. You can find the Xmas market in the Unirii Square just by the cathedral.
We visited Cluj during the winter and the Christmas market was a real highlight.
If you go to Cluj-Napoca, definitely pay a visit to the amazing salt mine Salina Turda. If you do plan to explore more of Cluj-Napoca and the surrounding areas, why not use the widget below to find the best accommodation for your specific dates.
Final Thoughts
Whether you are a solo traveller or a city break kind of couple/family, Romanian Christmas Markets can be an alternative to their Western counterparts. With produce that are there to impress anyone that calls themselves a foodie and whilst you're at it – why not explore the cities themselves? 😉
Christmas markets are a good way to do some shopping and find hand-made Romanian Christmas presents. If you can't find the right present for your loved ones, why not check our recommendations for gifts for travellers and travel lovers?
Have fun and enjoy the Christmas spirit!
Ready to book? Below are some recommendations to get your trip started:
---
---
---
---
---
---
---
As an Amazon Associate and member of various other affiliate programmes, some of the links in this article are affiliate links, meaning at no additional cost to you, we will earn a commission if you click through and make a purchase.
---
Like what you've read? Subscribe to our blog by adding your email address below. You'll be the first to hear about new destinations and articles we publish!
Are you interested in travelling? Check out our Facebook page and other social media for regular tips and recommendations on how to travel and where to go!