Ah yes, skiing. I once remember one of my former managers saying:
"If there is a hospital at the finish line then this is a sport I don't wanna' do."
And he probably was right however, a large proportion of us would still go skiing year after year. And as many of us are always on the lookout for great destinations we thought of intriguing you with a new ski destination this time.
Nested in the foothills of the Pirin Mountain range, Bansko is an excellent winter resort ready to welcome skiers from everywhere to try out its slopes. Interested? – good then join us for the journey below.
Overview
Bansko is a mountainous resort, roughly 2.5 hours away from Sofia or Plovdiv by car. The resort is an all year round resort and sits at just under 1000m. During winter time, skiers can go all the way to 2600m. Another ski resort in Bulgaria to consider is Borovets, read our article here for more information.
As to the myths of Bansko's inception, people are fairly split however, a few hypothesis emerge. One claims to have been settled by one of the soldiers from Tsar Samuil's blinded army. Another says an Italian by the name of Ciociolino first settled here.
Ultimately, the most plausible is that the Perun Slavic tribe would have been the first settlers in this region. Perhaps they weren't skiers ( 😉 ) but seeing the beauties of this area they might've decided upon this location since 100 B.C..
Today, Bansko is a well established resort offering tourists all kinds of hotels and accommodations. Its primary economy is tourism followed by trade.
Travel and Accommodation
Travelling to Bansko shouldn't be an issue as it is conveniently located about 2.5 hours away from Sofia. One can easily fly into Sofia International Airport and either take a coach or arrange a direct transfer. And sure, packaged holidays would offer this as part of the deal so feel free to book one on this occasion.
The resort offers excellent accommodation options for all wallets. Airbnb type of person? No problem. Lux palace with golden tapestries and casino downstairs type? No problem. Pick and choose and you won't be disappointed.
The main advantage we found in Bansko is that most hotels offer a ski shuttle for your convenience all the way to the main gondola. Imagine carrying your ski after a hard day on the slopes!
Whilst we normally opt for somewhere in-between when it comes to our hotel choices here are some of the places we stood at (links to TripAdvisor) in the past and our impressions, in no particular order:
Things to do
Bansko rose on the European skiing stage in 2009 when in hosted FIS World Cup alpine ski races: the women raced in 2009 in two downhills and a super-G. The men's circuit made its first stop at Bansko in 2011 with a super combined and a slalom.
It hosted the men's giant slalom in February 2012 and the FIS World Cup ladies' downhill and super G, and men's giant slalom and slalom.
So with this strong tradition in mind it only makes sense we speak about skiing first.
Ski, ski & ski
To start with, any skier (or snowboarder) will have to start at the gondola. Typical wait times can be of around 1 hour in the morning. So have your breakfast and leave with the first hotel shuttle to avoid disappointment.
Prices can be found here, however, a week of skiing can set you back 452 lv. pp.
Whilst you are on the gondola heading towards the base camp Banderishka Poliana, feel free to familiarize yourself with the ski slopes: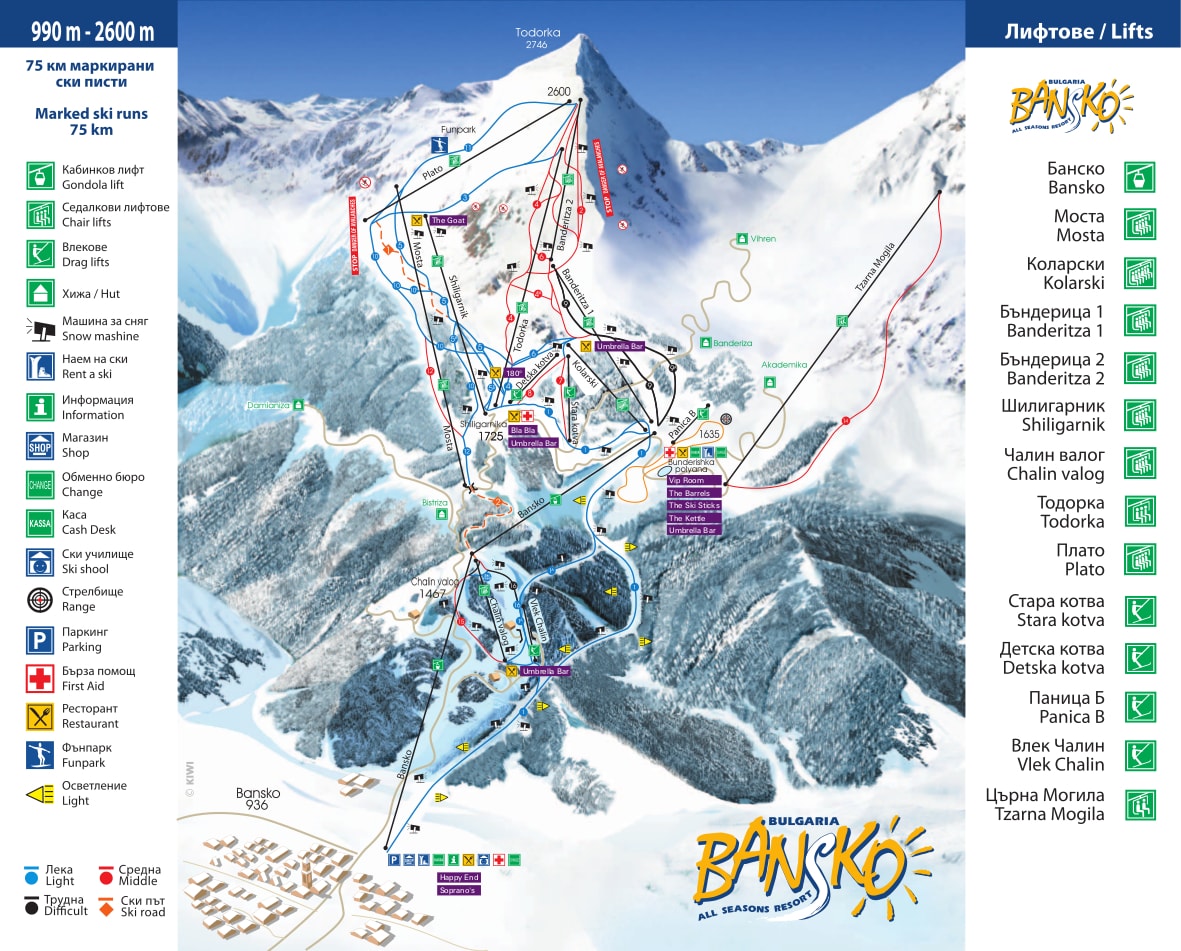 In summary, the slopes are as follows:
Type of Pistes: 6 Blue Pistes. 8 Red Pistes, 1 Black Piste, 2 Ski Routen Pistes
Ski Lifts: 14 – 1 Gondola, 9 Chair Lifts, 4 Surface lifts
We would recommend to go to the top, the plateau area. From there you can start yourself off by heading to the Goat Cabin for a good (machine made) cup of coffee. The view – stunning!
In general the slopes don't present much difficulty and are generally wide. For the warmer winters we found that they do try to add as much artificial snow as they can – so you won't miss out on your holiday.
Like what you are reading? Why not join us for other journeys by subscribing to our newsletter:
In terms of gear, if you are renting, many hotels offer a ski/snowboard rental option, if not you can find plenty of shops out there. For skis, boots and sticks you could look at 25 lv. per day. I guess you could always negotiate a bit also.
At the end of your skiing day, do go on the road leading to Bansko as it skis very well and is a joy to wrap up your day.
During busy times, the queue at the gondola might be a bit too long, so be prepared to wait. Alternatively, you could consider some of the other well established ski resorts in Bulgaria – Borovets and Pamporovo.
The resort
The city itself offers some great features of typical Bulgarian architecture for this region. The main street offers many shops and boutiques where tourists can buy souvenirs or ski/snowboard equipment.
If you go further towards the city centre, you will find many Mehanas which are typical traditional Bulgarian taverns.
Feel free to continue all the way to the city centre. Once you arrive you will be greeted by the church tower of Sveta Troitsa, the famous landmark for this city.
In the city centre, you will find plenty of cafes and restaurants also that oversee the splendid statues and fountains.
Other experiences
Food & drinks highlights
Bulgaria is known for hearty meals but also for their salads! You could go into a restaurant and go through 2 pages of menu and still be looking at salad options. Yes – they love their greens!
As we discussed in our Sofia article, Bulgarians enjoy their salads as starters, typically with their local brandy, called Rakia. When eating out, sharers similar to tapas are also quite popular.
Also it wouldn't be wrong to order a parlenka either. Which is a flat bread with either cheese or garlic butter toppings. Go on, it's a holiday after all, you've earned the calories ;).
Throughout the years we tried to go to some Mehanas that appealed to us. Here is a suggestion list (links to TripAdvisor) of our top picks:
On the slopes you will find that most restaurants are owned by the same company. Whilst there is nothing wrong with the food, actually it's quite tasty, we found that prices can be quite high.
This accompanied by a long wait time might not be what a hungry skier is looking for.
We therefore suggest you also look into some of the restaurants on the way to the gondola station in Bansko. Places like Peshterite for instance offer amazing home cooked food at decent prices. If you do go there, do try their home made sausage – it's to die for!
Final thoughts
Looking back at the many years we've visited and revisited Bansko it feels us with joy and laughter. The many falls when skiing and the many memories we had make this resort a must on our travel map.
Family friendly and easy on the budget means Bansko offers something for everyone. Whether you're after a ski or snowboard holiday or just some time to unwind, then you should really consider this jewel of Eastern Europe.
Ready to book? Below are some recommendations to get your trip started:
---
Accommodation – would recommend booking your accommodation through an aggregator such as Booking.com or Agoda to get the best rates. We also use TripAdvisor to read reviews.
---
Transport – consider Rentalcars.com for car renting or if you rely on public transport, you can use Omio for trains, coaches, ferries, airport transfers and even flights.
---
Activities – a great option is GetYourGuide, Klook or Viator for tours, excursions, experiences and tickets to many tourist attractions.
---
Travel money – we have Starling Bank accounts (UK residents only) with 0% fees on FX and a good Mastercard exchange rate. Revolut is another good option.
---
Internet abroad – with Airalo you can access a wide range of eSIMs (digital SIM cards) available for different countries and regions.
---
Luggage storage – if you need to store your bags whilst exploring the destination, you can use Radical Storage to find your closest luggage storage and enjoy your journey until the very end.
---
As an Amazon Associate and member of various other affiliate programmes, some of the links in this article are affiliate links, meaning at no additional cost to you, we will earn a commission if you click through and make a purchase.
---
Like what you've read? Subscribe to our blog by adding your email address below. You'll be the first to hear about new destinations and articles we publish!
Are you interested in travelling? Check out our Facebook page and other social media for regular tips and recommendations on how to travel and where to go!