Did anyone say ski or snowboard? If so, then you might've also mentioned Borovets in the same sentence.
Bulgaria has some of the nicest slopes in Eastern Europe one could hope for. Long slopes, affordable hotels and exciting scenery are what you should expect in Borovets.
Read below more about why your next ski holiday should be in Borovets.
Overview
Borovets is situated on the northern side of Rila Mountain and boasts a perfect location right at the foot of Mount Musala (2925 metres) the highest peak on the Balkans.
It is the oldest ski resort in Bulgaria and was originally set to be the hunting place for Bulgarian Kings in the late 19th century.
Nowadays, Borovets is a busy ski resort with plenty of restaurants, hotels and nightlife. The resort has hosted World Cup twice, Alpine Skiing rounds (1981 and 1984), while the Biathlon track is one of the best in the world.
Travel to Borovets
The resort is accessible by car/coach only. However, most people tend to fly in to Sofia Airport and then either rent a car or get a private taxi to their hotel in Borovets.
To make sure you get the best deal, read our guide on how to find cheap flights.
Alternatively, if you prefer to drive, you can comfortably drive all the way to Borovets from wherever you call home.
There are also public transport options once you are in Sofia, such as direct or indirect (via Samokov) coaches to Borovets.
We went from Hristina's hometown by train to Sofia and then got a private hire taxi. On the way out we tried going by coach to Sofia from Borovets and although the cost was about half price when compared to the private taxi, the journey is also double. Perhaps something to weigh in.
Accommodation
Unlike Bansko which is also a city, Borovets is purely a resort similar to Pamporovo. This means that your range of hotels might be limited. But not to worry – there is plenty of choice available also.
We would recommend booking your accommodation through an aggregator such as Booking.com or Agoda to get the best rates however, booking as a packaged holiday can also be a good option.
Like we say in our article on how to plan a holiday, do account for the overall cost as you might get some benefits with one option over the other.
The main advantage we found in Borovets is that most hotels offer a ski shuttle for your convenience all the way to the main gondola. Imagine carrying your ski after a hard day on the slopes!
Most hotels offer BB or even HB style accommodation. Our recommendation is that you take the HB option if your hotel has that. This is particularly good if your hotel is pretty far away from the main street. Yes, there's just one street with restaurants and places to eat.
We stood at Hotel Lion Borovets and would certainly recommend it. If you are looking for a value for money hotel in Borovets with excellent facilities, delicious food and great service, then this is the hotel for you. Read more about Hotel Lion Borovets and our experience here.
Things to do in Borovets
The resort itself isn't very large so you can consider taking day trips or hikes to explore this wonderful area. Below are a series of recommendations on what you can do in Borovets.
Try the Slopes
Considering we are in one of Bulgaria's top ski resorts, why not ski? Unfortunately, when we were there in January 2023 we really didn't have much snow but that didn't stop us from having a go at it.
We're told that the slopes are mostly for beginner skiers however, as we went up with the gondola we saw some really nice tracks so more advanced skier can make use of.
Below you can find the slopes and the lifts: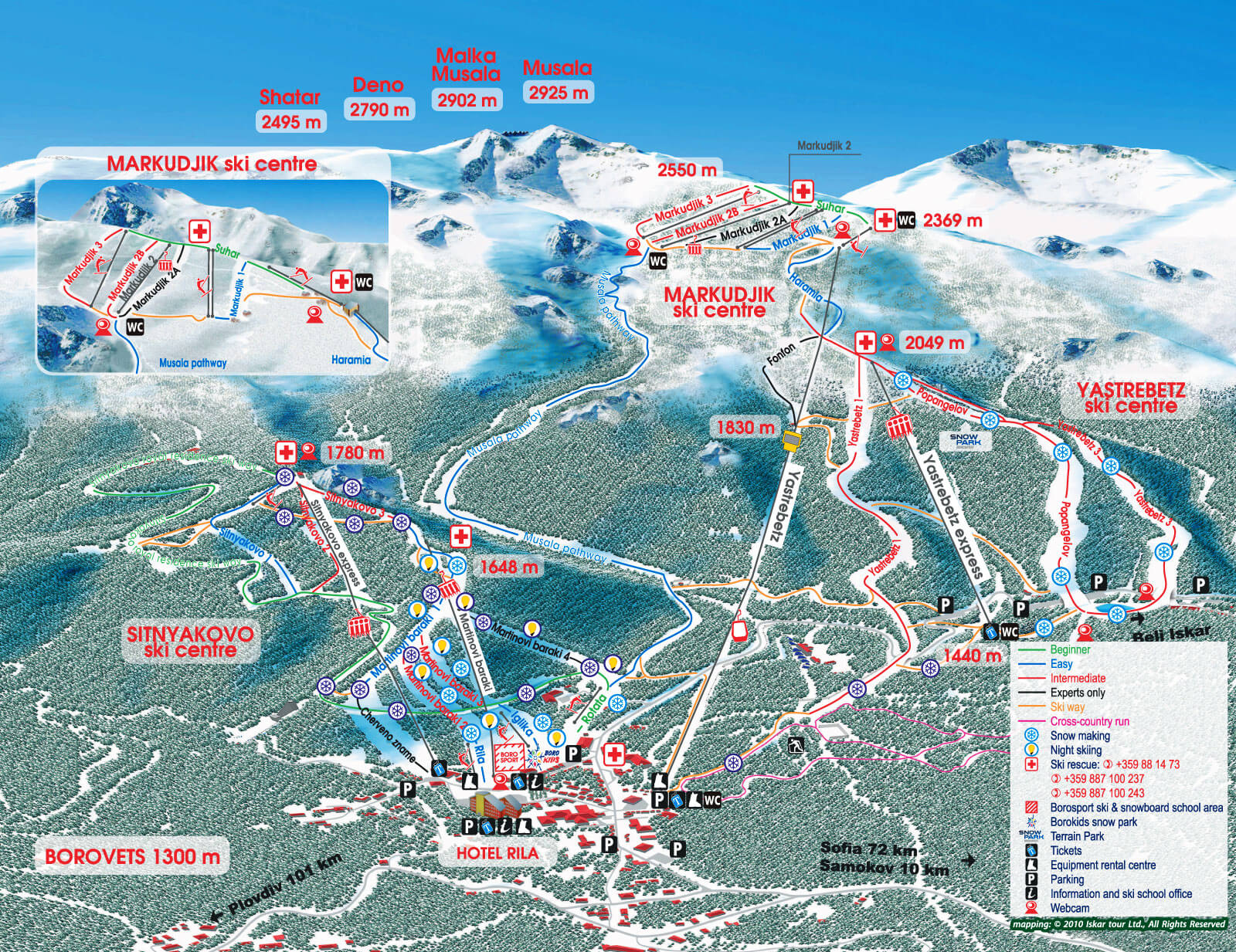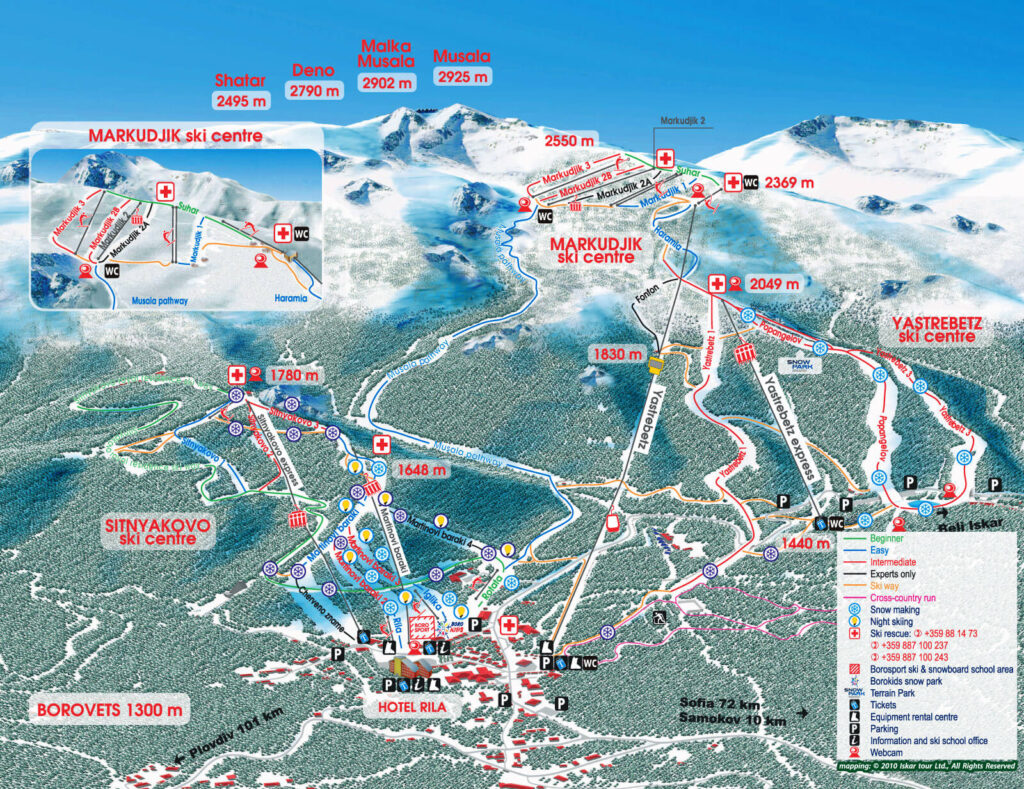 In terms of gear, if you are renting, many hotels offer a ski/snowboard rental option, if not you can find plenty of shops out there. For skis, boots and sticks you could look at 25 lv. per day. I guess you could always negotiate a bit also.
Visit Tsarska Bistritsa
Tsarska Bistritsa is a former royal palace in southwestern Bulgaria, high in the Rila Mountains, just above the resort of Borovets and near the banks of the Bistritsa River.
Built between 1898 and 1914, it served as the hunting lodge of Tsar Ferdinand of Bulgaria and his son Boris III. Nowadays it belongs to the former royal family and can be visited. The main palace isn't always available to be visited so it's best you have a look beforehand to avoid disappointment.
Having said that, the estate is a splendid walk through the forest with several artificial waterfalls all showcasing a very serene ambience.
We visited the chapel which was in size fairly small, it did look very well maintained and well decorated.
You could also consider visiting the power plant which hosts a Siemens generator, the original one from 1914, still powering today's castle and some of the surroundings.
You could end your trip at the Palace's café which offers a series of refreshments and warm drinks, all to be enjoyed in a hunter's style lodge complete with a fire place and hunting trophies.
Take a Hike to the Black Rock
This is a trip we really enjoyed and think everyone can do it. The hike is very easy and takes about 1 hour from the main road from where the hike starts.
You don't need too much equipment other than some treats, water and trainers.
The journey takes you through a forest track with wonderful and serene scenery. Definitely a trip worth while if you're seeking some peace and tranquillity.
The reason for the name is that this used to be a mass execution place for thousands of Bulgarians, being thrown off the rock into the abyss.
The journey will end with a small descent to the rock itself. Once on the rock you will be astonished by the wonderful 270° view.
We stood on the rock a good 2 hours simply absorbing the sun and watching the spending vista. We suggest you do that also.
Like what you are reading? Why not join us for other journeys by subscribing to our newsletter:
Climb Musala Peak
Standing at 2,925m, Musala is the highest peak in Bulgaria and the whole Balkan peninsula. It is part of the Rila Mountain Range. The name itself comes from Arabic Mus Allah, meaning close to God or place of prayer given how high this peak is.
Here we suggest you take additional hiking equipment as the journey up is fairly difficult and you may need a certain level of fitness. Make sure you get loads of snacks and liquids along the way and start the journey early in the morning with good weather conditions.
You can also climb from Borovets, the walking path starts from Tsarska Bistritsa however, we took the Gondola all the way to Yastrebets peak. From there you will really enjoy the views of the mountain range and the peaks dominating the skyline.
Head over down and start following the path to Musala peak, it will be clearly marked and runs through the ski slopes. The journey itself to the Musala Hut is very enjoyable and not difficult at all.
Once at the Musala Hut, have a sit and enjoy the wonderful views of the different peaks surrounding it as well as the lakes.
We then went up all the way to the Icy lake which is a few hundred meters away from the peak. We didn't manage to reach the peak as the footpath was frozen, being winter, and so we decided that this was the safest furthest point we could go to. Another reason to come back and finish what we started!
Admire the Scenery from Sitnyakovo Rock
A short walk from the top station of Sitnyakovo Express lift. It's an easy one and you don't need any special preparation or equipment.
The hike itself isn't very intense and any level of fitness is fine. It is a 10 minute climb in the forest before you get immersed in the wonderful views ahead.
On the way back we also stopped at Sitnyakovo Rock – Downhill Snack & Grill for a drink and some light snacks whilst enjoying the views.
If you feel up for a challenge, you could reach there from the base but we didn't feel that adventurous.
Do a Day Trip to Sofia
Once in Sofia, you will be stricken by the fresh air and the view of Vitosha mountain surrounding the landscape. Although the city itself has some great architectural features, many buildings may need a new façade lift up.
Aside from that, there are quite a few places one can see. We typically would recommend a weekend to truly immerse yourself in the city however, you could also see some of the more central touristic attractions if 1 day is all you have.
Read more about things to do in Sofia here.
Other Activities in Borovets
Food and Drinks Highlights
There are many eateries in Borovets. As this resort is fairly popular with British tourists, locals have adapted and many places have a very British twist on naming trying to mimic British Pubs.
One thing to note, if you ever go out with a Bulgarian for dinner – always order a salad and the local spirit called rakia. You could go into a restaurant and go through two pages of menu and still be looking at salad options. Yes – they love their greens!
Most of these restaurants cover typical Bulgarian dishes anything from kebabs to salads and sach dishes. Sach dishes are almost like stone cooked stir fries.
When eating out, sharers similar to tapas are also quite popular. Also it wouldn't be wrong to order a parlenka either to share with your friends. Parlenka is a flat bread with either cheese or garlic butter toppings. Go on, it's a holiday after all, you've earned the calories.
Some good places we tried and recommend are below:
Enjoy a Stew by the Fire at The Green King
The Green King where mehana meets English Pub is a good place to sit down for a nice hearty meal. The owner and staff are simply delightful and strive to make your dining experience ever so more comfortable.
The interior looks very welcoming and the fireplace is simply mesmerizing.
We tried the bean soup which was hearty and good followed by the local stew with baked potatoes. The portions were a true feast and we were simply left full and happy.
Relax at The Terrace Lounge
Situated on the terrace of the Rila Hotel, The Terrace Lounge is an excellent place to enjoy a lunch whilst baskin in the sun and watching skiers go down the slopes.
The menu is varied and hosts international dishes and some Bulgarian items. Prices are slightly more peppered, however given the view – does it really matter?
We suggest you sit outside, they have both heated areas and non heated tables and enjoy the sun whilst sipping on your hot cocoa.
We also tried the trout with potatoes and the signature burger. Both were excellently cooked and might I add that this was perhaps one of the better burgers I've had in Bulgaria.
Loose Yourself in the Scenery at Sitnyakovo Rock – Downhill Snack & Grill
After our hike to the Sitnyakovo Rock we decided to stop at Sitnyakovo Rock – Downhill Snack & Grill. It offers a decent menu with pretty good looking options.
We decided to have a tea and hot cocoa alongside some traditional Bulgarian baked sheep's cheese drizzled with honey and walnuts.
The view and sun rays shining over us really made it such a pleasant experience whilst we were indulging in our treats. It almost feels like you're in a landscape painting.
Enjoy the Views from Tea House Yastrebets
Tea House Yastrebets is accessible from the top station of the Gondola. It's a lovely place offering indoors and outdoors seating area and amazing views of the mountains.
After our hire to Musala Peak, we stopped here for a hot chocolate and a light lunch. When the waitress asked us if we want cream on the hot chocolate, we both looked at each other and said "yes, please, we deserve it".
We also had beans soup and parlenkas with garlic and with cheese. To be honest, the soup was really nice but we wouldn't order the parlenka again – it wasn't made there and didn't taste like the authentic one.
Final Thoughts
Family friendly and easy on the budget means Borovets offers something for everyone. It's great for families with kids as there are plenty of hotels with kids' entertainment and excellent for couples as you can take some time for yourselves and relax.
Whether you're after a ski or snowboard holiday or just some time to unwind, then you should really consider this jewel of Eastern Europe.
Ready to book? Below are some recommendations to get your trip started:
---
---
---
---
---
---
---
As an Amazon Associate and member of various other affiliate programmes, some of the links in this article are affiliate links, meaning at no additional cost to you, we will earn a commission if you click through and make a purchase.
---
Like what you've read? Subscribe to our blog by adding your email address below. You'll be the first to hear about new destinations and articles we publish!
Are you interested in travelling? Check out our Facebook page and other social media for regular tips and recommendations on how to travel and where to go!