When visiting Doha you might be overwhelmed by the many options available. Doha has recently seen a boom in business but also leisure travel with the 2022 World Cup crowning its place in the region and a hotspot.
Therefore, it's important to make the right choice when it comes to your accommodation as your want to enjoy your stay as much as possible. Read below how this modern, five star hotel manages to provide guests with a seamless customer experience, all whilst keeping prices at an acceptable level.
Why Choose Hyatt Regency Oryx Doha
In terms of accommodation, we would recommend booking your accommodation through an aggregator such as Booking.com or Agoda to get the best rates.
During our city breaks, we tend to sleep at the hotel, have breakfast and be out and about all day, however, as this was a business trip it also had to cater for some additional requirements. I chose this hotel for the following reasons:
Good location – minutes away from Hamad International Airport and a short drive from the heart of the city, the palm-fringed corniche and Doha's vibrant business district
Recently built (2020) with a modern twist
Good reviews on TripAdvisor
Fit the budget for my organisation
Free cancellation up to the day of check-in
Overall, I had a good experience. The hotel was clean, the bed was comfortable, the room was spacious, breakfast was good and I felt it was a good value for money for a 5 star hotel near central Doha. I share more about my experience below.
How to Get to Hyatt Regency Oryx Doha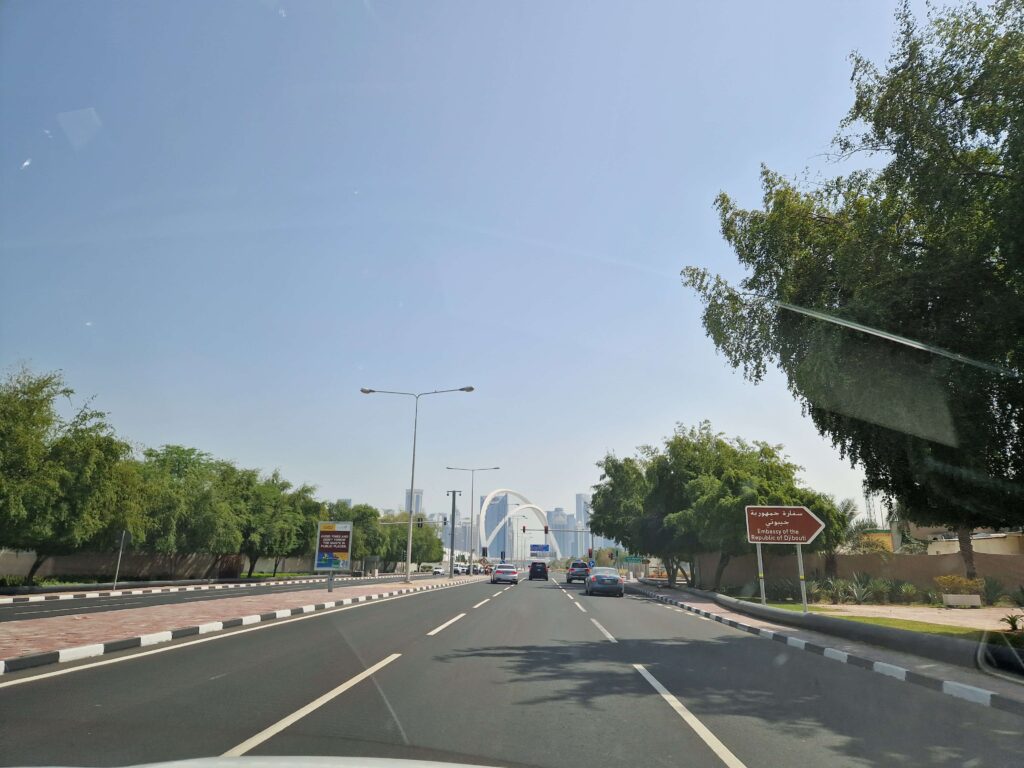 The hotel is conveniently located 10 min drive from Hamad International Airport. On this occasion I rented a car and was a seamless drive till there. Public transport isn't necessarily a thing in Doha and you might find yourself you have to rely on either car hire or taxis.
Hotel Address: Hyatt Regency Oryx Doha, Al Matar Street, Doha, Qatar
Discover Hyatt Regency Oryx Doha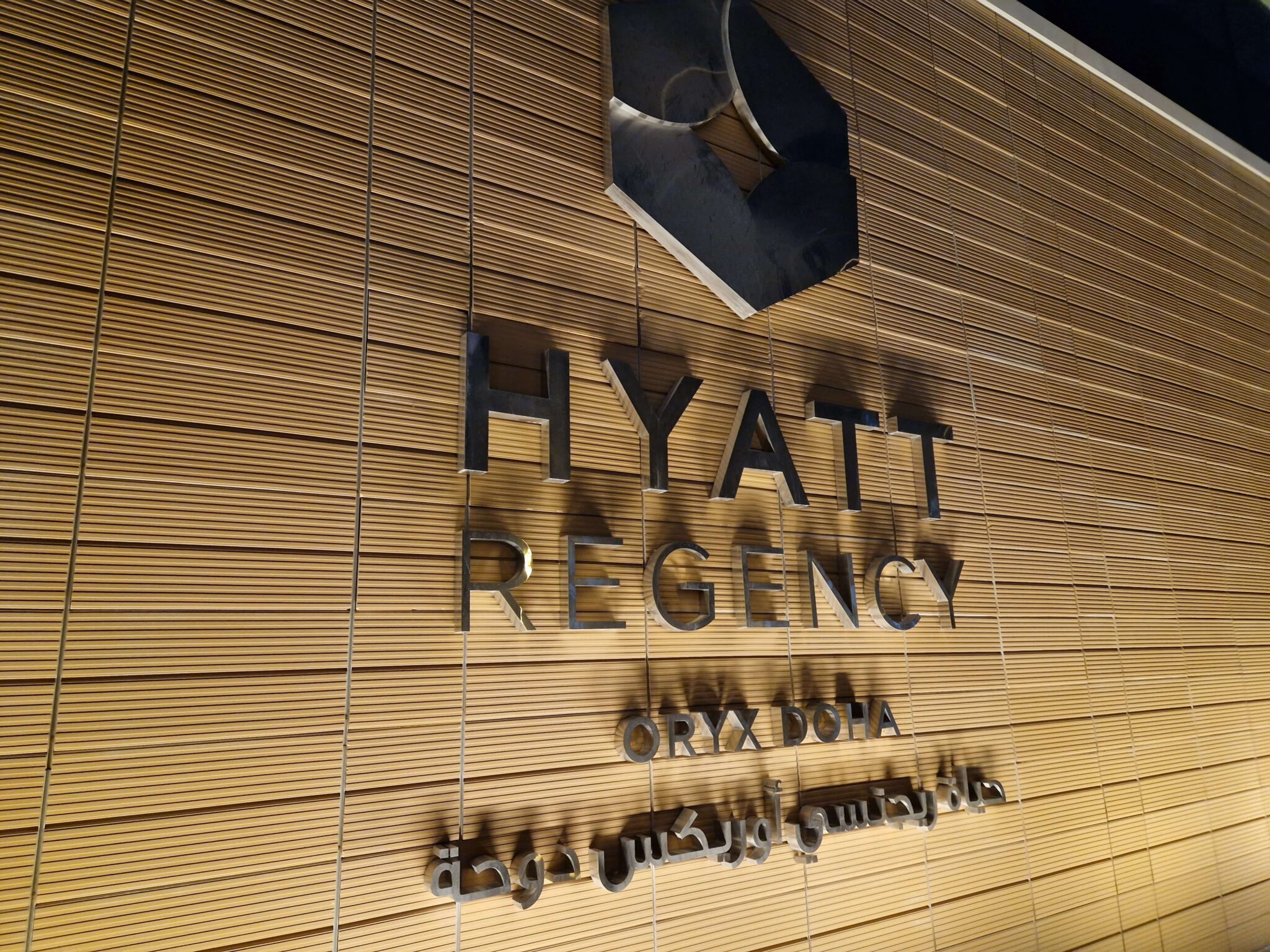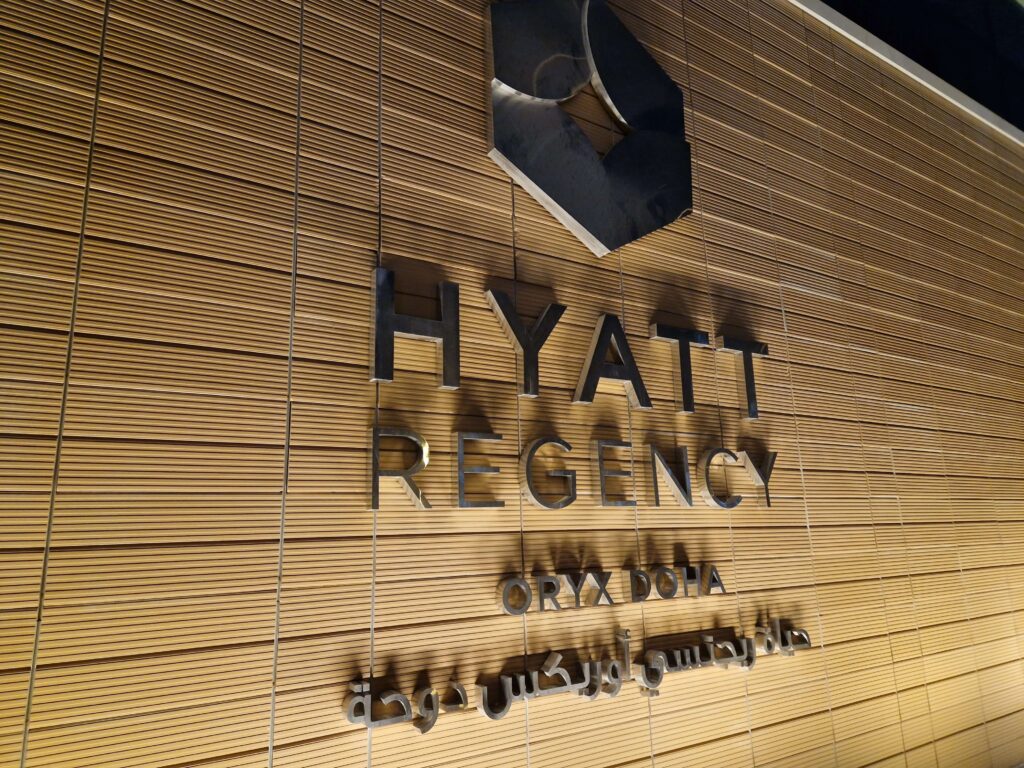 The alluringly modern Hyatt Regency Oryx Doha is conveniently located close to Hamad International Airport and just a few minutes away from the heart of the city, the palm-fringed Corniche, National Museum of Qatar and Doha's business district.
If you want to learn what else you can do in Doha, why not read our travel guide article here.
With its contemporary architecture and warm hospitality, the hotel creates the perfect ambience for business and leisure travellers.
With 12 luxury suites and 400 rooms, the hotel offers a multitude of social spaces designed for seamless gatherings, including a Regency Club and several food and beverage concepts including three restaurants, a pool bar, two lounges and a Jazz Club.
All Rooms/Suites include the following amenities:
43-in/49-in LCD satellite TV
IP phones
Workspace (Desk)
Hairdryer
Bath robes and slippers
Iron and ironing board
Tea-making facilities and Nespresso® coffeemaker
Minibar
In-room safe
Fridge (Suites only)
The rooms and suites come in the standard flavours as follows:
| | | | |
| --- | --- | --- | --- |
| King Bed | Twin Bed | Regency Suite | Oryx Suite |
| 1 King Bed | 2 Twin D-Beds | 1 King Bed | 1 King Bed |
| 35-sqm room | 35-sqm room | 75-sqm suite | 110-sqm suite |
| Shower | Shower | Shower & Bathtub | Shower & Bathtub |
| | View of City/Airport | | View of City/Airport |
| | | Dedicated living and dining room | Dedicated living and dining room |
The above rooms also have another set of upgrade options such as asking for a High Floor room or requesting a Club Access which offers access to the Regency Club lounge.
Each option is worth reviewing depending on your needs and circumstance. On this occasion I stood in one of the standard High Floor King Bed Rooms.
Business travellers will appreciate the 10,700-square-foot (1,000-square-meter) of meeting and event facilities, including a business centre, two ballrooms and eleven modern meeting and conference rooms.
The hotel offers valet parking and overall the service is top notch.
Check-in Experience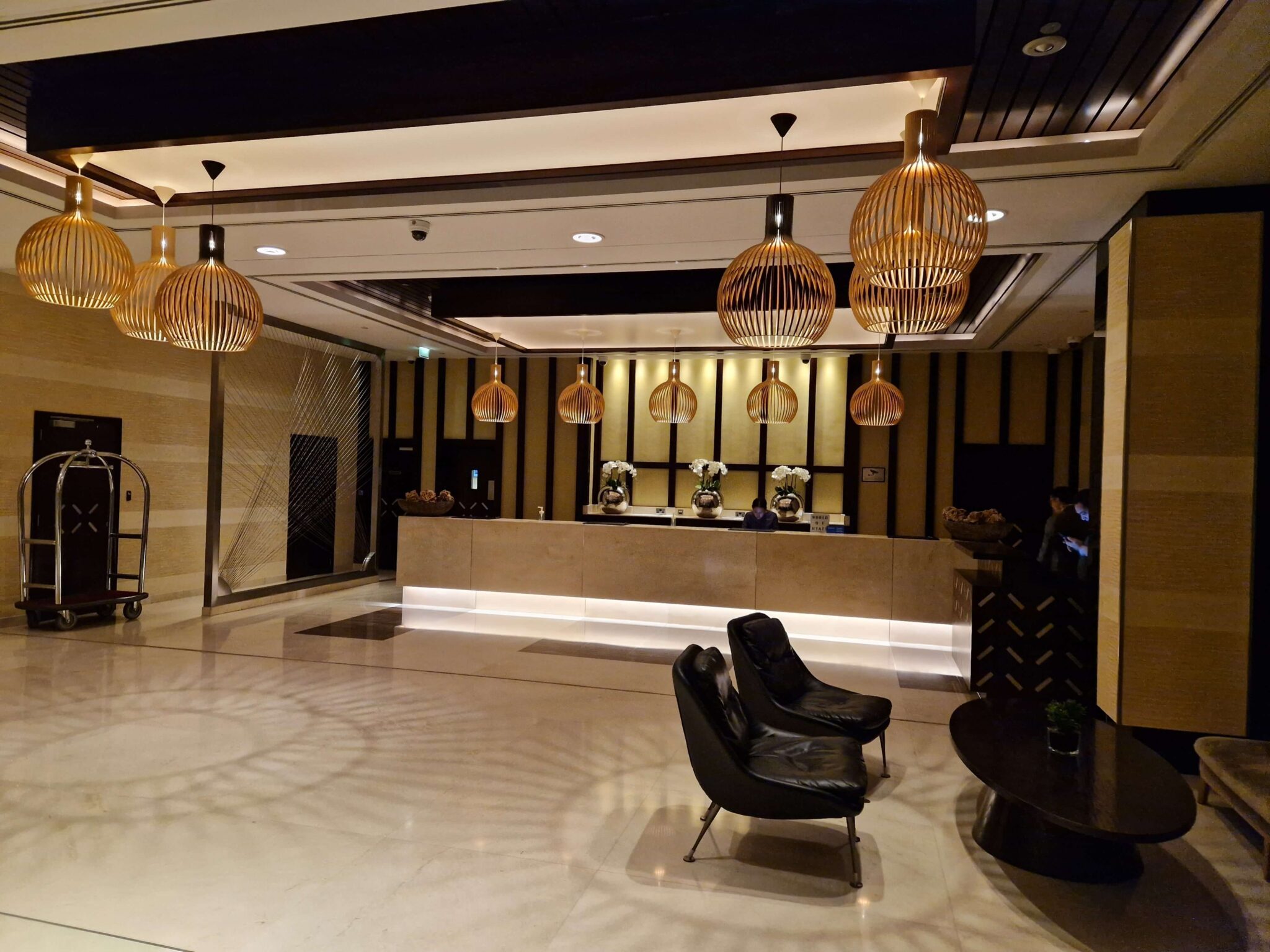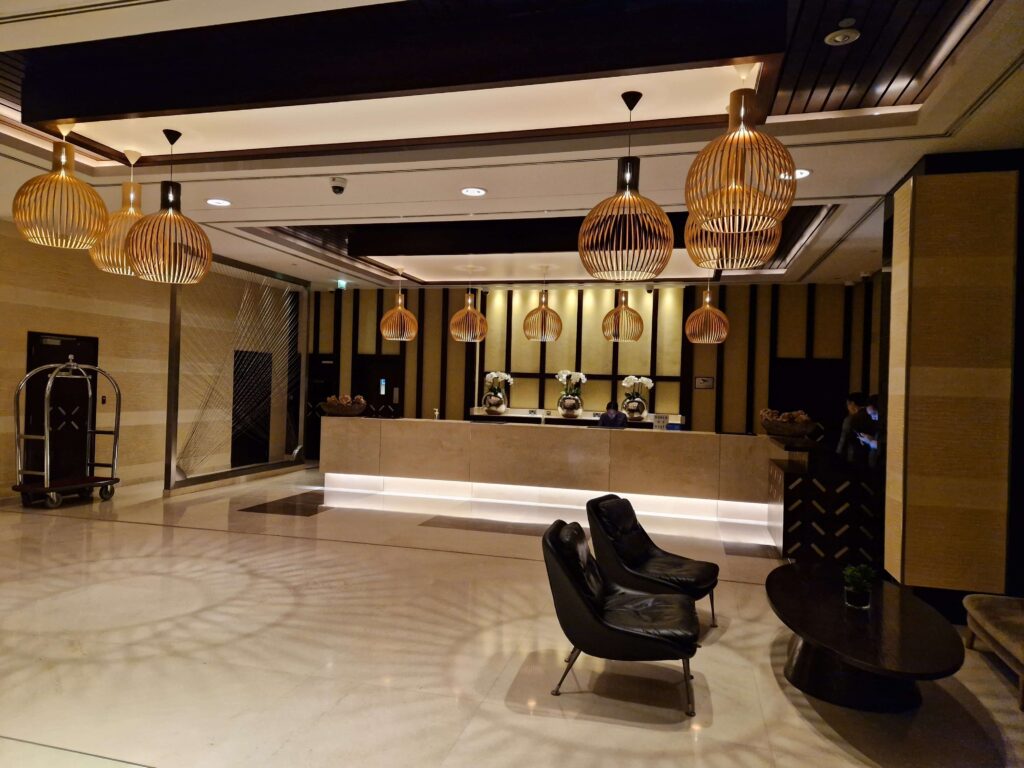 As you enter the hotel and any hotel in Doha for that matter you will have to pass through a light airport style security, more for the handbags and bags than anything else.
The check-in experience was really smooth. I arrived in the evening and was greeted by the receptionist who provided a great customer service and explained all I needed to know about my stay.
Lobby
The lobby area is modern with a dimmed light ambiance in the evenings. I would've liked to see more available seating in the lobby as when I was waiting for my colleague I found the two sofas by the entrance were almost always taken.
The lobby opens into the main interior part of the hotel which leads to the Sky Lounge and the lifts to the rooms. Overall, a well thought out and consistent décor throughout.
The main issue I found was that the Wi-Fi in the lobby wasn't particularly strong and had issues when trying to talk to Hristina over WhatsApp.
Hotel Room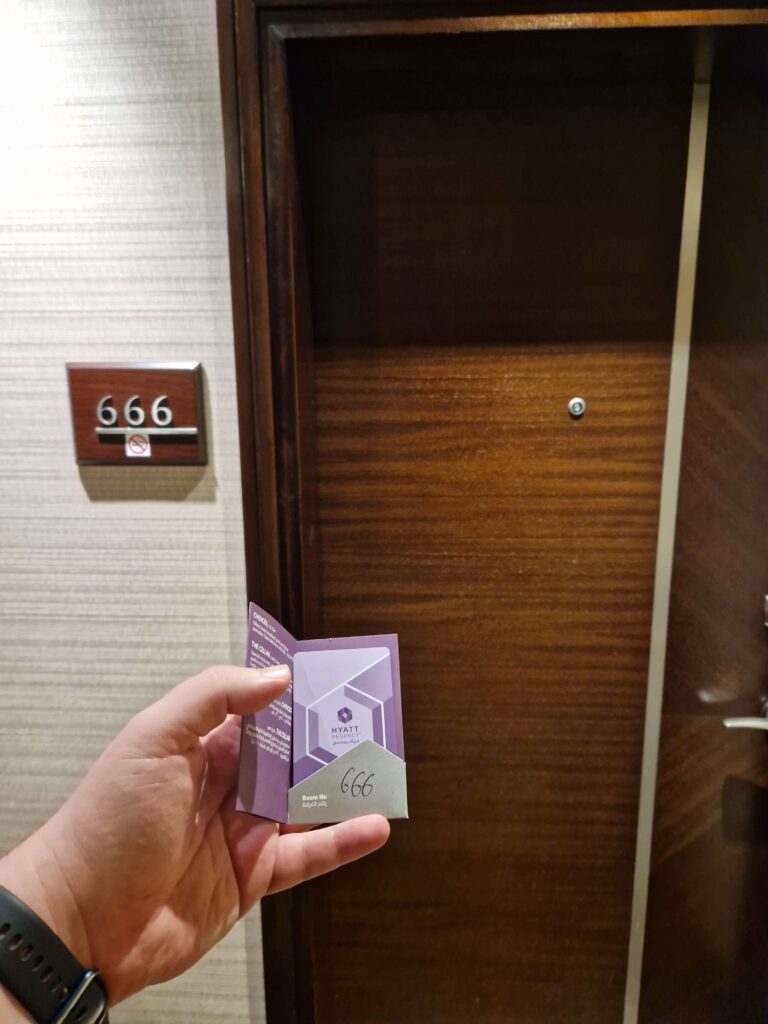 I booked a double room for 3 nights. And yes, that was my number, what can I say – number of the beast as they say. Rooms are equipped with LCD satellite TV, complimentary coffee and tea making facilities, and free Wi-Fi connection.
The room was spacious and stylish and the bed and pillows were comfortable and offered a good night sleep.
As it's often the case with hotel beds, it may take a while for you to accommodate with the new bed however, given that they put a very soft mattress topper you feel that you literally will snooze away in a matter of minutes.
During the day, the room got a lot of day light. The room was neutral and furnished nicely. In addition, I had bedside tables, a generous desk and a chair and a flat screen TV. The desk was a perfect setup as I had some work to do and was able to comfortably sit down and go through my email.
I also had a fully stocked mini bar under the desk and a safe box inside the wardrobe. The wardrobe was spacious with enough shelf space, drawers and hangers to allow me to put my shirts and clothes.
There was also a full sized mirror which was handy to have one last look before heading out.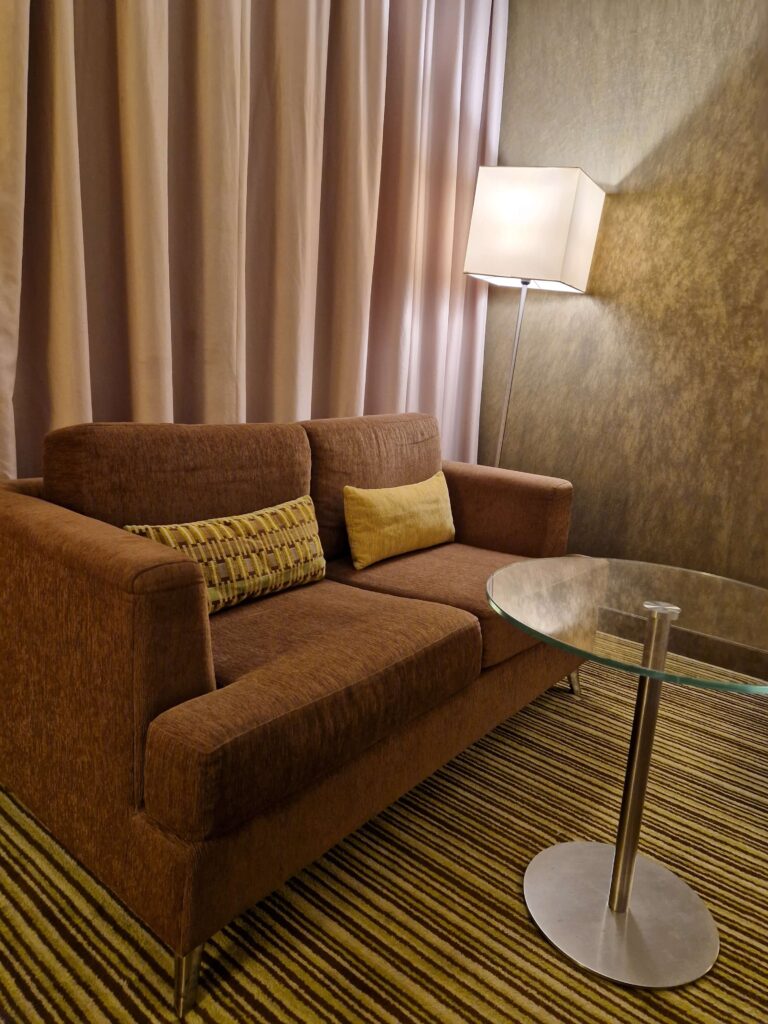 Similar to our hotel stay in Sharm-El Sheikh, the room also had a sofa and coffee table however, I found that the angle of the sofa meant you couldn't really enjoy watching TV and so perhaps just relaxing and going through some email was a better use for this couch.
Overall the TV channels were pretty much news channels, as you'd expect from a brand which caters to the business travel segment. All major news outlets were on the TV guide.
The Wi-Fi in the room was also stable and had a good bandwidth. The main benefit I found was that you didn't really need to sign-up to it, you just simply connected and accepted the T&C's.
The view from the bedroom wasn't anything spectacular however, you could see the interior garden. Definitely better than our view at Almina Inn Hotel in Istanbul where the view was towards the restaurant and there was no day light coming through.
Bathroom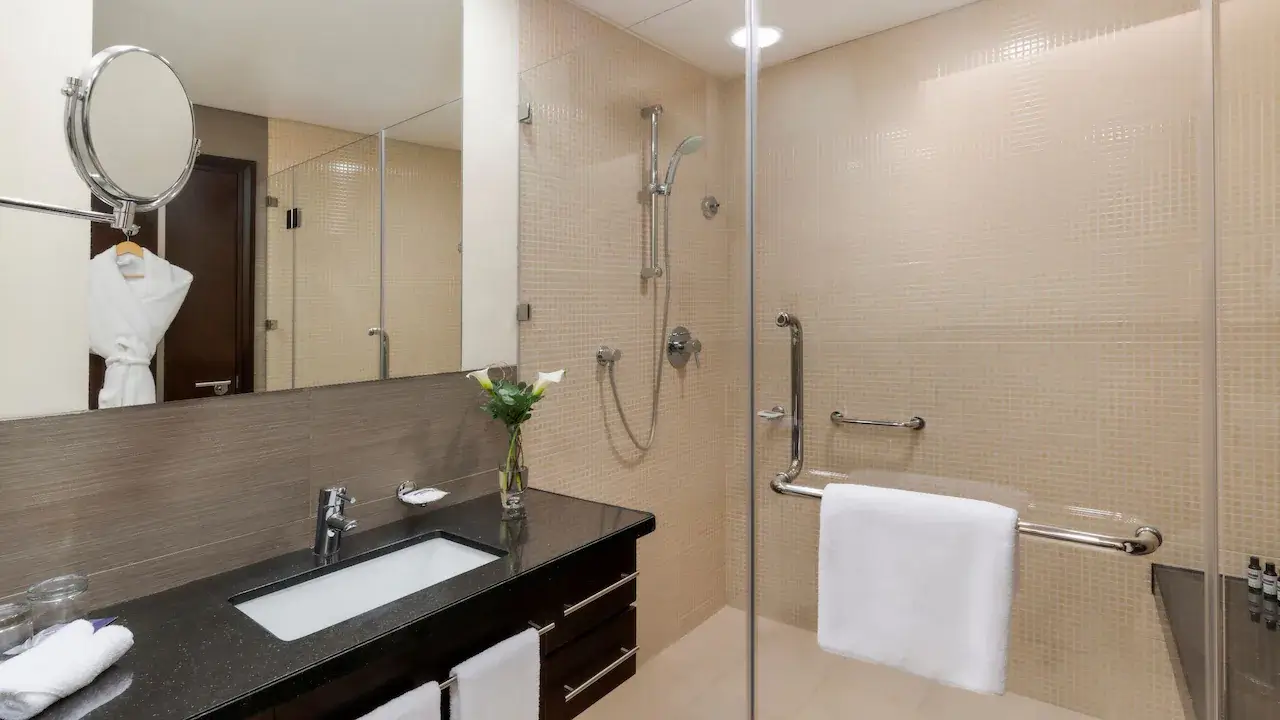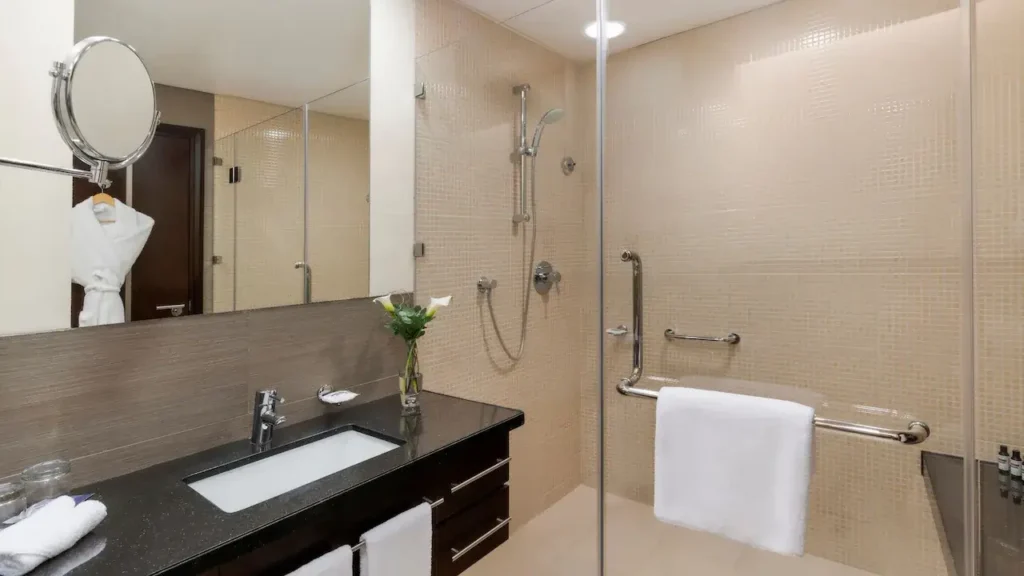 The bathroom I found it very generous with a walk-in shower which also had a marble bench.
I also found that the usual bathroom amenities although provided and restocked daily, you would only get one of each. A question could arise what if you wanted to have a second shower before housekeeping would come and replenish the stock?
As is with Islamic countries, the bathroom also hosts a bidet and a water hose for those who don't use toilet paper. Having said this, I felt the toilet paper was way too thin and would've liked to see a more premium quality given the rating of the hotel.
Like what you are reading? Why not join us for other journeys by subscribing to our newsletter:
Facilities at Hyatt Regency Oryx Doha
The hotel offers all the amenities one could hope for and cater to all guests. Whether your prefer to have a burger by the swimming pool or simply work out a little bit, I cover in more depth what this hotel has to offer.
Club Olympus Spa & Fitness
Fitness, offering modern facilities that include a fully equipped gym, sauna, steam bath, and hot tub. Revel in one of the many massage treatments on offer or just relax by their outdoor pool.
The gym is equipped with the latest cardio and weight machines and offers a good deal of space for other exercises also.
Outdoors Pool
The club also offers an outdoors pool with a pool bar. Perhaps due to low season the pool bar wasn't staffed however, you could still ask the lifeguard or person on duty to call for a waiter.
The menu is what you would expect from this type of setting with classics such as burger, steaks, salads and pizza being the top choices.
A nice addition to the pool area is that they already provide towels on the sunbeds, which spares you the journey of bringing your own from the room.
Spa
Within the club you will also find the Spa. They are segregated, one for men and the other for women. Nudity is strictly prohibited so taking a sauna naked would be punishable by law.
The Spa offers a locker, you can get the key from the Spa reception and towels free of charge.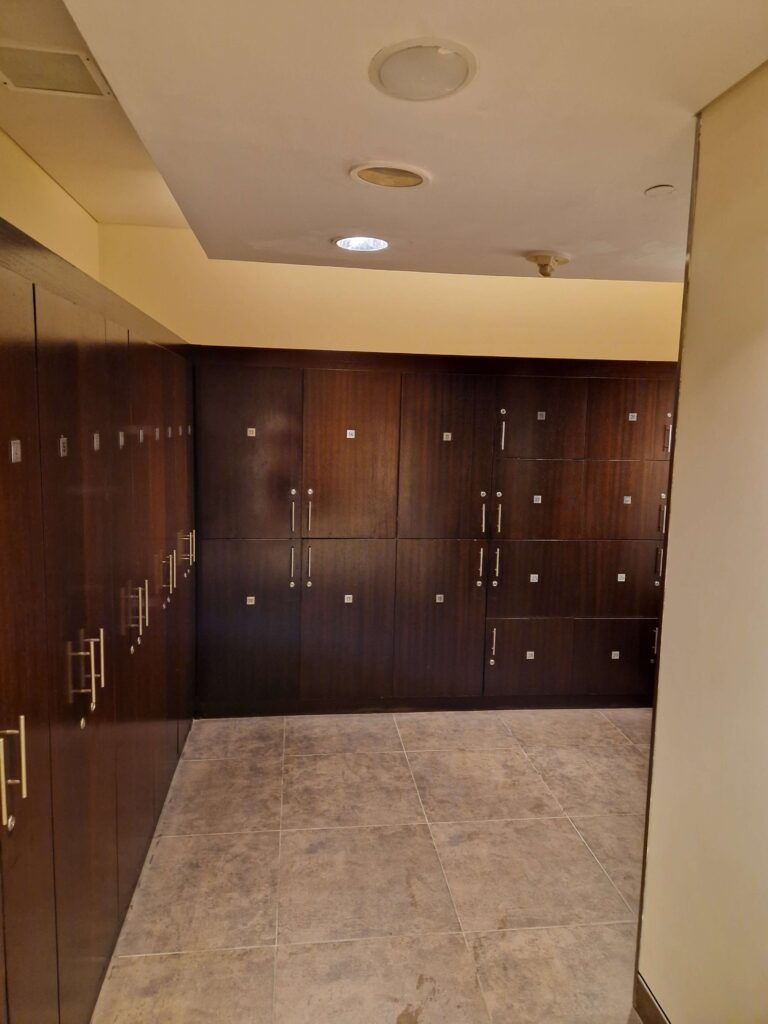 Once you're all set up, you can choose whether to try the dry sauna or steam sauna. Both offer an excellent temperature and overall are very clean.
I did find that in the dry sauna, some of the lower benches wood has dried up and can be a bit more loose, so make sure when going the upper levels you are careful.
There is a also a fairly good sized jacuzzi with plenty of seating available. The water was a bit too warm for my liking and made me a bit uncomfortable sitting there after 5 minutes or so.
The Spa also hosts some showers to quickly fresh up between saunas as well as a water cooler should you be thirsty.
Hotel Shop
The Hotel also hosts a hotel shop which if you're not here for travelling you might find useful for last minute souvenirs. Although the main place for shopping would be the Souk by the corniche, you might find yourself out of time for this.
The boutique offers magnets, souvenirs and other such bits so you can bring to your close ones at home. This is also what I did and bought a Doha fridge magnet.
Dining at Hyatt Regency Oryx Doha
The hotel offers a few exquisite dining venues serving delicacies that satisfy any palate, amongst these you will find:
The Hotel's All-Day Dining Restaurant
The exclusive Jazz Club well-known for live entertainment and parties;
The Cellar offering a tantalizing tapas, traditionally prepared paellas and wide selection of vinos;
Al Nafourah Garden presenting an authentic Lebanese menu, alfresco dining, and hubbly bubbly;
Sky Lounge, a perfect venue with stunning high glass conservatory-style ceilings, to meet for a cup of coffee or a quick bite to eat.
Below I will list my impressions of the venues I went to:
The Hotel's All-Day Dining Restaurant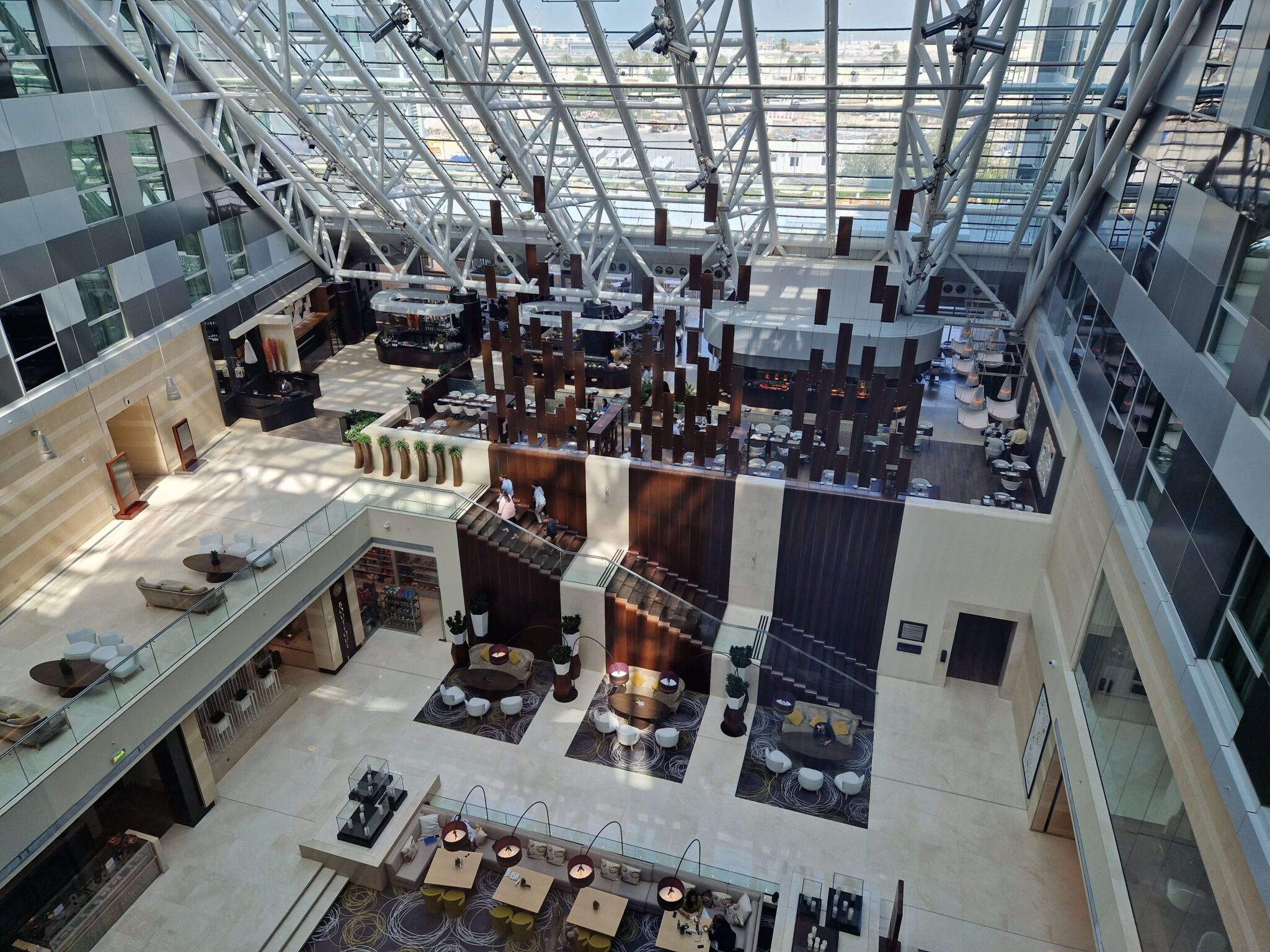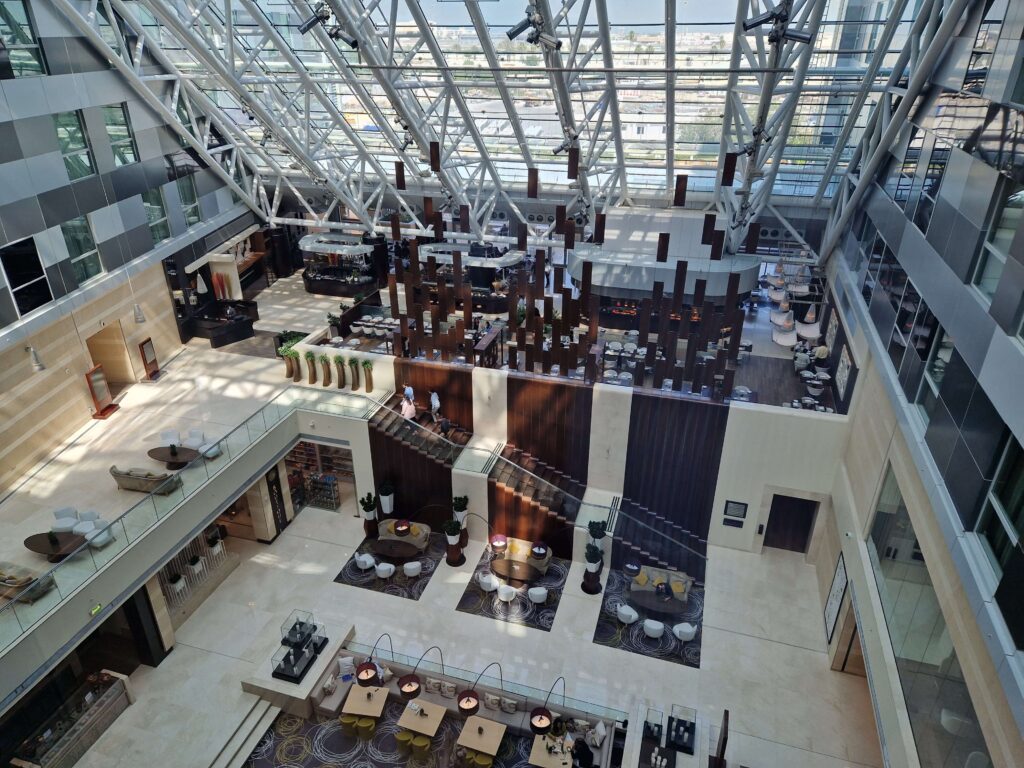 Airy and modern ambiance and décor with a distinct sense of place. Serving breakfast, lunch and dinner, guests can find an appealing selection of extensive buffet and a la carte offerings served from the interactive live cooking stations.
Diners can also indulge in a wide display of home-made bakery, desserts and pastries. Choices also offers guests a refreshing dining experience on its unique, outdoor terrace from spring to autumn.
I tried this restaurant mainly for breakfast and to start with I was impressed of the excellent service provided throughout. Everyone looks always welcoming and looking to please your every request.
The food stations also felt nicely laid out with a great selection of breakfast items. The live cooking station has 2-3 cooks offering a selection of eggs your way and other breakfast items such as freshly made waffles and American pancakes.
Overall everything felt fresh and good quality except the orange juice which was a bit watered down. I also tried the waffles but because they probably forgot to add baking powder they were brittle and overbaked to a crisp level. Not particularly to my liking.
One thing did stand out which was the omelette cooked in a French style technique. Every bite was a bit of runny egg curds melting in your mouth, a true culinary sensation.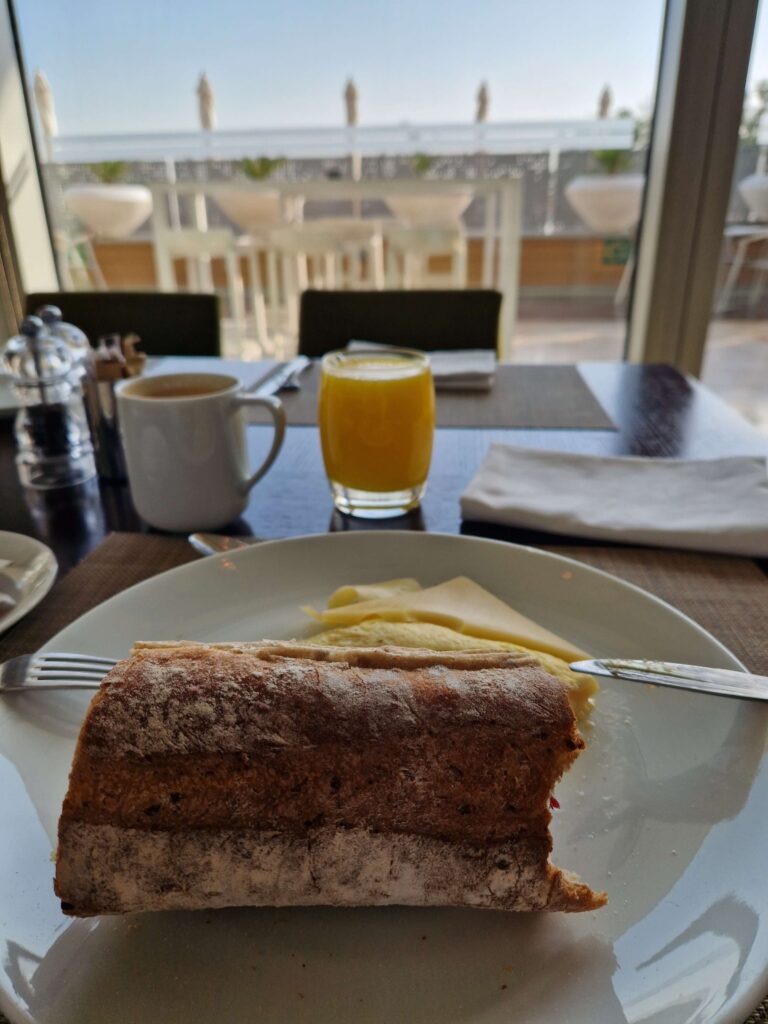 Worth also trying the beef bacon which was cooked to perfection and had an excellent flavor and it didn't feel greasy at all.
The cold breakfast bar also had a great selection of cheeses and salads. I tried the gouda and cheddar and got some salad. Similar to our experience in Paphos, the tomatoes felt a bit green which is surprising considering that this is a sun washed land.
Al Nafourah Garden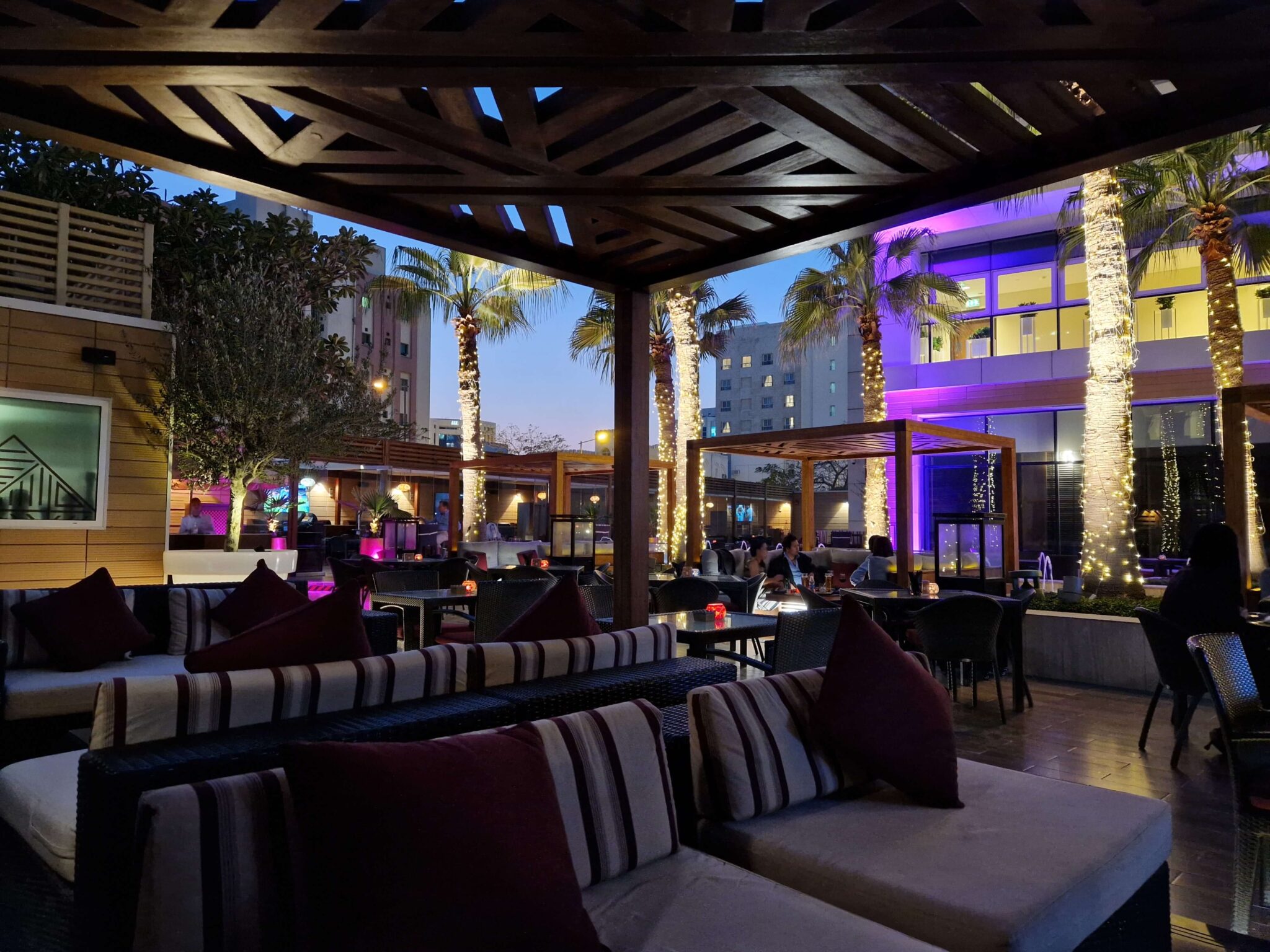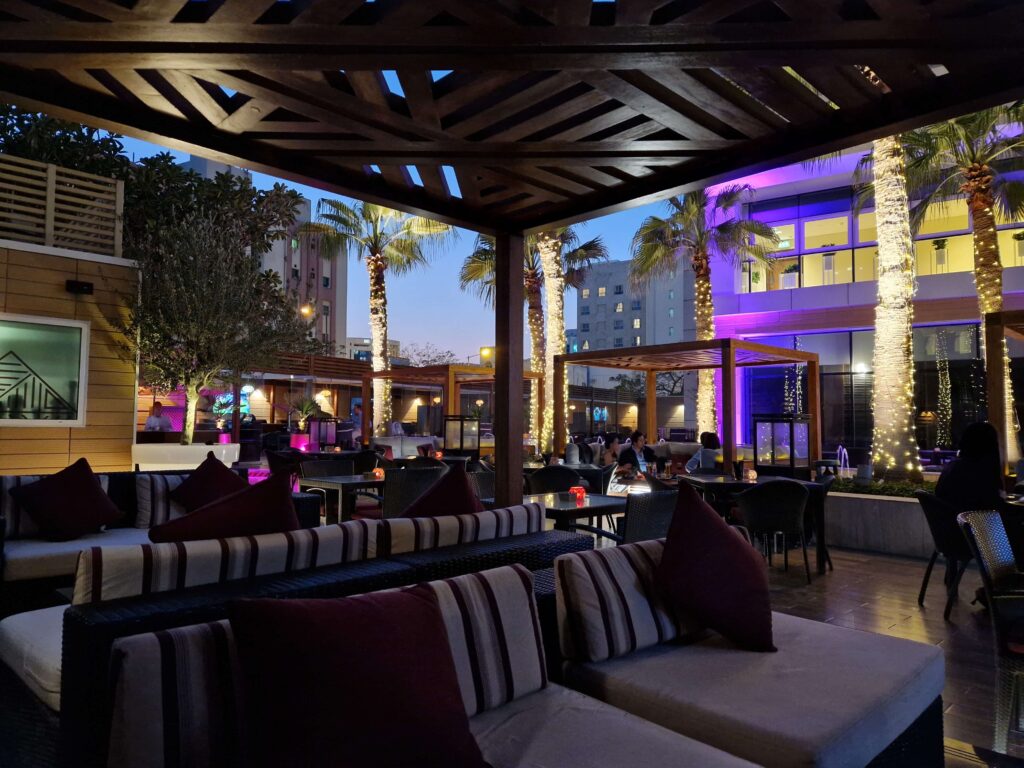 Nestled amidst the swaying palms, Al Nafourah Garden exudes a welcoming vibe inviting one into its alfresco or indoor dining, a place where you can get together with colleagues or friends and have a good time watching live sports broadcast.
The restaurant serves authentic Lebanese mezza and Middle Eastern cuisines with a sharing style menu.
I found the staff here equally welcoming and made the experience feel that they were waiting for you all this time.
The food is very good. I tried the lamb kebab served with salad, pickles, home made pitas and fries. Simply to die for, with the lamb being particularly tender and juicy.
I also went for the home made Baklava however, it didn't even come close to the baklavas we had at Köşkeroğlu or Karaköy Güllüoğlu in Istanbul.
Overall, a great place to come after a long day in business meetings to relax, smoke a shisha and enjoy excellent food and service.
Final Thoughts
Overall, I think the Hyatt Regency Oryx Doha is an excellent contender when looking at accommodations in Doha. Whether just having a stopover or business meeting in the city, I think this hotel offers a great deal of value.
If travelling for leisure it might be that you find better alternatives catered to your needs as some hotels also have private beaches unlike this one.
Having said this, the hotel falls within the thumbs up category and I would encourage you to review the rates.
Click here to check the rates for Hyatt Regency Oryx Doha Hotel.
Ready to book? Below are some recommendations to get your trip started:
---
Accommodation – would recommend booking your accommodation through an aggregator such as Booking.com or Agoda to get the best rates. We also use TripAdvisor to read reviews.
---
Transport – consider Rentalcars.com for car renting or if you rely on public transport, you can use Omio for trains, coaches, ferries, airport transfers and even flights.
---
Activities – a great option is GetYourGuide, Klook or Viator for tours, excursions, experiences and tickets to many tourist attractions.
---
Travel money – we have Starling Bank accounts (UK residents only) with 0% fees on FX and a good Mastercard exchange rate. Revolut is another good option.
---
Internet abroad – with Airalo you can access a wide range of eSIMs (digital SIM cards) available for different countries and regions.
---
Luggage storage – if you need to store your bags whilst exploring the destination, you can use Radical Storage to find your closest luggage storage and enjoy your journey until the very end.
---
As an Amazon Associate and member of various other affiliate programmes, some of the links in this article are affiliate links, meaning at no additional cost to you, we will earn a commission if you click through and make a purchase.
---
Like what you've read? Subscribe to our blog by adding your email address below. You'll be the first to hear about new destinations and articles we publish!
Are you interested in travelling? Check out our Facebook page and other social media for regular tips and recommendations on how to travel and where to go!