Istanbul is a city that spans over two continents which leaves one breathless. This New Rome, as it was once called, makes you never want to leave it. A city that spans over millennia of which 1600 years was the capital of several empires.
Find out more in our article the top recommendations on what to visit when you are in this amazing city and how to navigate it.
Overview
Istanbul pronounced /ˌɪstænˈbʊl/ IST-an-BUUL, started off as a Greek colony called Byzantium in the 7th century B.C.. After being incorporated in the Roman Empire, the Roman Emperor Constantine decided to call it "New Rome" after the Empire's division.
Constantine soon after decided to rename the city as Constantinople, after himself. The newly instated capital, would become a powerhouse politically, military and economically, linking Asia and Europe. Its strategic location meant it also became a beacon alongside the Silk Road.
It's also worth noting that in older times Byzantines didn't refer to themselves as such. This was a concept coined in the 18th century by a German historian from the name of the original founder of the colony, Byzas.
Their identity was Roman and hence this is how they saw themselves. More often than not the Empire was colloquially called Romania, not to be confused with the modern day country of Romania.
This identity continued well into the 19th century where, most Istanbulites wouldn't see themselves as Turks or Ottomans but more as Romans. This makes one think whether once with the Ottoman conquest, the Ottoman Empire didn't become the spiritual successor for the Byzantine Empire.
As you would imagine, a capital spanning over millennia has much to offer to tourists so what we will suggest is make sure you plan well ahead to make the most of it.
Istanbul is home to several UNESCO World Heritage Sites, and hosts the headquarters of numerous Turkish companies, accounting for more than thirty percent of the country's economy.
Even though, nowadays, the capital city of Turkyie is Ankara, Istanbul remains the largest city from all points of view. The city is home to over 15 million people which makes it a very over crowded city – you will feel this.
A few things you should be aware of before travelling. The local currency is the Turkish Lira. At the time of writing this article, The Turkish Statistical Institute reported in October 2022 that inflation hit a 24-year high of 85.51%, though many have claimed the real rate is likely even higher.
With this in mind, make sure you exchange very little currency ahead. Best is to exchange daily if possible only for the things you know you have to pay in cash. Otherwise, we suggest you pay using a credit/debit card preferably without any bank fees. Essentially, you don't want to have any leftover Liras considering the fast depreciating aspect of it.
This is what we did, using our Starling Bank accounts. You will find Revolut equally useful. Starling Bank is an U.K. only bank and they offer 0% fees on FX and a Mastercard exchange rate which is not that far from the Interbank one.
Whilst exchange bureaus offered the best rates when compared to Interbank/Mastercard rates, we made some rough calculations and if we were to exchange everything upfront at a bureaus in Turkish Lira we would have lost cumulatively 1-2% each day from the first day we would've exchanged.
Moreover, data roaming is fairly expensive so we recommend you get a local sim card. Do be aware that you can only get a Tourist Sim Card as a foreigner which means higher costs.
As a guideline, they tend to be over £30 for something around the 20 GB mark with unlimited (local) minutes and text. You can buy sim cards at the airport or in the city. We got ours from the airport.
Travel to and around Istanbul
The city itself is accessible by all means of transportation although flights to this destination tend to be fairly accessible especially during the colder months. If you are looking for suitable flight options, make sure to check out this article with top tips on how to find cheap flights.
Istanbul has 2 main airports served by commercial airlines. The main Ataturk Airport has been replaced by Istanbul Airport in October 2018. On this occasion we flew to Istanbul Airport (IST) which is located north east of the city on the European side. British Airways typically flies here but so do other carriers.
From the airport there are about 40 km of travel to the Golden Horn area of Istanbul. You can choose to take public transport such as busses or a taxi. The taxi journey didn't feel expensive, we paid in November 2022, less than £17 from the airport to our hotel which was not far from Topkapi Palace.
Taxis in Istanbul
Whatever taxi ride sharing app you choose, they are all regulated in Turkyie in the sense that you can only book licensed cars and hence the price is the same regardless. The cars come in 3 options:
Yellow – regular cabs, they look failry similar to the New York ones;
Turquoise – better cabs, but higher in price also;
Black cabs – similar to the London Black Cabs they offer ample space and comfort but are the most expensive.
You can opt for Uber however, we chose a local app called BiTaksi as it seems more popular and less wait time. You can find more about the app here. You have the option of paying by cash or by card. Unlike our Chisinau recommendation we suggest you can confidently add your card details.
This is because, unlike Uber, Freenow or iTaxi, once the journey is completed the driver submits the taxi fare from the car's meter, through the app, you then approve the amount and only then the payment is taken.
Even if the phone signal is lost and the app didn't record your pick-up which happened to us, the app can be used as a contactless PoS, you can read more about this here.
Public Transport in Istanbul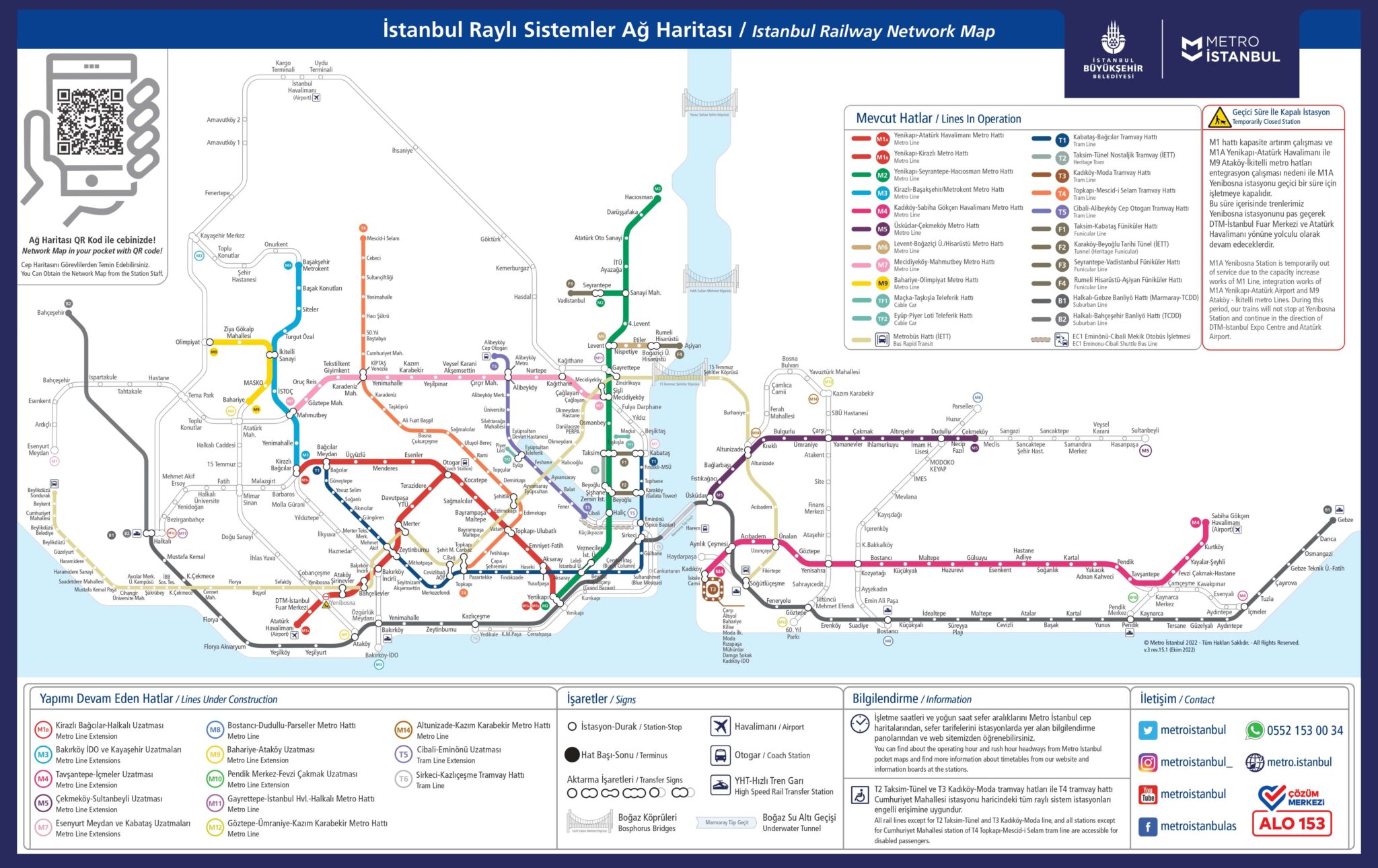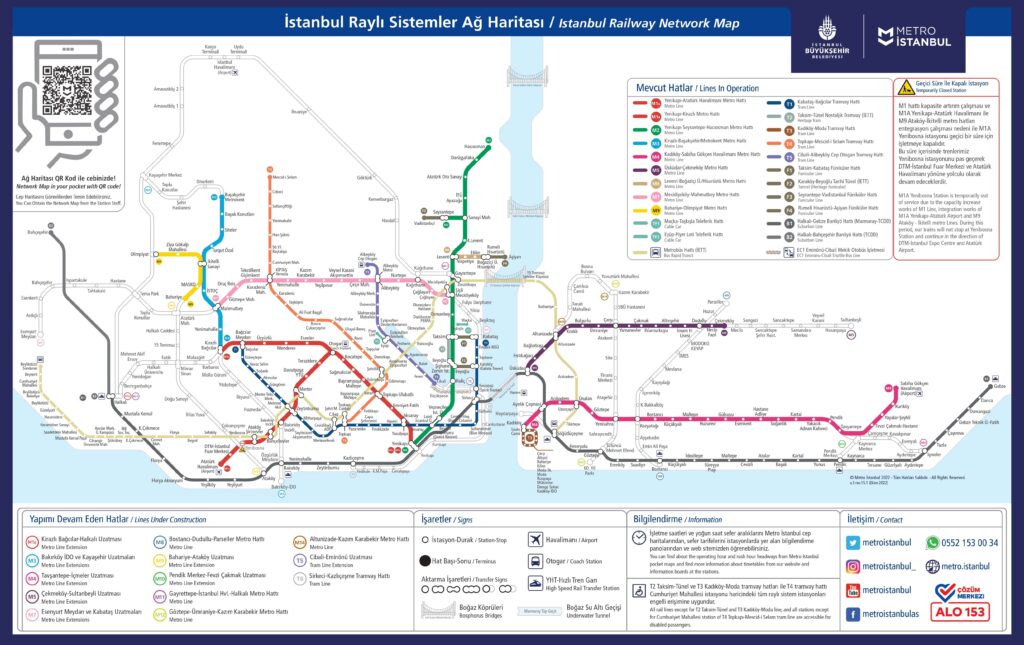 First and foremost, Istanbul is a big city and the network map shows this. However, do be aware, to visit most popular attractions in the Golden Horn area, you will mostly use the T1 line which is a tram, and some of the ferries if you want to explore the Bosporus further. You can download the map here in PDF format.
We recommend you get an Anonymous Istanbul Card which gives you fairly cheap rates of travel. You will need to first buy the card (prices here) and then top up an amount on the card for travel.
Moreover, one card can cover up to 5 passengers. At the turnstiles in the station simply tap for each passenger in your group. The card is valid on all means of public transport including the Şehir Hatları boats. It is also accepted as a means of payment for some public toilets! See it like an e-wallet.
You can buy the card from any station, we bought ours from the public transport station at the airport even though we took a taxi to the city. We just wanted peace of mind.
To know how much to load your card with, have a look at the official prices here. You will notice that each additional journey taken that day gets cheaper.
We recommend you don't overload your card with credit as it can be a bit difficult to get your unspent money out. So try to figure out roughly how many journeys you could do. As a guideline, we spent £9 in total, each doing the activities listed in this article over 5 days.
When loading the card you can load it by cash at all vending machines or at the newer ones by card as well. You also have the option of using the app for iOS or Android to top it up.
Accommodation
In general, there are plenty of hotels and accommodation options, however, we would recommend staying somewhere close to the attractions.
Many hotels will advertise that they are based in the Golden Horn area (or not far from) and they could be right; however, be aware the area refers to anywhere between Topkapi up until the Constantinople Walls. Instead, we would suggest you actually stay at a hotel along the T1 tram line so you can get around quite easily.
We would recommend booking your accommodation through an aggregator such аs Booking.com or Agoda to get the best rates. On this occasion, we had some credit (points) from Trip.com, so we booked one of the hotels using our points and technically didn't pay anything for our stay.
We stood at two hotels to help us be closer to the attractions we chose to visit. These hotels are:
Things to do in Istanbul
Istanbul is an amazing city which offers tourists a plethora of things to do. Everything from museums to palaces and from shisha cafes to exquisite restaurants, there is something for everyone.
Therefore, it's important to try and plan your trip accordingly and economically. There are plenty of "Istanbul Card" style of offers and depending on what you want to see and how many days you have, you can choose something that suits you. We considered the following:
Istanbul Welcome Card – flexible card including public transportation, entrances to top museums, guided tours at Hagia Sophia, Topkapi Palace, Basilica Cistern, a Bosphorus cruise, and an audio guide app. Valid for 7 days.
Istanbul Tourist Pass – an online city Pass that provides access to some of the city's top sights, during the days you choose, 1-way airport shuttle from/to IST airport and more.
Istanbul Guided Museum Pass – skip the line to get into the Topkapi Palace, Dolmabahçe Palace, Basilica Cistern, Blue Mosque, and more. All of these are with a guided tour.
Given the size of the city and number of attractions one has to cover, we would recommend you allow a minimum of 4 full days if not even 5. If you have less than that, you might consider using a Hop on Hop Off bus which will take you to all main points of interest.
Below we created a map to help you visually understand the touristic points and we colour coded the itineraries. To tackle this great city we propose you group your attractions in 4 main areas:
Old Istanbul (Blue)
Constantinople Walls & Surrounding Area (Green)
Galata & Beşiktaş (Red)
Bosphorus / Golden Horn Cruises & Princess Islands
Below we cover them in more detail and expand each attraction.
Explore Topkapi Palace and Harem
The Ottoman Imperial Palace served as the main residence and administrative headquarters of the Sultans. Mehmet the Conqueror built the first stage of the palace shortly after the Conquest in 1453, and lived here until his death in 1481.
Sultans, courtiers, the sultan's concubines and staff lived and worked here between the 15th and 19th centuries when it was the court of the Ottoman empire. A visit to the palace's opulent pavilions, jewel-filled Treasury and sprawling Harem gives a fascinating glimpse into their lives.
During Ottoman days, they would allow anyone to come into the main courtyard to seek an audience with one of the high officials. Beyond this was reserved for high ranking officials and state affairs.
Unlike typical European palaces, which feature one large building with outlying gardens, Topkapi is a series of pavilions, kitchens, barracks, audience chambers, kiosks and sleeping quarters built around a central enclosure.
The great Palace Kitchens on the right (east) as you enter incorporate a dedicated Helvahane (confectionery kitchen). They hold a small portion of Topkapi's vast collection of Chinese celadon porcelain, valued by the sultans for its beauty but also because it was reputed to change colour if touched by poisoned food.
At the very end of this series of courts you'll be able to enter the forth court. This was particularly reserved for the sultan and his guests. Here this space was reserved for parties, hunting within the estate and other such activities.
What we liked about this place mostly was that it opens up to an incredible view of the estuary of the Alibey and Kağıthane Rivers a.k.a. Golden Horn and you can get an incredible panoramic shot of the European and Asian sides of Istanbul with the Bosphorus running right in the middle.
Walk through the Harem
Although we mostly associate harems with a Sultan's numerous wives actually Harem refers in Islam more to all things private in one's life. Therefore, the Harem was off limits to most and it was reserved for the Sultan and a select few.
You could actually say the Harem was the main part of the palace as this was the living quarters in all truth. As you would imagine they had everything here from baths all the way to shisha/smoking rooms.
Imperial Treasury
The building itself was constructed during Mehmet the Conqueror's reign in 1460 and was used originally as reception rooms. Over here you will be able to see different gifts of war but also various lootings' of war.
As an example, if you are Romanian, you'll be able to recognise Stefan cel Mare's sword.
Chamber of the Holy Relics
After the Ottomans became the holders of the caliphate in 1517, defeating the Mamluks and conquering much of the Middle East, they brought most of the Holy Relics of Prophet Mohammed from Cairo to Istanbul.
In this room, you will be able to see the most important Holy Relics in Islam. These include items and belongings of Mohammed. You can see things such as remains of his beard, his sword and many other such relics.
To put it a bit in perspective it's a bit like going to the Vatican for the Catholic world. Be prepared to wait on a queue here.
Gaze at Hagia Irene
It is the oldest known church in Istanbul and the only Byzantine church in Istanbul that has not been converted into a mosque, as it was used as an arsenal for storing weapons until the 19th century. The Hagia Irene today operates as a museum and concert hall.
Admire Hagia Sophia
It was built by the eastern Roman emperor Justinian I as the Christian cathedral of Constantinople for the state church of the Roman Empire.
Its architecture was considered the epitome of Byzantine architecture and at one point had the largest interior in the world. After the conquest of Constantinople it became a mosque until 1935, when it became a museum. It became once again a mosque in 2020.
Hagia Sophia is believed to have influenced the dome shapes of mosques world wide. As a mosque, by Turkish law this means the entrance is free.
When you enter the building you'll be met with a sense of astonishment at the greatness of this building. You will still be able to see the ancient Byzantine mosaics with Christian motifs alongside Islamic elements.
Mehmed the Conqueror appreciated the workmanship of this building and decided to maintain the Christian motifs.
We suggest you visit Hagia Sophia during early morning hours or later afternoon or dinner time so you don't want too much on the queues.
Look inside the Blue Mosque
The Blue Mosque of Istanbul, a world UNESCO heritage site, was built in the 17th century. The mosque was an imperial mosque decorated with exquisite blue tiles on the inside.
When entering the mosque you will be again met with a sense of amazement as this sheer size and decorations are simply imposing. It is for sure a jewel in the Islamic world.
Sultanahmet Square
This square is situated right next to the Blue Mosque and hosts two obelisks which used to be inside the old hippodrome. In the old days of Constantinople this used to be the hippodrome. Rome had the Colosseum and Constantinople had the Hippodrome.
Here, there used to be a culture of horse racing and the city would watch fiercely as each team would compete in racing.
Nowadays, you can stroll through from one end to another and take pictures of the obelisks. There are plenty of cafes and restaurants around for you to enjoy a drink as well.
Discover the Past at Istanbul's Mosaic Museum
The Great Palace Mosaic Museum, is located close to Sultanahmet Square in Istanbul, Turkey, at Arasta Bazaar. The museum houses mosaics from the Byzantine period, unearthed at the site of where the Great Palace of Constantinople once was.
The Romans and hence the Byzantines were well known for their mosaics so whilst not much to see per se, we still think it's worth your time to get a glimpse of some of these great works of art.
Little Hagia Sophia
The building stands in Istanbul, in the district of Fatih and in the neighbourhood of Kumkapı, at a short distance from the Marmara Sea, near the ruins of the Great Palace and to the south of the Hippodrome.
It offers a glimpse of the great Byzantine architecture rivalled only by the Hagia Sophia herself.
Go inside the Basilica Cistern
It is the largest of several hundred ancient cisterns that lie beneath the city of Istanbul. These were the water deposits for Constantinople. In this cathedral like cistern you will also find multiple modern art decorations but also some peculiar Medusa heads.
The heads were placed due to the belief of the Medusa's power of purifying the water. Others say the heads are there purely for visitors.
Inside it's pretty humid and warm so do account for this. We also suggest you go first thing in the morning, again to avoid the crowds.
Like what you are reading? Why not join us for other journeys by subscribing to our newsletter:
Learn More at Istanbul's Archaeological Museum
Besides its importance as the first Turkish museum, it remains one of the world's largest museums with over one million works. Opened to the public in 1891, it houses a collection of Greek, Roman and Byzantine artefacts.
Over here you will find also the Alexander Sarcophagus. The so-called 'Alexander' Sarcophagus, once thought to be the sarcophagus of Alexander the Great, now reveals to us how the different cultures of Greece, Macedon and Persia may have interacted.
Overall, the museum offers a great deal of exhibits and plenty of information for you to grasp on. You can visit on your own or if you prefer, you can book a guided tour.
Explore the Wonders of Dolmabahçe Palace
Dolmabahçe Palace was ordered by Sultan, Abdülmecid I, and built between the years 1843 and 1856. Previously, the Sultan and his family had lived at the Topkapi Palace, but as the medieval Topkapi was lacking in contemporary style, luxury, and comfort, as compared to the palaces of the European monarchs, Abdülmecid decided to build a new modern palace. You could say he was trying to keep up with the Jones' as the saying goes.
The gardens were mostly formed from reclaimed land hence the name Dolmabahçe – Filled-in Garden – comes from.
The palace visit is split into 3 main complexes:
The Main Palace
The Harem
The Resim Müzesi (Arts' Museum)
Main Palace
Within the main palace you will find amazing decorations which in our humble opinion makes London's Buckingham Palace look like a country house.
One hall to look out for is the Ceremonial Hall which leaves on breathless. The design, paintings all have one purpose – to impress any statesman visiting the Ottoman Sultan.
Harem
The Harem also showcases the apartments where the Sultan's private life would unravel. This is also where the late Mustafa Kemal (Ataturk) lived during the early days of the Turkish Republic until his death in 1938.
Arts' Museum
The Arts' Museum is located close to the Harem and showcases different battle scenes highlighting the successes of the Ottoman army. It's also worth checking it out.
After the Museum visits if you want some great shots head over to the Gate to the Bosporus. The views are incredible especially on a sunny day.
We strongly suggest you start your day with this attraction as queues can be extra long during day time. Alternatively, you can buy a skip the line Dolmabahce Palace Tour ticket.
Enter the Dolmabahce Mosque
Right next to the Palace you will also find on the bank of the Bosphorus a baroque style mosque, called the Dolmabahce Mosque.
Dolmabahce Palace was home to the Ottoman crown and the official residence of the Sultan. Dolmabahce Mosque thus served as the official mosque of the palace making it an important monument in the Ottoman Empire due to its proximity.
When entering the Mosque you can clearly appreciate the finesse, after all, this was supposed to showcase the best in line with Ottoman supremacy at the time.
Sit Down at Taksim Square
This iconic square is the heartland of Istanbul. Here is also the central station for the Metro Network where you have plenty of connections.
The square is famous for its restaurants and the Monument of Independence following the Independence War.
We suggest getting a Durum (wrap) and sit down and watch people go by.
Walk Down Istiklal Street
The iconic İstiklal Avenue historically known as the Grand Avenue of Pera, in the historic Beyoğlu district, is an 1.4 kilometre pedestrian street and one of the most famous avenues in Istanbul. The name comes following the War of Independence triumph. Istiklal meaning independence.
Here you will see plenty of high end shops, restaurants and cafes. We thoroughly enjoyed going by this street and if you have been to Oxford Street in London, you will get similar vibes.
On this avenue you will also see many consulates and embassies from many countries around the world alongside exciting and vibrant bars and cafes.
Although fairly busy there is also a nostalgic tram jam packed with tourists wanting to experience the ride from Taksim Square almost close to the Galata Tower. Feel free to try it for yourself.
Go up Galata Tower
Originally built as a watchtower by Emperor Justinian, this was later demolished following the Fourth Crusade. It was later rebuilt under the Genoese for their colony as part of Constantinople.
Later on, it became a prison under the Ottomans and then a museum which enjoys a lot of attention from tourists due to its great scenic views of Istanbul.
Word of advice, if it's at least 2 of you visiting, one of you could wait at the entrance queue and the other on the queue to buy the tickets This is what we did to make sure we make the best use of our time. Savvy? 😉
The access to the top is facilitated by a lift with some interesting CGI simulating how the ascend might look like if the lift had glass walls.
The views from the top are simply astonishing. From here you can see the Golden Horn area and Old Istanbul. At dusk they also light up the tower using really transforming it into a huge projection screen with either the Turkish flag or other motifs. A truly unique visit.
Shop at The Spice Bazaar
The Spice Bazaar is another great opportunity to explore this city that stood once at the crossroads of Europe and Asia.
Istanbul was the last stop along the legendary Silk Road. It was the final destination for Asian goods, which were then distributed to Europe. Based on official recorded history, Istanbul had developed a spice trade with the Venetians as early as the 13th century.
The Spice Bazaar was built in the mid 17th century as the Egyptian Bazaar. Actually in that is how this bazaar is called as most spices were brought from Egypt.
To say the least, photos will look incredible here and by all means – go get yourself any spices you want as you are in a bazaar, after all!
At the entrance from the Eminonu piers you can also get the iconic Mehmet Efendi coffee, freshly ground. This is what we also did and got 2x250g packs, needless to say in the plane it was pretty obvious we bought coffee.
Haggle at The Grand Bazaar
Once you are done with the Spice Bazaar, we suggest you move to the adjacent Grand Bazaar.
This bazaar (market) is one of the largest and oldest covered markets in the world, with 61 covered streets and over 4,000 shops. Here, you will find all sorts of trinkets, clothes, souvenirs and much more.
Like we mentioned in our Kusadasi and Alanya articles, feel free to bargain for your items. Prices are more like guidelines.
This is what we also did and managed to get a pretty good discount for an inlaid backgammon board – whole walnut wood, artisanal crafted.
See Beyazıt Tower
This is an iconic stone fire-watch tower at Istanbul University now with a lighting system to indicate the weather. Whilst you can't enter the University grounds unless a student there, the court open to a public square where you can sit down on a bench and admire the imposing tower.
Take a Photo at the Column of Constantine
It is a monumental column built for Roman emperor Constantine the Great to commemorate the dedication of Constantinople. It is the oldest Constantinian monument to survive in Istanbul and stood in the centre of the Forum of Constantine.
The monument once had a cross on the top however, citizens, once Christian now Muslim in the Ottoman period asked for the cross to be removed. The Column has had many restorations with the last adding metal holding to secure it from collapsing.
After our dinner one night we decided to sit down by the adjacent square and simply admire it for a few moments on our way to the hotel.
Explore The Walls of Constantinople
Initially built by Constantine the Great, the walls surrounded the new city on all sides, protecting it against attack from both sea and land. As the city grew, the famous double line of the Theodosian Walls was built in the 5th century.
Theodosius took note of the fall of Rome and decided to reinforce the walls to make sure they withstand future sieges. This proved to be an excellent bet as it ensured the survival of the Eastern Roman Empire for another 1000 years more than its sister empire.
The walls nowadays have been somewhat restored with a highway passing by, clearly marking the border of what used to be old Istanbul. The walls are easily accessible and you can even climb on them.
See the Palace of the Porphyrogenitus
In the same area as the Walls of Constantinopole, you will find this 13th-century Byzantine palace. It is one of the few relatively intact examples of late Byzantine secular architecture in the world.
To our surprise the entrance was @40 TL/person, so very cheap when you compare it to other attractions in Istanbul.
Whilst the exhibits are somewhat thin, we still think it's worth visiting this place as you can see some late byzantine mosaics and pottery but most importantly you can climb to the top floor and sit on the outpost of the walls seeing the Golden Horn area.
Simply wonderful on a sunny day!
See the Paintings at Chora Church
Chora Church is one of the more renowned churches in this area of Istanbul. Initially a 5th century monastery then a church, it was later converted to a mosque. It became a museum and as of 2020 it is now again a mosque.
As a result, the entrance is free to admire this masterpiece of late Byzantine architecture and mosaic décor.
When we went there the venue was closed for renovations however, on a past trip 20 years ago, I remember it being very nicely decorated with golden mosaics.
Go on a Bosphorus Cruise
There are plenty of options for you when it comes to a cruise on the Bosphorus. If you are considering one of the earlier mentioned Istanbul Cards they will most likely feature a boat trip of sorts. Some include a show, other dinner, it all depends what you prefer.
We opted to use the Sehir Hatlari boats which do have 2 routes that can appeal to tourists. One is the Golden Horn route which leaves from Eyup and you can get off either at the end or we suggest Karakoy. For us this worked great as we just came back from visiting Chora Church and the pier was 15 min. walking distance.
The other one (which is what we did also) is if you want to have a Bosphorus cruise per se, we suggest you take the following route: Eminönü-Sarıyer/Rumeli Kavağı. The boat will only make stops on the European side and you can see all the major landmarks of Istanbul.
If using the Sehir Hatlari boats they will work great with your Istanbul Card (public transport).
Take a Day Trip to Princes' Islands
The Princes' Islands are part of the Adalar district of Istanbul Province. They are accessible by Sehir Hatlari ferries. The journey does take quite a bit from Kabatas pier. Feel free to get yourself some sandwiches and snacks whilst enjoying the views.
If you prefer an organised trip, you can book a Princes' Island Tour here.
The islands are home to a mostly Greek (former Byzantines) and Jewish population but also to a fairly influential individuals such as ambassadors and celebrities in Turkish society.
We went to the largest of the islands called Büyükada which in Turkish means Large Island. An interesting thing is that most transportation on the island is facilitated by electric vehicles. Almost everyone has electric scooters and bikes.
As a piece of advice you can see the whole island by an electric bus, which you can get from the main square of the town just as you leave the ferry pier.
The tour can be paid by using the Istanbul transportation card. There are 2 Greek monasteries on the island which can be visited and these minibuses can take you there. We didn't go to them as we saw plenty of Orthodox monasteries but for those who haven't, this can for sure be a good attraction.
The island exhibits plenty of wooden Ottoman era mansions some well kept others not so much.
Not far from the centre of the town there is also a bakery (Marmara fırın ve Börek Cafe) which we recommend. Everything felt home made and authentic Turkish. We got a few treats on the way back to enjoy on the boat.
Food and Drinks Highlights
Turkish food encompasses typical Mediterranean ingredients with a blend of oriental and middle eastern dishes. The food typically is bright, fresh and vibrant with many dishes incorporating mince meat in one way or another.
You will also find plenty of kababs however, the term kebab in Europe may (mistakenly) refer to almost a shawarma (typically fries, meat and salad wrapped in bread) style of meal; whilst in Turkey this would be called a durum or wrapped in English.
Kebabs come in different shapes and sized but you can expect two skewers of seasoned meat (minced or cubed) served with seasoned bulgur rice (or vermicelli), a bit of salad and bread on the side.
Another Istanbul staple is the clay pot stew. Often served to tourists this is a casserole consisting of various vegetables and typically beef, but can vary. When served, the waiter will cut the top of the pot and offer a small spectacle to the audience.
Obviously as Turkyie is a Muslim society, pork and other by-products won't be served. As a secular society, they do give the option to each individual if they choose to consume alcohol or not.
One of Turkyie's most recognised drinks is raki, which is a similar to ouzo and both are aniseed based drinks served as appetizers in tall glasses with ice. Another one is the famous Turkish Coffee.
Desserts are very popular in Turkyie and one of the most well known dessert is the famous baklava. It's not well documented who made the first baklava or the various shapes it had before it became the dessert we all know today, however, it's thought that the first baklava was made in Istanbul's Topkapi kitchens.
Many think baklava is made with loads of syrup and pastry sheets however, those tend to be the cheaper baklavas. Baklavas come in two main varieties: walnut and pistachio.
A good baklava should be generously filled with nuts, fragrant aroma from the syrup, thin pastry sheets which are crisp but melt in your mouth. That's when you know the right amount of butter and syrup was used in making this dessert.
As a perk, Turks, like to eat baklava with kaymak. Kaymak is a clotted cream like cheese which is very soft and easy to spread. It can be served for breakfast with honey and bread or with baklavas which give it an extra bit of decadence.
The way you eat baklava and kaymak is typically you remove the top part of the baklava and then put a layer of kaymac on top of the nuts and then you crown your king and eat this delightful Turkish sandwich.
Although you may know baklava as being cut in diamond shapes or cubes, you will also find it in the form of carrot slices which essentially is a baklava shaped in a pie tray and served in triangle slices similar to a cake.
Ice cream is also another Turkish staple. Dondurma, which is a typical Turkish ice cream characterized by a slightly thicker and chewier texture can be found all over Istanbul.
Vendors tease customers with their ice-cream by pretending to offer it and then tricking them. Obviously, getting the ice cream becomes a fun spectacle in itself for anyone to watch.
Below is a selection of restaurants and bars we went to and would definitely recommend you to try. However, a word of advice is don't read too much into the high number of good reviews for locations.
In the pursuit of good TripAdvisor reviews, waiters offer diners a few baklavas with the ask that they offer a good review of the review platform. Our advice is try to stay away from the Old Istanbul Area, as restaurants here don't offer good value for money and tend to attract mainly tourists due to the above mentioned technique.
Eat with a view at Balkon Restaurant & Bar
This amazing rooftop terrace bar offers a splendid almost 270 degrees view of the Galata area and Golden Horn.
We think Balkon Restaurant & Bar is a great place to eat your dinner at the end of the day. Because temperatures in Istanbul don't drop significantly, you can use this terrace also during colder autumn and spring months.
The venue serves a selection of spirits, cocktails and beers and has a fairly international menu.
I opted for their signature burger and Hristina decided to go for a fish & chips on a bed of prawns and spinach. All very good of course and accompanied by a beer.
Enjoy a Durum and a Wet Burger in Taksim Square
Once you get out from the metro station you will see in one of the corners of the square, at the beginning of the famous Istiklal street, a series of kebab shops selling wet burgers and durum as well as other staples of fast food cuisine.
Whilst all seem to offer similar foods and prices do try a durum, they tend to be ok, fairly dry for my taste however, try a wet burger. It is for sure something new for your arsenal.
These burgers are pretty much a normal burger with a tomatoes sauce however, the meat itself has some of the seasonings from some of the kebab meats which make it definitely stand out.
Feast on a 7 hour slow cooked Beef Brisket
As you head down on Istiklal street head over to Meat Moot. They have several venues but we popped in hear by chance and man, we did not regret it!
First you are greeted with a fresh cup of lemonade and you're offered to take a serving number. When your number is called, head over to one of the cooks. They will ask you which cut of meat you prefer. You can say anything from any animal except pork, of course.
We opted for the beef brisket as I knew it from my travels in Atlanta to be a good cut for slow cooking. You then try a mouthful of it and choose how much grammage you want. Minimum order is 500 grams.
You then pay and sit down at your preferred table. You hand over the receipt to the waiter and they'll bring the meat alongside an unlimited selection of sides and non-alcoholic drinks of your choice.
We had salads, potatoes, various sauces and a few soft drinks. However, the meat, which is the star of the show is simply divine! Succulent, tender and well seasoned makes you want to eat it and do a dance of happiness with your feet under the table.
Revitalise from a Vitamin Bar
Alongside Istanbul you will see plenty of Vitamin Bars. They offer a lot of variety in terms of fruit for your juices. Once you choose your cup size, they will squeeze your fruits and make you your juice.
Istabulites seems to prefer pomegrante juices as they are naturally sweet and refreshing on a hot summer's day. I tried it myself and I felt it was pretty good with a slight sweet tone.
Although a high number of these bars, prices can vary with a high spread in between them. Have a look to make sure you are getting the best value for money. A comparison amongst 3-4 should give you an idea which one is the better value for money.
Enjoy a quiet dinner at Mivan
Mivan Restaurant is a local neighbourhood restaurant offering classic Turkish cuisine. It is situated in the Old Istanbul area and can be a good option if you want something close to your hotel.
The food is cooked well, staff are friendly however, they don't offer any alcoholic drinks.
I had the Adana kebab served on a toasted slice of bread with rich Turkish yoghurt and Hristina tried a soup. All very well cooked though we would've liked to enjoy a beer at the end of a 30 000 steps day.
Eat at the famous Nusr-Et Steakhouse Sandal Bedesteni
You've seen Nusret or a.k.a. SaltBae everywhere on all social media platforms. From slapping steaks to sprinkling salt from above he's become a sensation.
Although there is a Nusret Steakhouse in London we decided with our trip to Istanbul to pay a visit here instead. We visited Nusr-Et Steakhouse Sandal Bedesteni as the Turkish restaurants are a much better value for money when compared to their Western counterparts.
We decided to opt for the more theatrical dishes and so did some research beforehand. We opted for the Nusret Sushi for starters. We continued with the Nusret Special which was truly special and the Nusret Special Salad.
A steak cooked in front of your eyes in butter served with baguette slices for added texture. The show was equally good and worth filming. The waiters seem to encourage this, ultimately, it is free publicity.
We finished with, of course, a baklava. Instead of the kaymak, the waiter puts a traditional Turkish ice cream ball which makes it extra luxurious.
For the show and everything, we didn't think the bill was too much and paid somewhere under £140 for 2 people and 3 courses accompanied by drinks. Definitely worth a visit in our eyes.
Try the Beef Skewers at Kasap Sakir
If you even remotely see yourself as a steak lover, then this is the place for you. Although Nusret's was good, part of the bill is the entertainment side of things.
At Kasap Sakir, this is pure good cookery. Firstly, you go to the counter and choose the cuts of meat you want and how you want them cooked.
Lastly you can order your sides and start enjoying the feast. Prices are 1/3 from Nusret and the food is honest and good. The steakhouse is fairly far out from the main touristic areas, 30 mins on the T1 tram line is a small price to pay considering the high quality of food here.
One thing to look out for are the beef shashliks. Simply to die for!
Delight Yourself with Baklava at Köşkeroğlu's
Köşkeroğlu is a popular chain of baklava shops in Istanbul. This is a family business and they like to keep a tight control over their baklava production. Smaller orders also mean better control over the end product and a very high customer satisfaction.
The baklava here is taken to an art and every single peace makes you ask for more. Crunchy, crisp, sweet, nutty and aromatic are what describe these baklavas.
Although we were full from dinner we still went ahead and ordered some carrot slice baklava. I was extra cheeky and got some kaymak also. It's that good.
Try the Ultimate Baklava at Karaköy Güllüoğlu