When was the last time you went on a beach holiday? And sure, there are many destinations out there such as Dominican Republic, Mexico, Bahamas etc. but Turkey seems to be that one place that has it all. Good vibes, great offers and excellent hospitality.
We remember with pleasure the many holidays we've had in Turkey and namely one of them was in Kuşadasi. Hot summer days, your favourite adult beverage in your hand and the refreshing Aegean water, are what we believe make a wonderful holiday in this Turkish summer resort.
Read below how we spent our holiday here and what recommendations we have to share with you.
Overview

Kuşadasi pronnounced [ˈkuʃadasɯ]) is a summer resort town in the Asian part of Turkey. The resort has a population of around 70 000 people. Kuşadasi is about 153 km away from Bodrum and is situated close to "Bird Island". Hence the name – kuş (bird) and ada (island), Kuşadasi.
Throughout the ages, this place has been settled by many people from Greeks, Romans and Byzantines just to name a few. It has always been a trading hub guarded by the white castle on Pigeon Island.
The city's main source of income is tourism with a whopping 400 000 tourists coming each year during the summer alone. In terms of shopping, depending on the predominant tourists, you can pay with dollars, euros or even rubles and British pounds. I guess for the right deal size they can also accept other currencies. What can I say – good merchants.
Kuşadasi can be visited all year round with temperatures in summer going up to 33 °C in August and around 23 °C in October.
How to get there and where to stay?
Kuşadasi is accessible by land, water and air. Many tourists also choose to come and visit the local area by cruise.
The best option perhaps if you want to come here and stay in one of the nearby resorts would be to fly with a chartered flight by your travel agency. We recommend getting yourselves a packaged holiday as tourism in Turkey is an industry that is well oiled.
We booked a package holiday with TUI, but if you prefer to organise your own trip, check our tips on how to plan a holiday. Read more about advantages and disadvantages of package holidays vs. independent travel here.
We believe the do it yourself model might not be very meaningful here and could lead to higher costs. The main airport for Kuşadasi is Izmir Adnan Menderes International Airport (ADB), 80 km away from the city.
Assuming you booked a packaged holiday, once arrived at the airport be sure to check in with your tour operator so they can guide you to your transfer shuttle/coach. The travel operator might be a different one than your travel agent – so be sure to double check. The transfer towards you hotel could be around 1.5 hours depending on where your hotel is in the area.
We've always chosen hotels with a front sea location. Meh, what can I say, do you really want to walk to and from the beach with your belly full?
We normally like to go to hotels with aqua parks so what we can recommend would be the following hotel: Atlantique Holiday Club. It offered a good variety of activities including an amazing aqua park. The aqua park itself is so good they actually sell tickets to non hotel guests also.
Top things to do in Kuşadasi
Kuşadasi is famous for its resorts, fine sand and amazing beaches. These are definitely some of the things on any holidaymaker's mind. Hotels offering mostly all-inclusive packages are always a good option as this type of package doesn't just refer to the food aspect but also the activities included.
If you are thinking of comparing different Turkish seaside destinations such as Kuşadasi vs Antalya/Alanya feel free to read our article about Alanya here.
Check your hotel's activity board
For us, our hotel included several all-day activities such as: volleyball, Zumba, evening show, tennis, water sports and many more. And sure, by all means, work on your tan and cool off in the sea. That's why you're here, right? Oh, one more thing, don't forget to burry your wives in the sand, gents!
In terms of night time events, checking with your hotel's evening schedule is always a good place to start. The animation team will always try to make nice shows as you can see below:
Another thing you can visit and see when in this area is the main resort. Head over by using one of the small shuttles called "dolmuş" which pick up people on their way to the centre. The fare is fairly low (a few euros one way per person) depending on where they picked you up.
Hand of Peace and the Marina
Once you are in Kuşadasi, head over to the Marina area. This can be a particularly nice place if you want to catch a few sunset photos overseeing the cruise ships and the castle. We also saw the Hand of Peace sculpture with doves, silhouetted against the Aegean sunset on the waterfront promenade.
Along the harbour there are many places where you can eat with various cuisines to suit everyone. Backgammon and shisha are also a must for any of our holidays in Turkey.
Kusadasi Castle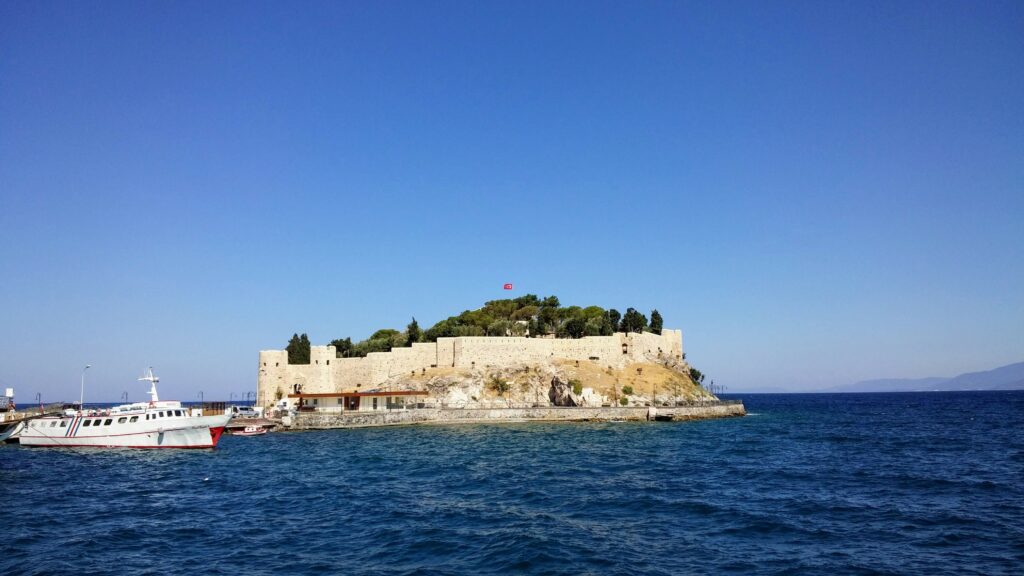 Another thing you can visit is the Castle on Pigeon Island. It was built in the 15th century and reinforced in the 18th century to defend the coastline from the Greek uprisings.
Like what you are reading? Why not join us for other journeys by subscribing to our newsletter:
Kuşadası Bazaar
If shopping is your thing or you just want to get some memorabilia feel free to check out the Kuşadası Bazaar which can be found right next to the Marina. Here you will be able to find jackets, shirts, t-shirts etc. Many shop owners will create compelling invites, but feel free to refuse them politely.
Day trips
When on holiday we recommend you also consider some trips outside your hotel.
There are many local travel agencies and we believe most of them are safe enough and worth booking through them. If you've never booked through one in the past feel free to walk in. Review the trips catalogue and choose the ones you want. At this stage, prices are indicative so ignore them.
After shortlisting them, try and negotiate a better price – Yes, you can do that. The more you choose, the better the price. So try and agree beforehand on the things you want to do.
Once the transaction is done, they will take your hotel and room number and a deposit (the amount can also be negotiated). In addition, some trips we recommend doing are:
Boat Trip
You can book these from the Marina area or through a local agency or even your tour operator. These trips, we believe are great value for money and offer an excellent experience for all members of the family or any couple.
They normally pick you up in the morning from the hotel. You set sail at about 10 am. The itinerary is more or less the same across. Don't be fooled by some of the ships. Whilst some look like the Black Pearl straight of Jack Sparrow's world, the crew is what will make your experience memorable.
Some of the best trips we've had were on regular looking boats. Once, we went on a fancy boat trip and the only time they started the "party" was in front of the hotel beaches on the way back for promotional reasons. Now you get me?
Food and drink is included however, it may differ from boat to boat, be sure to double check before booking.
But an all time classic on these boat trips? Jumping off the boat!!! This is where you split the men from the children. For the ultimate "Bomb dive", be sure to weigh 150 kg and go on the top deck for best results.
To conclude, most boats make their way back around 3-4pm with you on the shuttle on the way back by 5pm.
If you are into boat trips, have a look at some other boat trips we have done in Sharm El Sheikh, Egypt and in Paphos, Cyprus.
Ephesus ruins
The ancient Greek colony of Ephesus is another great opportunity to explore the local history. The area has been populated since 6000 BC and has a vast history throughout the ages and different rulers. Actually, Kuşadasi started off as an outpost for Ephesus.
It became famous because of the Temple of Artermis completed in 550 BC. It constituted one of the seven Wonders of the Ancient world.
Like with other trips they will pick you up in the morning, normally before 9am. So, try and see if your hotel can arrange from a take away breakfast. Not all hotels do. Also get your sun cream as you will arrive there mid-day during the scorching hot sun.
You should be back at the hotel in time for dinner, depending on where your hotel is.
There are many other trips you can make including swimming with the dolphins. Let us know in the comments what trips you made and your experiences.
Food and drink
Turkish food encompasses typical Mediterranean ingredients with a blend of oriental and middle eastern dishes. The food typically is bright, fresh and vibrant with many dishes incorporating mince meat in one way or another.
At your hotel, the chef will try to include a wide variety of dishes to please all tastes. You will have typical Turkish dishes ranging from starters to deserts, and yes baklava isn't the only desert Turks know. Go in with an open mind and an empty plate.
If you ever wondered how food is prepared at an all-inclusive hotel, then read our article "Inside an All-Inclusive Kitchen" for more details.
If you want a little bit more, sometimes, hotels can have a la carte restaurants that can come at a cost or may be included in your all-inclusive package. Feel free to also explore the nearby gourmet landscape. I'm sure you'll find a pub serving fish & chips somewhere in Kuşadasi.
In terms of drinks, Raki is one of the national drinks which is an aniseed based drink. And you might say, but isn't this a Muslim country? To which I say yes, but, it has a secular state which is what makes Turkey in my eyes a really modern society.
Final thoughts
If someone was to ask us how was your holiday in Kuşadasi we would definitely say it was nice, relaxing and enjoyable. Which is what a holiday should be. We felt the resort was safe and on top of this we made friends with a Turkish family from the hotel and the hotel animation team. Although our Turkish isn't great we managed to exchange a few ideas and also strategize about tomorrow's volleyball game!
We also felt the resort overall wasn't expensive and can cater for any pocket but then again value is in eye of the beholder.
To summarize, Kuşadasi is an excellent family/couples resort that offers a decent variety of hotels, amenities and attractions. We truly recommend this for you to consider as your next summer destination.
Ready to book? Below are some recommendations to get your trip started:
---
Accommodation – would recommend booking your accommodation through an aggregator such as Booking.com or Agoda to get the best rates. We also use TripAdvisor to read reviews.
---
Transport – consider Rentalcars.com for car renting or if you rely on public transport, you can use Omio for trains, coaches, ferries, airport transfers and even flights.
---
Activities – a great option is GetYourGuide, Klook or Viator for tours, excursions, experiences and tickets to many tourist attractions.
---
Travel money – we have Starling Bank accounts (UK residents only) with 0% fees on FX and a good Mastercard exchange rate. Revolut is another good option.
---
Internet abroad – with Airalo you can access a wide range of eSIMs (digital SIM cards) available for different countries and regions.
---
Luggage storage – if you need to store your bags whilst exploring the destination, you can use Radical Storage to find your closest luggage storage and enjoy your journey until the very end.
---
As an Amazon Associate and member of various other affiliate programmes, some of the links in this article are affiliate links, meaning at no additional cost to you, we will earn a commission if you click through and make a purchase.
---
Like what you've read? Subscribe to our blog by adding your email address below. You'll be the first to hear about new destinations and articles we publish!
Are you interested in travelling? Check out our Facebook page and other social media for regular tips and recommendations on how to travel and where to go!