Santo Domingo, the city of explorers. In this article we propose to uncover this wonderful and historically rich capital of the Caribbean's. In many respects here, Europeans but namely the Spanish brought technology, their building skills and also set forward their base of operations for the Americas.
This is the place where Christopher Columbus and his family have ruled and have set out on their voyages and expeditions. Here is the place where the first cathedral, first street and first university in the Americas were built.
Overview
Santo Domingo or Saint Dominic in English is the capital of the Dominican Republic. It was founded in 1498 by one of Christopher Columbus' brothers, Bartholomew Columbus.
The city is called home by almost 3 million people. Since its inception it has been a major hub in the Caribbean area both militarily and economically. The city's harbour at the mouth of the Ozama River accommodates the largest ships, and the port handles both heavy passenger and freight traffic.
From here the Spanish would send over to Spain various merchandise such as cocoa, sugar, vanilla and many other New World resources. Actually, a practice still done today. One thing you will note is that there are very few domestic chocolatiers – most chocolate brands are Spanish. Ironic, right?
If you are looking to exchange some currency then you can pay at shops and restaurants using the Dominican Peso. American Dollars are also widely accepted.
Temperatures are high throughout the year, with cooler breezes during winter time which makes it a year round destination.
How to get there and where to stay?
In regards to getting to Santo Domingo you can do so either by plane directly to Las Américas International Airport which isn't far from the city. We did an organised trip by coach from Punta Cana. If you are planning to do the same, check this Full Day Santo Domingo City Tour.
Also, do remember, if you flew in the country, make sure to save some money for the way out. You have to pay to leave this country – not that anyone would like to!
We booked a package holiday with TUI, but if you prefer to organise your own trip, check our tips on how to plan a holiday. Read more about advantages and disadvantages of package holidays vs. independent travel here.
In terms of accommodation, there are plenty of hotels and alternative options available. Our trip was just for the day so we didn't need overnight accommodation.
However, we did stay in a hotel during hurricane the Irma period when we got evacuated from Punta Cana. We spent 3 nights at hotel Catalonia Santo Domingo and would certainly recommend this hotel. The service was great and staff were friendly, despite the hurricane that affected their country and the surrounding area.
Top things to do in Santo Domingo
Like we said in the beginning of the article, Santo Domingo has the "first" of most things in the "New World". Originally the area was inhabited by the Taino people. When the Spanish came, they set this to be their forward base of operations.
Over the decades to come, the area would develop and become an economic and military power house in the region to be rivalled by other European colonisers. Also, one interesting aspect is that Santo Domingo is the oldest continuously inhabited European settlement in the Americas.
Depending on your method of transport, we suggest you start by the Marina area where the Ozama River flows in the sea.
Alcázar de Colón
Over there you will see the once imposing walls of the citadel and as you proceed further down you will see Alcázar de Colón, the first castle in the Americas. This is the historic governor's palace, built by Christopher Columbus' son, featuring period furniture & art.
We suggest you buy a ticket and do visit the palace, it does cover some elements of historical character but also reveals that although Christopher Columbus' family were explorers they also were ruthless dictators and murderers. Has to be said!
Spain Square
One such example is in the square in front, Spain Square, there was a rebellion of the locals over the harsh work conditions. The ruling class, ordered that all those present be captured, chopped up and then their limbs and bodies be paraded in the square so everyone sees what happens if you disobey. Talking about a sight to see – iish!
Museum of the Royal Houses
On your right, you will see The Palace of the Viceroy of Santo Domingo which was the first (oldest) headquarters of Spanish power in the New World. It now houses the Museo de las Casas Reales.
Calle Las Damas
Anyway, as you walk through the main square towards the sea, as it were, you will find yourself walking on the first street in the Americas, Calle Las Damas. This leads into the old town where all the government offices were and where the high class used to live.
Pantheon of the Fatherland
As you progress down the street you will see the Pantheon of the Fatherland, a former 18th-century Jesuit church, now a stately neoclassical mausoleum for honoured citizens. It is imposing and hosts some interesting interior décor.
Basilica Cathedral of Santa María la Menor
A few hundred meters away, you will find the oldest cathedral in the Americas, Basilica Cathedral of Santa María la Menor. Whilst it doesn't rival many of its European counterparts, for its days and where it was erected it must have been an amazing achievement.
Shopping on Calle El Conde
After you are done with your visit, be sure to check the main avenues filled with tourists. Some people reading this article might say, fine but what about cigars, Cubanos and many other such things.
To which I'd say yes! All in due course. First of all, Cubanos, are in Cuba! Here they are called, Dominicanos. Get it?
Here you will find a few tobacconist shops. They do offer great selections of cigars for all budgets and tastes. Or even better – make your own!
Yes – you read that right. When we walked in, I wasn't sure what cigar I wanted and the tobacconist asked what I like, (leaf wise), shape, thickness and length.
After that he gave me a taster cigar, handmade in 1 min. Was it nice? Yes. Did I buy a box of that exact cigar? Yes!
If you want to give them a try, be sure to check them out – La Leyenda del Cigarro.
Duarte Park
Moving on, as you're smoking your cigar and walking through the old town of Santo Domingo, what you will notice is how many parks and squares there are. We went to Duarte Park.
Over there, many people play checkers, chess or simply sit down enjoy the cool shade under the trees.
Like what you are reading? Why not join us for other journeys by subscribing to our newsletter:
Presidential Palace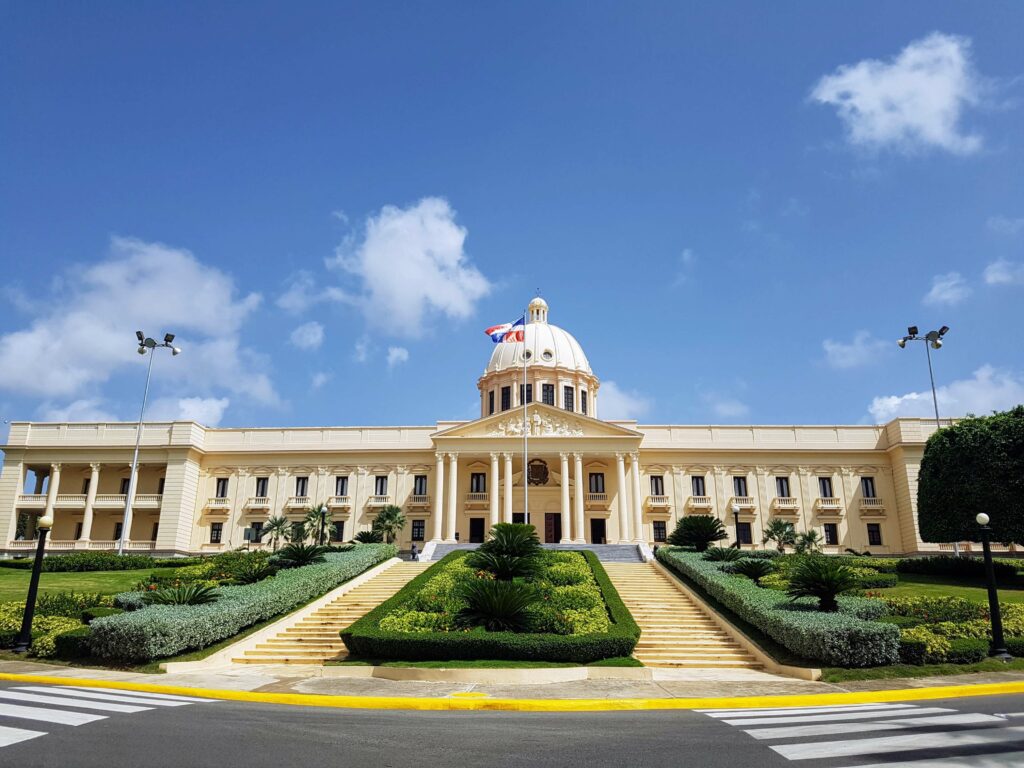 A bit further away you can also go and see the Presidential Palace (Presidencia de la República Dominicana). Designed in a restrained neoclassical style by Italian architect Guido D'Alessandro at the behest of Rafael Trujillo, construction started on February 27, 1944 —The centenary of Dominican independence —and was inaugurated on August 16, 1947.
Occupying an area of 18,000 square metres and luxuriously appointed throughout, the National Palace is considered one of the most beautiful buildings built in the Dominican Republic.
Columbus Lighthouse (Faro a Colon)
Another great interesting touristic place is the Columbus Lighthouse (Faro a Colon), a mausoleum monument located in Santo Domingo Este, in tribute to Christopher Columbus. Construction began in 1986, using plans drawn by Scottish architect J.L. Gleave in 1931. In time for the 500th anniversary of Columbus's first voyage, the monument was inaugurated in 1992.
Food highlights & Drinks
The Caribbean diet is very fruit heavy and sweet. Meat is a normal accompaniment to any dish. Rice seems to be the main side to most dishes followed by some form of stew. Generally speaking, Dominicans wouldn't eat eggs for breakfast or what we would typically consider breakfast food.
Other than that, there are many foods that are inspired from the Spanish cuisine: paella, chorizo, jamon etc.
One dish that we enjoyed a lot was rice, with chicken and banana stew. A combination that will raise any European eyebrow but once tasted will fill you up with reassurance that it does work indeed.
In terms of drinks, rum, is the national drink. We found some domestic brands but most notable was Brugal. The price wasn't too high @£11 per 70cl for a standard bottle. The top shelf, matured rum was @£16. Taste? Yes – nothing like your run of the mill rum found here in Europe.
When in the Dominican Republic, make sure to get a few bottles for the journey back home. It'll be worth it.
We also wanted to get some local chocolate but the fact of the matter was that most brand were in fact Spanish. The guide told us that most of the Dominican economy is still tied to Spain and U.S.; i.e. most of it is based on exporting natural resources without processing or adding value.
Conclusion
Having been to Santo Domingo we can say it's a great experience and also an amazing opportunity to learn about the voyages of the early Spanish colonisers.
We can also say it is a safe city for any foreigner and Dominicans are friendly and hospitable people that want to get to know you.
Overall, the architecture, the people and food are what make this place such a gem of the Caribbean and an amazing experience for any tourist.
Ready to book? Below are some recommendations to get your trip started:
---
---
---
---
---
---
---
As an Amazon Associate and member of various other affiliate programmes, some of the links in this article are affiliate links, meaning at no additional cost to you, we will earn a commission if you click through and make a purchase.
---
Like what you've read? Subscribe to our blog by adding your email address below. You'll be the first to hear about new destinations and articles we publish!
Are you interested in travelling? Check out our Facebook page and other social media for regular tips and recommendations on how to travel and where to go!