Arriving in Washington D.C. makes one think this is the promised white city. And it is. In the central part of the city the traveller is met with huge Greek style columns and pantheon-like buildings. In the centre of it all? – Congress. A crown jewel of all these buildings.
To those that don't know, D.C. is the capital city of the U.S.A., situated in its special administrative zone along the Potomac river. This visit was part of our trip on the East Coast of the United States – Philadelphia, Washington DC, New York and Boston.
Overview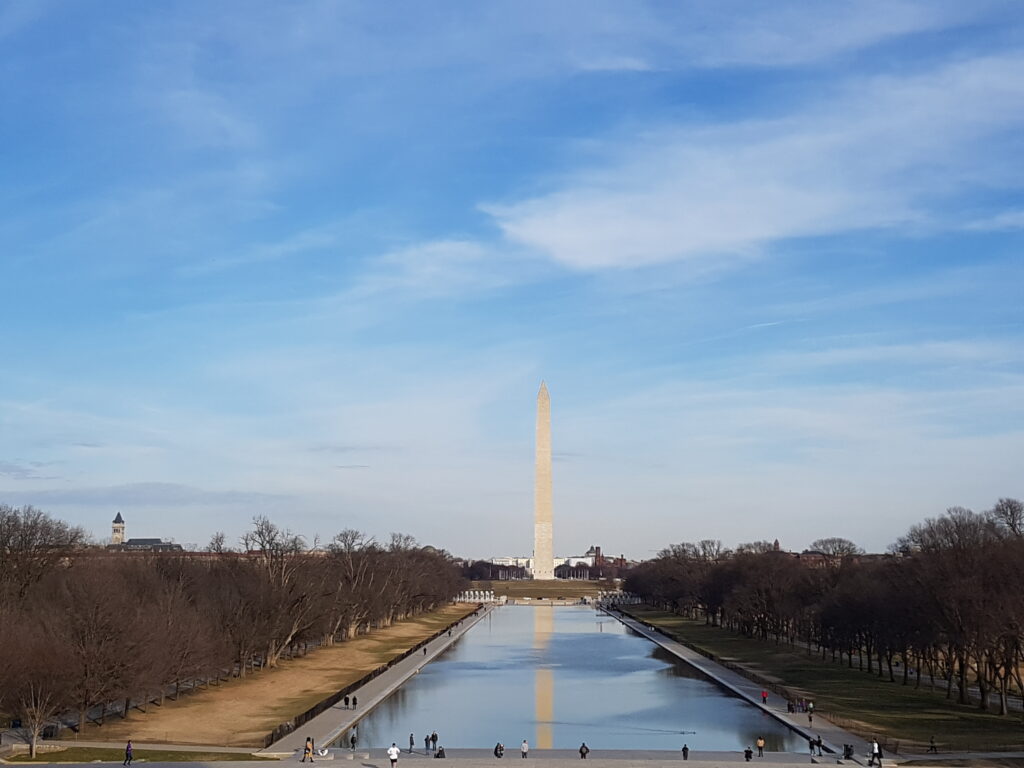 Having just arrived from Philadelphia by coach, we decided to head off to our hotel and explore as much as we can from this exquisite capital city.
Washington D.C., the capital of the United States of America, is a vibrant and historic city that attracts millions of visitors each year. The city is filled with monuments, museums, government buildings, and cultural landmarks that showcase the nation's history and achievements.
The most iconic landmark in Washington D.C. is the National Mall, a long stretch of green space that runs from the U.S. Capitol building to the Lincoln Memorial. Along the way, visitors can see the Washington Monument, the World War II Memorial, and the Korean War Veterans Memorial, among other notable landmarks.
Interestingly enough the city itself was simply built from scratch and imagined as an illustrious capital of the young nation of the United States.
Public Transport in Washington D.C.
To help you get around the National Mall, you can use the Circulator bus which stops alongside the many monuments and government buildings. When we were there, it is was free as it was out of season, but they do offer different tariffs when in season.
If you don't have enough time in the city, you might consider Hop-on Hop-off Washington DC Bus Tour to cover the main attractions.
Where to stay in Washington D.C.
In general, there are plenty of hotels and accommodation options, however, we would recommend staying somewhere close to the attractions. We would recommend booking your accommodation through an aggregator such аs Booking.com or Agoda to get the best rates.
When looking at locations to choose from we think anywhere a by Union Market as it's close to the train station but also very well connected. With that in mind we chose to stay at Hilton Garden Inn Washington DC.
Sure, like we say in our article on how to plan a holiday, do account for the overall cost as you have to factor in breakfast.
Things to do in Washington D.C.
Arriving to the National Mall in central D.C., you can only help but admire the grandeur of the buildings you are presented with. It's everything you see in the movies and more. Similarly to London, we found many of the state owned attractions were free which was good news. Below we explore further the city attractions.
1. Visit the United States Capitol
United States Capitol which looked very similar to the Presidential Palace in Santo Domingo is the meeting place of the United States Congress, is an amazing building dominating the Mall's landscape. We would definitely recommend visiting this place but do book in advance. Appointments are free and guided but beware that security is strict and you will need your passport.
The entrance is free however, you need to book in advance your visit. Once in the building, you will learn through the guided tour all the symbolistic elements that are embedded in the architecture as well as the history behind it.
What must be said is that as illustrious and grand the building may look, Congress was build using black slaves with cheap immigrant (mostly European) workforce.
But this is the story of D.C. and most of the U.S.. It is thought that the costs in present money and labour conditions would've bankrupted the U.S., should they have attempted this again.
2. Visit the Supreme Court
From the photos you can see that we were helped by a glorious day but the building is just as majestic as you'd imagine from these shots. It's immense, imposes respect but more importantly the architecture behind it is incredible.
When going in, the hallways are huge and create a tomb-like atmosphere of solemnity. One interesting aspect is that you can't take any imagery or record anything in the main court room. We've managed to take a photo of a miniature version of it.
3. Read a Book at the Library of Congress
The research library that officially serves the United States Congress and is the de facto national library of the United States. This immense building filled with knowledge is accessible by all, no matter orientation, language, ethnicity, nationality.
All you need is to sign up to become a member and you can access any of its books immediately. The registration can be done on the spot. Most tourists use this opportunity to get in the actual dome rather than read any of the books, but I guess the photos must be worth it!
---
Like what you are reading? Why not join us for other journeys by subscribing to our newsletter:
---
4. Explore the National Museums
We visited the following museums and would certainly recommend them – National Museum of American History, National Museum of African American History and Culture, National Air and Space Museum, National Museum of Natural History, Smithsonian Institution Building (The Castle)
Most museums in D.C. are free. However, there is one museum that has the most to offer, The Smithsonian. The story behind it is interesting as well. A former rich English scientist, James Smithson wanted to leave his wealth to his nephew.
However, his nephew having passed away before the will could be executed as stipulated and hence the next beneficiary on the will list was the U.S. Government with the provision that they use this money to raise a museum.
The delegates tasked to retrieving the inheritance went to London and made sure to get the newest coins for that year. The reason? They wanted to make sure they are getting the full amount of gold provisioned in the will so they can melt in the U.S., otherwise older coins might have been chipped, damaged and might have had a few milligrams of gold shaved here or there. Getting your money's worth couldn't be truer.
And so they did and the U.S. Government raised The Smithsonian and the many museums this organisation covers to date. Entrance is free and there is always a free intro guided tour included. Additional tours that delve into each section are paid.
The vary Smithsonian nowadays is a collection of museums cover many topics from African American culture, Vietnam War to science and nature. There is certainly a topic for all groups here for sure.
5. Walk through the Mall and Explore the Memorials
Every so often is good to remind ourselves of the wars and battles our fore-fathers have fought, to remind us of the privilege it is to live in a free world society. Although not all wars and rebellion causes are as poetic, many have also some dark sides to it.
Going through the memorials in D.C., reminds us all of the courage and determination one nation can have in pursuit of its goals. This determination, unfortunately, is seen in the many names seen on the remembrance planks that tell the story of the fate of many of these soldiers.
One thing worth noting is that some of the memorials, dedicated to former presidents, can be an impressive visual sight for anyone. The demeanour of these statues imposes respect and makes us all take a moment and admire these statues.
The Washington Monument
The Washington Monument is an iconic obelisk-shaped structure located on the National Mall in Washington D.C. It honors George Washington, the first president of the United States, and stands as a symbol of American independence and democracy. Visitors can take an elevator to the top for stunning views of the city.
Thomas Jefferson Memorial
The Thomas Jefferson Memorial is a neoclassical monument located on the Tidal Basin in Washington D.C. It honors Thomas Jefferson, the third president of the United States, and is modeled after the Pantheon in Rome. Visitors can explore the interior and see a bronze statue of Jefferson, as well as read excerpts from his writings.
Lincoln Memorial
The Lincoln Memorial is a massive monument located on the National Mall in Washington D.C. It honors Abraham Lincoln, the 16th president of the United States, and is designed to resemble a Greek temple. Visitors can see a larger-than-life statue of Lincoln and read his famous speeches etched into the walls.
Korean War Memorial
The Korean War Veterans Memorial is a sombre monument located on the National Mall in Washington D.C. It honours the men and women who served during the Korean War and depicts a group of soldiers moving through a field. Visitors can walk among the statues and reflect on the sacrifices made during the conflict.
First World War Memorial
The First World War Memorial, officially known as the National World War I Memorial, is located in Washington D.C. and honours the 4.7 million Americans who served in the First World War. It features a bronze statue of a soldier and is surrounded by a reflecting pool and gardens.
Second World War Memorial
The Second World War Memorial is located on the National Mall in Washington D.C. and honours the 16 million Americans who served during the Second World War. It features a large fountain surrounded by 56 pillars and two arches, and visitors can see inscriptions and quotes from famous figures from the war.
Vietnam War Memorial
The Vietnam Veterans Memorial is a powerful monument located on the National Mall in Washington D.C. It honors the men and women who served during the Vietnam War and is designed as two black granite walls inscribed with the names of those who died or went missing during the conflict. Visitors can leave mementos and pay their respects at the site.
6. Take a Photo of the White House and the National Christmas Tree
For starters go and have a stroll by the White House. We were told by locals that depending on the administration you can have more or less security around this perimeter. We went there in February 2019 and in between us and the White House, there were 7 lines of defence. You will also see the National Christmas Tree – yes – and it's protected by law.
7. Other Things to Do in Washington DC
Walking by on the same length, there are other famous buildings and POIs you can see, just explore the surrounding area and you will be amazed! We would also recommend the National Archives to see The Public Vaults and the Charters of Freedom (the Declaration of Independence, The Constitution, and the Bill of Rights), just be prepared for airport-style security checks.
Where to eat in Washington D.C.?
Yep – you thought I wouldn't include this bit? Thinking of D.C. one might imagine a cuisine that features European like food. You know, butter mostly. Couldn't be more wrong – Ethiopian and chili dogs are what make up the culinary landscape. Who would've thought.
Founding Farmers
In-between these many buildings and government organisations we did find a jewel with hearty American food. Founding Farmers. And yes – it is good. Wholesome American cuisine that covers many foods and variations. Prices won't be as cheap but hey – how often are you in D.C.?
Portions are generous and the prices are on par but you easily forget that once you sip a bit more of your whisky sour and dive into your cornbread.
I had the corn bread with honey butter for starters as well as bacon wrapped dates sprinkled with pomegranate sauce. This was followed by some juice tender ribs which were simply divine. And to finish you might ask? – the beignets.
These French style doughnuts come with 3 sauces to add further to the decadence. All of it was very good of course.
Final Thoughts
We were truly inspired by our visit to Washington D.C. and the vast amount of places to see and visit at the National Mall. The Capitol visit definitely stood out for us – you can see what a complex administrative apparatus the U.S. Congress really is.
We believe that Washington D.C. is a capital of the New World, a great opportunity to see many of the U.S. landmarks but also a great way to immerse yourself in American history.
Overall, Washington D.C. is a city rich in history, culture, and attractions that offer something for everyone. Whether you're interested in politics, art, history, or food, you're sure to find something to enjoy in the nation's capital.
Ready to book? Below are some recommendations to get your trip started:
---
Accommodation – would recommend booking your accommodation through an aggregator such as Booking.com or Agoda to get the best rates. We also use TripAdvisor to read reviews.
---
Transport – consider Rentalcars.com for car renting or if you rely on public transport, you can use Omio for trains, coaches, ferries, airport transfers and even flights.
---
Activities – a great option is GetYourGuide or Viator for tours, excursions, experiences and tickets to many tourist attractions.
---
Travel money – we have Starling Bank accounts (UK residents only) with 0% fees on FX and a good Mastercard exchange rate. Revolut is another good option.
---
Internet abroad – with Airalo you can access a wide range of eSIMs (digital SIM cards) available for different countries and regions.
---
Luggage storage – if you need to store your bags whilst exploring the destination, you can use Radical Storage to find your closest luggage storage and enjoy your journey until the very end.
---
As an Amazon Associate and member of various other affiliate programmes, some of the links in this article are affiliate links, meaning at no additional cost to you, we will earn a commission if you click through and make a purchase.
---
Like what you've read? Subscribe to our blog by adding your email address below. You'll be the first to hear about new destinations and articles we publish!
Are you interested in travelling? Check out our Facebook page and other social media for regular tips and recommendations on how to travel and where to go!